Hiring for Full-Time Education Manager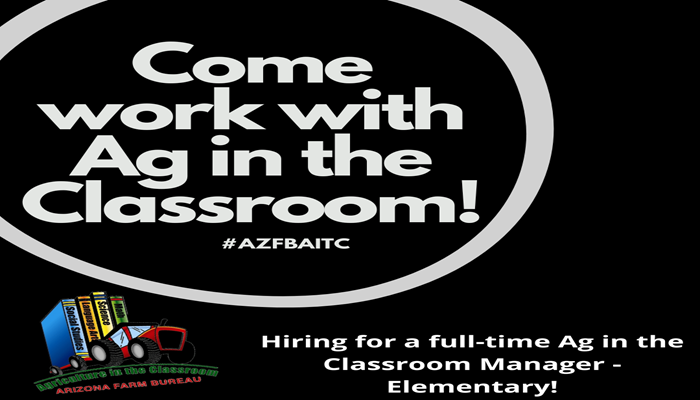 The Arizona Farm Bureau is hiring a full-time Ag in the Classroom Manager to join our Education Team. Resumes will be accept at resumes@azfb.org through February 10th.
The ideal candidate will have teaching experience in the elementary classroom setting and some knowledge of agriculture. 1st interviews will be held via Zoom and Final Interviews will be help in-person prior to March 6th. The intent is to not have the individual start until July 5, 2023 to allow teachers the opportunity to finish out their current contracts if selected as the candidate. 
The Education Manager is a full-time (12-month) position. The Education Manager works out of the Arizona Farm Bureau Office in Gilbert with opportunities to travel to schools across the State.  A company vehicle, 401K,and a health benefits package is included. 
Position Title:           
Agriculture Education Manager- Elementary
Salary Range:
$50,000 - $60,000 based on experience
This position reports to:       
Director of Education
This position regularly works with:  
All FB divisions, educators (teachers and administrators), allied groups (such as Jr. Achievement), YF&R Committee, Women's Leadership Committee, media, general public, and Farm Bureau leaders and members.
General Description:
Performs the educational functions of the Arizona Farm Bureau that contribute to an increase in agriculture awareness in the classroom and beyond, increase involvement from volunteers and enhance the image of Arizona Farm Bureau and Arizona agriculture in general. Specifically, this position will increase Farm Bureau's activity in the agricultural literacy of teachers and bring agriculture into the classroom for grades K-6 thru a statewide program coordinated with our county Farm Bureaus.
Competencies Required:
Strong curriculum development and management skills, state educational standards knowledge, verbal, telephone and computer skills, writing skills, attention to detail, deadline driven and ability to multi-task. 
Traits Needed:
Strong marketing skills, verbal and written communications, problem solving, computer, deadline and organizational skills and salesmanship. Ability to travel moderately.
Primary Responsibilities
The AEM will be responsible for development and management of teaching curriculum for grades K-6 in various aspects of production agriculture and the overall food system. The developed curriculum must meet state test standards to assist teachers in meeting their test score requirements.
The AEM will work with the Director to coordinate all statewide education related programs in the elementary setting.
The AEM will coordinate with outreach staff on all statewide educational programs that interface with county Farm Bureaus. Additionally, AEM will work closely with Agriculture commodity organizations.
The AEM will collect, develop and manage a strong base of materials for teachers and students.
The AEM will assist the Director of Education in fund raising within the Education Farming Company 501c.3. to obtain grants and contributions to fund the activities of the education program.
The AEM will build and nurture an education network and manage a volunteer group developed to go out and both teach the agriculture curriculum and stay in touch with teachers teaching the curriculum. You will develop a tool for regular communication.
The AEM will stay up to date with the latest delivery methods and assess different ways to use technology to deliver the developed curriculum. 
The AEM will report to the Director of Public Relations. The AEM will develop short- and long-range plans for the program with the Director and submit them annually with a budget for review by the Administrator and approval by the Board of Directors. The Director and AEM will meet regularly to discuss current and future needs of the program. 
Perform other duties as assigned including public outreach activities and member communications.
Education/Experience Required:
Bachelor's degree in business, education, agriculture or equivalent experience required. Supervisory and office management skills desirable. Strong communications, human relations, computer, teamwork and organizational skills. Elementary Classroom experience.