Join us for the Racin' for the Bacon Derby Dinner!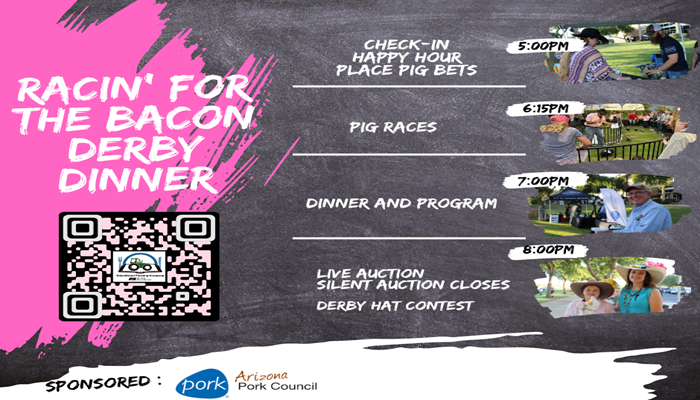 Event Registration
If you are NOT a Farm Bureau member and would like to purchase tickets to the event without having to create a sign-in, contact Katie Booth at 480-635-3605 (Monday-Friday 7:30am-3:00pm) and she will help you get registered!)
Get your tickets now for the 5th Annual Racin' for the Bacon Derby Dinner presented by the Arizona Pork Council. The event will be held Saturday, October 8th at the South Lawn of the Arizona Farm Bureau in Gilbert. The Derby is a family fun event that brings consumers and Arizona farmers and ranchers together to raise funds for the Arizona Farm Bureau Educational Farming Company. Come on out in your favorite derby hat, or not, and enjoy a fabulous BBQ from the Farm Bureau Grill, participate in both live and silent auctions, and cheer on your favorite pig in the pig derby. The event runs from 4:00-8:00pm and includes local Arizona eats and drinks. You participation in this year's event will help us continue bringing quality education about agriculture to classrooms across the state! See below for additional information about the event. 
What is the Arizona Farm Bureau Educational Farming Company and what does it support? Check out the short video below!
| | | |
| --- | --- | --- |
| | The Arizona Farm Bureau Educational Farming Company was created in 2003 by the Arizona Farm Bureau Federation. The mission of the Foundation is to educate the public of all ages about the importance of Arizona's agriculture through educational programs that teach about the production of food, fiber, and natural resources highlighting Arizona agriculture's diversity and dynamic. The Arizona Farm Bureau Ag in the Classroom program is one of the many youth programs that is supported through this Foundation. | |
FREQUENTLY ASKED QUESTIONS:
1) What does my ticket purchase include?
Your ticket purchase includes entrance into the evening event, a betting sheet for each of the 5 pig races, appetizers, 2 drinks (more available for purchase), an opportunity to participate in the evening's live and silent auctions, and derby hat competition all while supporting the education efforts of the Arizona Farm Bureau Educational Farming Company.
2) Is there a discount if I purchase more than 1 ticket?
Nope, not for this one! However, if you are coming with friends, be sure to make a note when you purchase your tickets so that we can seat you together. Tables will seat 8. 
3) Is there a different price for kids? 
Nope, not for this one! A chair is a chair and a table is a table no matter the size of the guest! If you are bringing the kids along here is a helpful hint: take their drink tickets to use for those adult beverages and give them water or lemonade or buy them the much cheaper soda!
4) How much does it cost to bet on the pigs?
Absolutely nothing! Your ticket to the event gives you the opportunity to make your selection for each of the 5 races. Winning bets/guesses earn raffle tickets for some fun prizes!
5) What do I wear to the event?
We encourage you to wear whatever makes you feel comfortable! We will be outside on a grassy lawn in October. Although we will warn you that when the sun goes down the temperature will drop a bit. And don't forget those hats!
6) Do I have to wear a Derby Hat?
NO! Although we do encourage it! Our favorite hats of the evening will win prizes. Any child that wears a hat to the event will receive a fun prize for joining in the fun. 
7) What's for Dinner?
After you have enjoyed some delicious Arizona grown eats and drink during Happy Hour, you will experience the culinary delights of Bruce Cain and the Farm Bureau Grill. Pulled pork, a green salad, creamed corn, dirty rice, and roll will be sure to hit the spot! Dessert are provided by: Nothin Bundt Cakes of Gilbert and Costco. 
8) What kind of items are available in the Live and Silent Auctions? 
We have a variety of items in both the Live and Silent Auctions for participants to bid on. The Live Auction boasts an evening at the Phoenix Hyatt along with a date night dinner for 2 at the Compass room from Chef Richard Preston. Also include is a 1-day and 1-nightguided fishing trip in norther Arizona with fishing guide and Arizona Ag Teacher Richard McPherson. The Silent Auction includes many Arizona Grown items and adventures. 
9) How can I pay for extra drink tickets and auction items?
We can take cash, check, or credit card for anything that you purchase the day of the event!