10 Million and Counting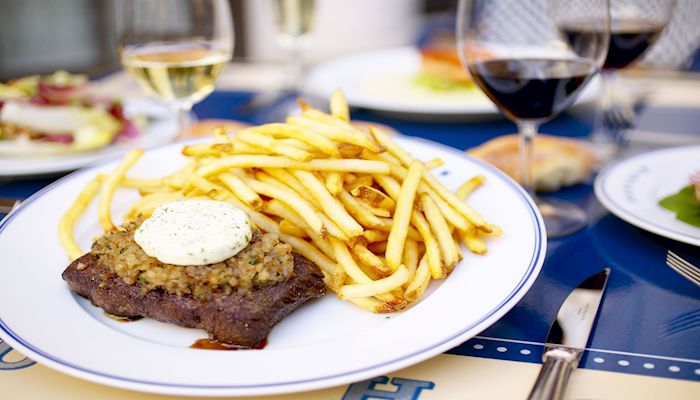 At 10 million impressions for outreach efforts in the last 12 months, the Arizona Farm Bureau brand stands strong. With strategies focused on women & children, we met and exceeded our goal this year with 10,867,891 impressions.
Surveys, focus groups and unfavorable ballot initiatives over the past few years continue to make it clear that the public continues to struggle with misguided opinions of modern agriculture in Arizona, though there is anecdotal evidence this is changing. The Arizona Farm Bureau (AZFB) Board of Directors continues to recognize that Arizona families are further and further removed from agriculture and that Education and Outreach must be an integral part of AZFB's focus. Two explicit board objectives are:
1) to promote agriculture to the public, and
2) to network and form coalitions with other groups to aid in achieving our agenda.
These goals drove the 2017 efforts in Education and Outreach.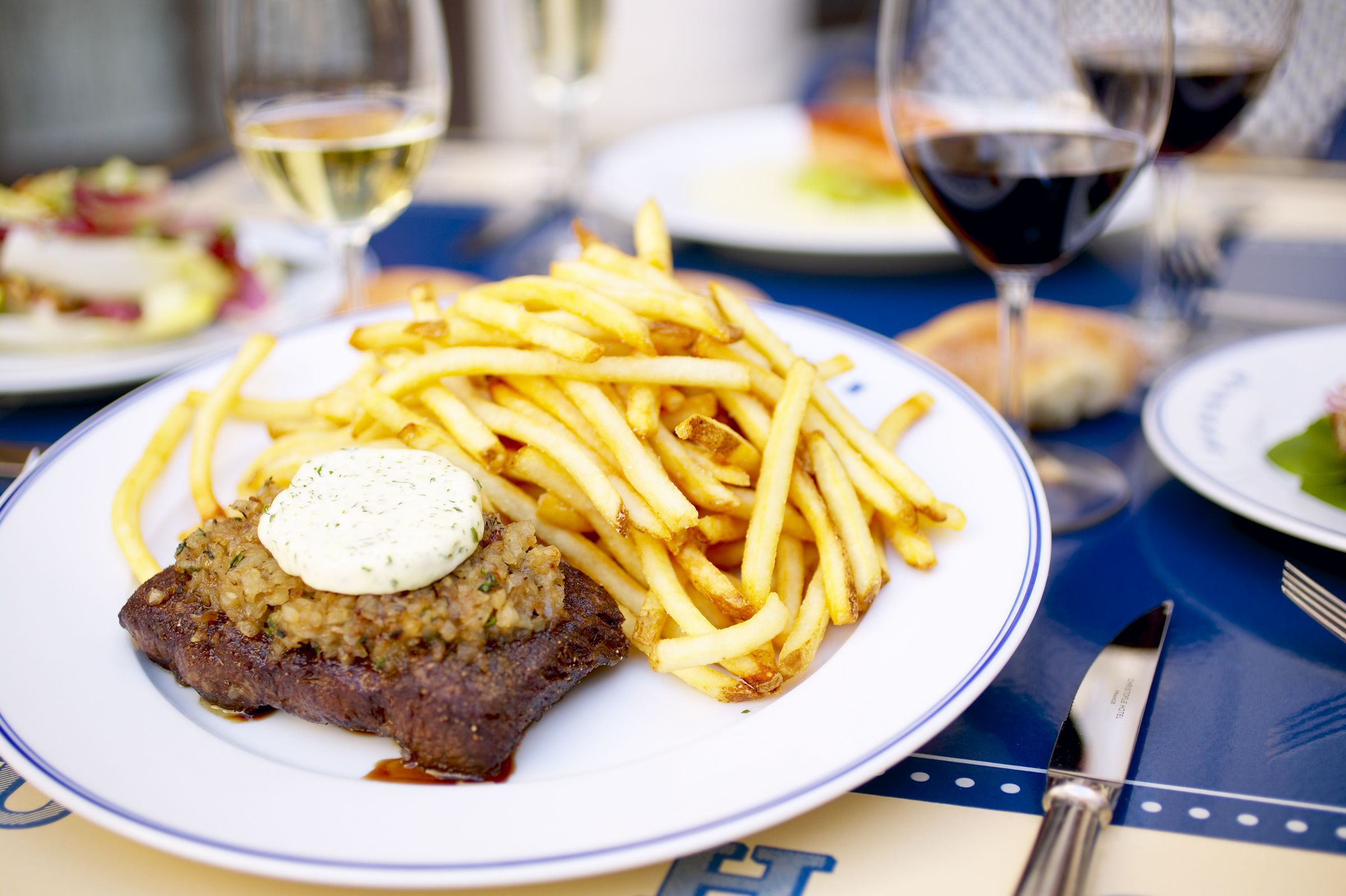 In much of our outreach to the public, we've centered the conversation on food.
As a result, our specific goals for this year were comprehensive and targeted to our overriding board requests: 1) generate close to 8 million impressions (a 10% increase from 7 million from the previous year would be 7,770,000) with our Arizona agriculture story to students and Arizona families; 2) Target outreach strategies in 2016/2017 that focused on students and 25- to 45-year-old women in charge of the household food budget; and 3) generate more targeted brand awareness using all of our outreach tools both in the classroom setting and through traditional and social media channels.
Once our goal-setting was complete, we rolled out strategy early in the fiscal year beginning October 1. Our outreach consists of five key areas: 1) AZFB's Ag in the Classroom (AITC) programing that includes curriculum, presentations, literacy events and special events, 2) paid advertising, 3) PR and Promotion, 4) Social Media and Internet-based Marketing, and 5) Special Events and engagement. While blending traditional and non-traditional (social) media through our outreach efforts, we can focus on "convert" strategies under our "Connect and Convert" effort.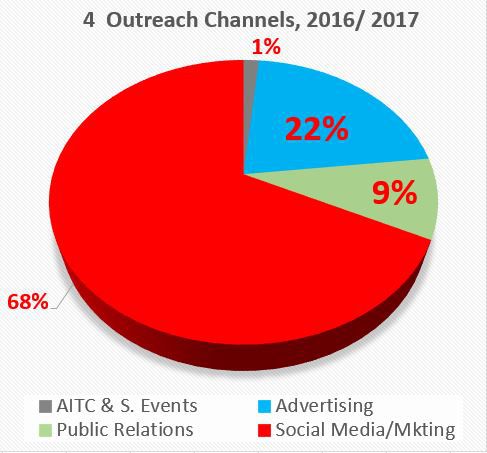 This chart represents the major outreach channels Arizona Farm Bureau drives to connect with the public, dispel misconceptions of modern agriculture and help make farming and ranching a recognized part of our everyday lives for urban, suburban and rural Arizonans.
To promote agriculture to the public we have also implemented several programs that allow the consumer to meet and hear a farmer's story personally or through online methods. Our "Ask a Farmer" program allows consumers to ask questions of our farm and ranch membership and get their information from the source. The Speakers' Bureau, "FenceLine," allows the public to meet and hear directly from farmers on specific issues and topics. The Faces of Arizona Agriculture is a Facebook Poster program that introduces viewers to Arizona producers. The Meet Arizona Agriculture's Farm Family profile program allows the public to meet those families producing their food. Farm Fact Friday radio segments give consumers fun facts about Arizona Agriculture and their food, while encouraging them to visit our media outlets for more factual information about agriculture. Facebook pages, Twitter accounts and blogs also helped drive these efforts. The Goodwill BBQ trailer traveled the state feeding delicious food and educating folks about how their food is grown and who is growing it.
New this year was an influencer blogger tour that connected Arizona's farmers and ranchers to our state's bloggers for a day.
Our quarterly market-basket reports to the media continue to garner high media coverage and teach our Arizona families how to stretch their food dollars by learning how to stick to the basics. Other media engagement includes coverage of topics on immigration reform, water in Arizona, ESA, the Mexican Wolf and more.
Our two mobile friendly websites, azfb.org and fillyourplate.org connect our agriculture public and our consumer public. Over the years, these sites have continued to grow in viewership by providing fresh content and timely information.
Classroom materials and programs were developed to help bridge the disconnect that students have as a result of being so far removed from the farm and ranch. Classroom Posters, Classroom Presentations, Pen Pal Programs, Ag Magazines, and Commodity Curriculum Kits help with these efforts.
Joint efforts between Farm Bureau, Cooperative Extension, Beef Council, Milk Producers, Dairy Council, farm families, Game and Fish, and the FFA continue to strengthen programs and outreach to the community with positive messages about agriculture. This collaboration especially takes place with regular joint special events like our AZ Capitol Market and Ag Fest.
Our Numbers Help Reveal Our Results
AG IN THE CLASSROOM
Farm Bureau Ag in the Classroom has a "boots-on-the-ground" mentality. The hands-on program actively involves teachers and students. Program results are measured by the number of individuals (teachers, students, consumers) that are directly impacted by the program.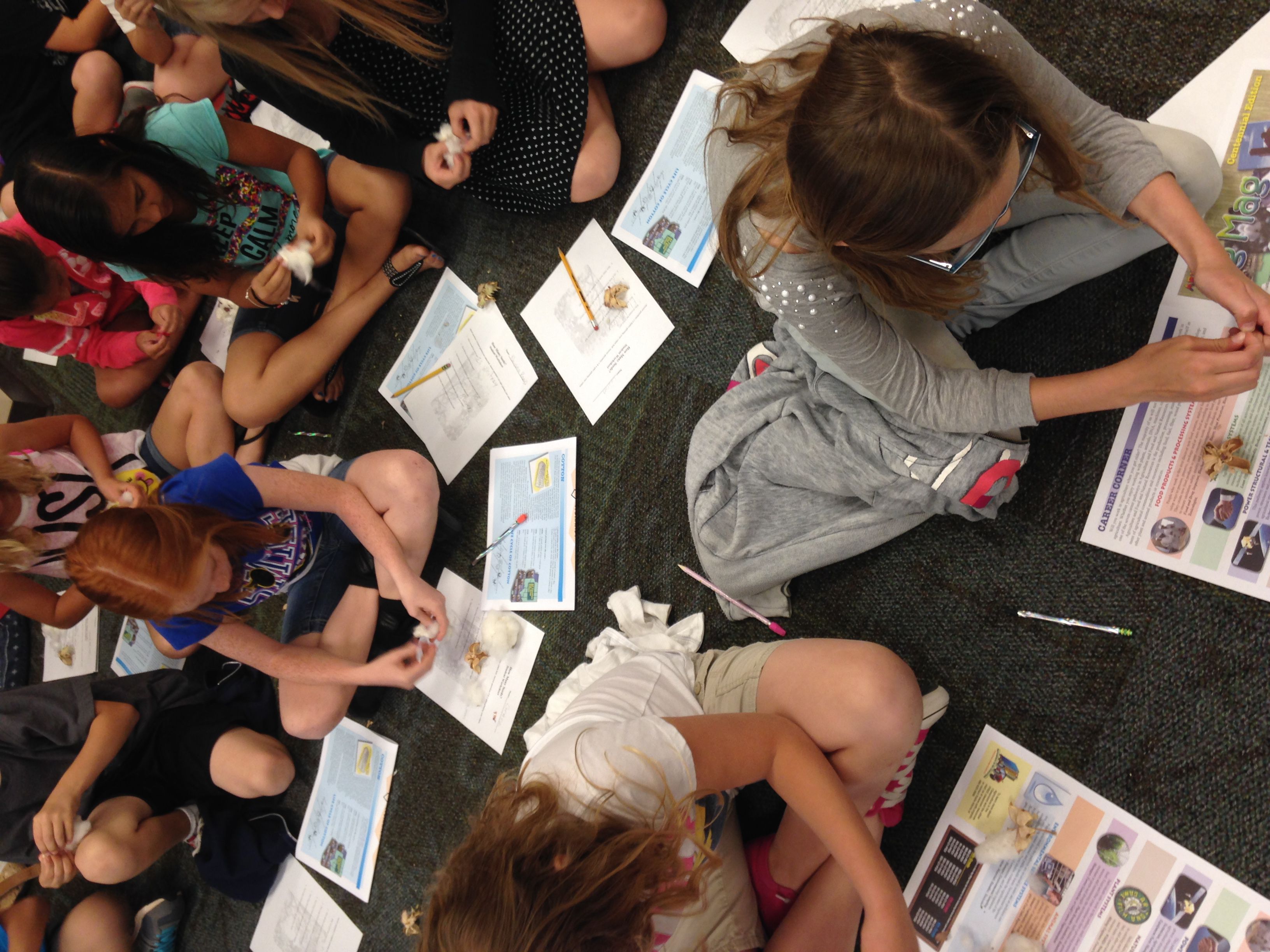 State-specific Ag Mags continue to be produced through partnerships with commodity groups. Arizona Beef and Arizona and Energy Ag Mags have been added to the list of available free resources.
In total, AZFB's education component attracted 1,102 volunteers who assisted with classroom presentations and community events, marking a 32% increase from last year.
All of Arizona's 14 county Farm Bureau organizations participated in Education & Outreach activities with nearly 95,000 students, teachers and adults reached through the Ag in the Classroom Program. This marks a 21% increase over last year. Plus, 103 classrooms and 2,884 students used the 12 commodity curriculum kits.
AZFB's education program increased its presence in Middle Schools and High Schools, reaching nearly 4,000 students with our 6 critical-thinking presentations. 1,547 teachers participated in this year's 3 Ag Literacy events. Over 43,316 students participated in the three week-long events, marking a 23% increase over last year.
175 classrooms participated in Farm Friday Fun with Arizona Ag, pen paling and hosting Skype sessions with local farmers and ranchers. This was a 12% increase over last year.
30 Arizona teachers participated in the Summer Ag Institute, put on by Farm Bureau, Extension, Beef Council and Milk Producers. 15 member families served as stops on this week-long tour and 10 member families hosted teachers for an afternoon on their farm/ranch, an increase of 33% in applications for the program.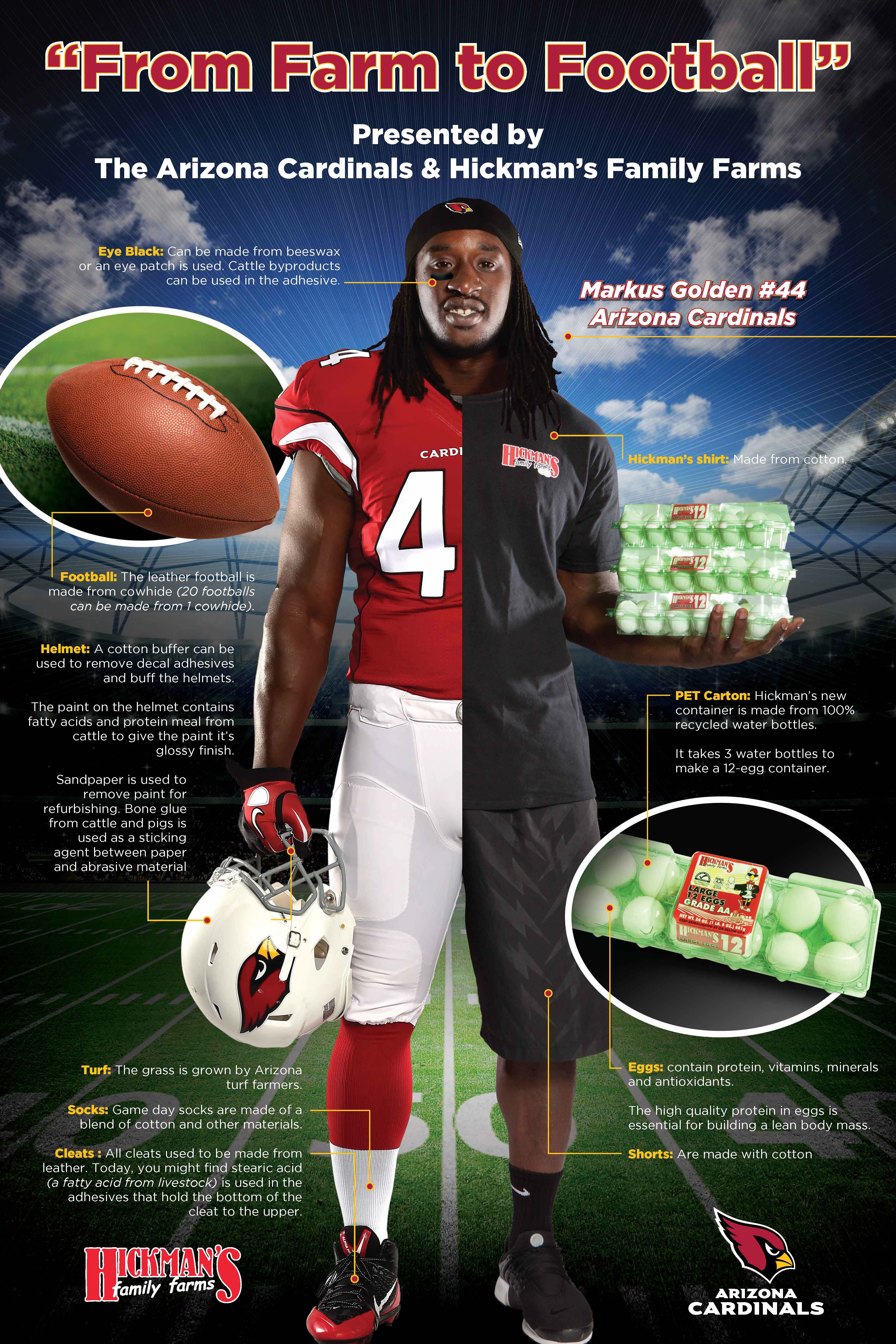 From Farm to Football showcases the importance of farming and ranching in our everyday lives, including football. Arizona Cardinals' Markus Golden is the spokesperson with him showcased on a player poster that highlights ag from farm to football. More than 700 classrooms have signed up for this program in its second season.
From Farm to Football showcases the importance of farming and ranching in our everyday lives, including football. Arizona Cardinals' Markus Golden is the spokesperson with him showcased on a player poster that highlights ag from farm to football. Video messages from Markus are sent to classrooms each month introducing them to the topic they will be learning about through their pen pal. Schools also can win a Cardinals Event at their school through participation in the Harvest for All Penny Drive that coincides with From Farm to Football. Over 700 classrooms have signed up to participate. Farm Bureau member families serve as the pen pals for the nearly 20,000 students.
The number of teachers trained through the AITC program increased by 40% from last year.
Ag in the classroom participated in 10 Science STEM Night Events at schools across the State. This was a 50% increase from last year.
Finally, state specific Ag Mags continue to be produced through partnerships with commodity groups. Arizona Beef and Arizona and Energy Ag Mags have been added to the list of available free resources.
PROMOTING CONSUMER UNDERSTANDING ABOUT AGRICULTURE
This year, we saw greater participation from our membership base in help with engagement through a variety of programs including the newest one, the influencer blogger tour.
The big kick-off to our year was hosting the American Farm Bureau Federation Annual Meeting with over 6,000 farmers and ranchers from across the United States. To show our state's agriculture to the rest of our fellow farmers and ranchers, we created the Arizona Trail. We estimate that at least one third, or 2,000 people, of those who came to the Annual Meeting walked through the Arizona Trail. In addition, we coordinated local tours for over 1,200 of the attendees showcasing 18 of our member farms. 25 Farm Bureau members served as tour guides on these tours.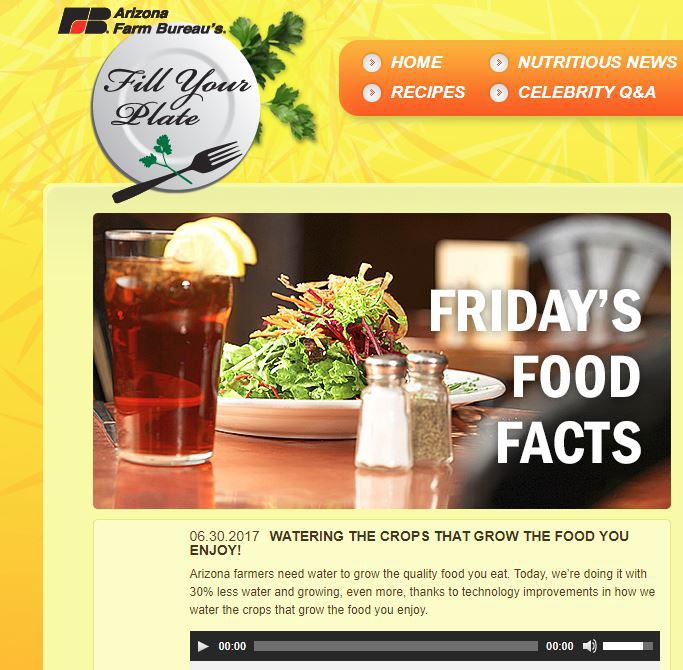 Besides social media, the weekly Friday Food Facts on KEZ radio happens to be one of the highest amasser of impressions at 2 million. The weekly 30-second advertisement about food & Arizona agriculture is geared to a female-listening audience.
Our kick-off the New Year event, Legislative Ag Fest, was attended by 54 Arizona legislators that were hosted by 73 volunteer Farm Bureau members from all 14-member County Farm Bureaus. This event enables members to interact with their legislators as they experience Arizona Agriculture. We consider it the first event of the new year that advances Ag Education and Outreach with our elected officials.
104 volunteer Farm Bureau families were highlighted through the "Meet Arizona Agriculture's" profile series and have drawn a combined 49,724 views to our website, www.azfb.org. This is a 6% increase over last year. These family profiles are distributed through our digital channels and effectively shared on our various social media channels. The 23 farmer member profiles with retail businesses have all said the profiles help their retail, direct-market products.
3,450 Arizonans were reached by FenceLine, our agriculturalist speakers' bureau where more than 20 farmer members spoke. This represents a 22% increase over last year where people were reached with our Arizona agriculture story.
The periodic Faces of Arizona Agriculture poster series on Facebook has been seen and liked by over 180,800 viewers. This is a 3% increase. Additionally, we sponsored celebrity chef and media personality Jan D'Atri's "One Minute Kitchen on Facebook.
Friday Food Facts, a weekly 30-second advertisement about food & Arizona agriculture has drawn a listening audience of more than 2 million. To date, we've had 10 women leaders participate. The spots are aired on a radio station that hosts the largest group of female listeners (70%), 24% of that number are millennials. The spots are used in other venues and shared on our social media channels to extend the reach to our social media audiences.
The Goodwill BBQ tours drew 11,442 participants this year at approximately 60 events with the help of 75 member volunteers including Farm Bureau Financial Services agents. This traveling BBQ is sponsored by Arizona Farm Bureau and Farm Bureau Financial Services. This led to 600 new insurance leads for the insurance side of the Farm Bureau family.
Nearly a dozen Facebook Videos were scripted and produced. These 60- to 90-second videos showcase Arizona agriculture and related topics such as: Economic Contributions of Arizona Agriculture, Sweet Corn, Beef, Dairy, Lettuce, and Watermelon. There were 39,037 views on these videos. This new fiscal year, we plan to release a video a week via Facebook.
72,035 people were reached this year at special events in which Arizona Farm Bureau participated in. These events included the Fiesta Bowl 5K Run, Festival at the Farm and much more. The overall number includes 520 downtown professionals participating in the 16-week AZ Capitol Farmers Market in downtown Phoenix in partnership with various Ag groups including the Arizona Department of Agriculture.
Leaders of the Farm to Football were interviewed on 3 radio stations, 2 TV stations, and developed a radio ad that airs during Cardinals Games allowing for an unlimited number of people to be exposed to the agricultural messages of the program. A Farm to Football article was also published in several newspapers and magazines.
The Farm Bureau Website grew in viewership to 153,399 showing a 2% increase from last year.
The blog, The Voice, garners the most pageviews. Plus, our Fill Your Plate website provides recipes, farm products, and farmers market locations for Arizona families including a weekly blog. Views to this website this year reached 173,942 with its weekly blog attracting the largest viewership.
Our social media outreach through Twitter, Facebook, Instagram and Pinterest allowed us to engage with more than 6 million (6,992,560) users.
Food Blogger Tour with 8 bloggers, 2 media personalities, 4 AZFB staff and 6 volunteer leaders netted follow-up coverage with 2 blogger articles and 1 media profile on a radio show with a listener audience of 90,000.
We finish our year over the 8 million impressions goal at 10,867,891. We also built more in our advocacy base. Today, youth know the real modern ag story. Blogger influencers are explaining agriculture with the facts.