27 Fascinating Things about Our Farm Bureau Members
By Julie Murphree, Arizona Farm Bureau: Do you love farming and ranching? Are you a farmer or rancher? Do you simply want to be part of the Farm Bureau Family?

To explain who we are Arizona Farm Bureau is a voluntary, grassroots membership organization. Membership dues support the work of Farm Bureau in your county, and at the state and national levels.

Whether you are a farmer or rancher who wants to have a voice on policy decisions, or a homeowner who wants to partake of the many member services and discounts we offer, your dues money will pay you dividends many times over. That is a promise we can seal with a handshake.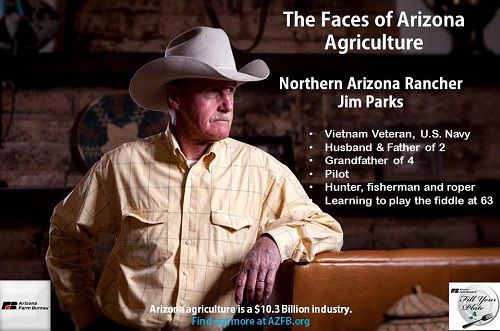 Member Jim Parks (picture above) is a man of many talents and represents what our members are made up of ... true grit.
Regular/Ag Membership
This membership is for an individual or family in the farming, ranching, dairy, nursery or agribusiness community. A substantial part of your income should come from production agriculture. In addition to being a voting member with the ability to hold office in the organization, regular/Ag members receive Arizona's premier Ag publication - Arizona Agriculture - on a monthly basis. All member benefits are available to Regular/Ag Members.
Associate Membership
This membership is for an individual or family who is not in production agriculture, but is supportive of the industry or is interested in one of the many member benefits like insurance or travel discounts. Associate members cannot vote or hold office, but they receive the quarterly CHOICES publication and are eligible for all member benefits.
Young Farmer & Rancher
This membership is for 18- to 35-year-old people who are or will be in production agriculture. You join as a young Farm Bureau member. This entitles you to have your first year of membership for free. There is also a collegiate YF&R membership for students aged 23 or less.
You do have to make an investment in our membership and the cost varies based on the type of membership and where in Arizona you're located in. The investment is well worth it, according to our members!
Yuma and Maricopa County
Regular/Ag Membership $150 - Farmers / ranchers and agribusiness
Associate Membership $35 - "Friends" of Farm Bureau
All Other Counties
Regular/Ag Membership $112 - Farmers / ranchers and agribusiness
Associate Membership $35 - "Friends" of Farm Bureau
An annual dues payment gives you membership in your county Farm Bureau as well as the Arizona and American Farm Bureaus.
Who Are Our Members?
So, curious about the type of people in our membership ranks? Here's some fun trivia and insights into our membership.
John Wayne was a member of Arizona Farm Bureau.
Wayne Newton was a member of Arizona Farm Bureau.
Today, we have approximately 22,000 members.
We have a couple that went to our Annual Meeting on their Honeymoon (now that's dedication).
Howard Buffett, son of Billionaire Investor Warren Buffett, is a member.
We have more generational family members that are members of Farm Bureau than we can count.
Our Farm Bureau members are school board members, on city councils, planning and oning and in the legislature including Senate Presidents and more!
Our members come from all walks of life and all types of agriculture!
People have met at Farm Bureau meetings and later married.
A large percentage of our members have served in the military (farming and protecting the land go hand in hand).
Regularly raise money and collect food to give to our local food banks.
Some of our members have had membership for more than 40 years.
A past president of one of our county Farm Bureau's bought, restored and lived in an old stagecoach depot in southern Arizona.
A member once owned an extensive Corvette collection.
We have a number of flying farmers and ranchers and a few that are aerobatic pilots.
In our "retail" or "direct-market" farming group we have produce growers, a former shrimp farmer, an ostrich rancher and much more.
Our members are young and mature, male and female, diverse and most of all an exciting group of people to hang out with!
We have a Nobel Laureate in our ranks.
An Olympic medalist is in our membership.
We have a nationally-ranked marksman in the family.
We have cannonball and Baja 1,000 racers.
We have NBA and NFL Champions in our ranks.
Major league team Owners also wear the Farm Bureau Brand.
We have explorers, astronauts and inventors with membership.
PRCA & NPRA champions flank our ranks.
And, we have all sorts of champion cattle and horse breeders.
Oh yeah, we have artists and singers too!
Arizona Farm Bureau is nearly 100 years old. We're grassroots and we're committed to Arizona agriculture. How about you?