4 Interesting Arizona Agriculture Facts Related to Cultivated Acres
By Julie Murphree, Arizona Farm Bureau Communication Director: You've seen them before, but we want to do more: Provide interesting facts about Arizona agriculture. So periodically, we'll highlight a few fun facts about Arizona Agriculture.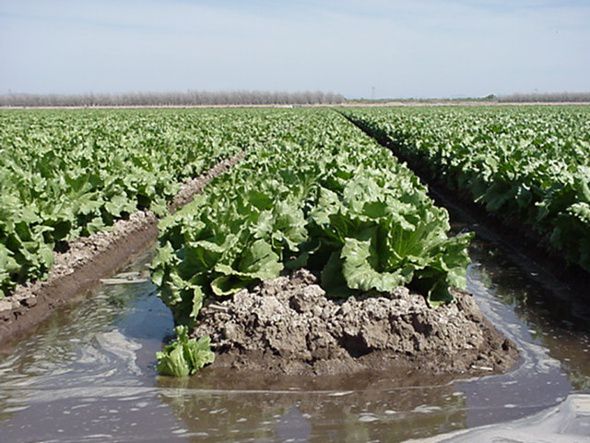 Yuma lettuce being irrigated.
For today, I'll answer a few questions one of our county Farm Bureau leaders had about average size of farms in Arizona, how many we have and how many acres of farmland we irrigate.
Thanks to our "numbers guy" from the United States Department of Agriculture (USDA) National Agricultural Statistics Service (NASS) Mountain Region Arizona Field Office State Statistician, Dave DeWalt, we have answers to all of these questions and more.
The Questions
How much irrigable land do we have in Arizona? Our most recent data for irrigated acres is from our 2013 Farm and Ranch Irrigation report. The data show 851,861 acres irrigated.

How many acres were harvested/cropped (the most recent year available, 2012 Census of Agriculture)? 890,130 acres were harvested in 2012.

How many farms and ranches are in Arizona? 20,005. The majority of these can be found on tribal lands, especially the Navajo and Hopi reservations.

What is the average size of an Arizona farm in terms of acres? 1,312 acres in 2012, down 358 acres from the 2007 Census of Agriculture. Note that this is an average and does not necessarily clearly reflect a specific region or location in Arizona. For example, the urbanized area of Maricopa County's farms average 192 acres. For a breakdown, almost 85% (2,096 farms) of Maricopa County farms are less than 50 acres in size.

5.7% (142 farms) of Maricopa County farms are 500+ acres.
Arizona agriculture represents a $17.1 billion industry. Every productive acre for farming and ranching in this state means growth for the state. To bring it down to you and me, it means Arizona agriculture is a nutrition state.