A Call to Arizona Agriculture Women to Suit Up for Boot Camp!
By Julie Murphree, Arizona Farm Bureau: The American Farm Bureau Federation is now accepting applications for the 2015 Women's Communications Boot Camp, set for Oct. 13-16 in Washington, D.C.
The intensive training is open to all women who are Farm Bureau members. The program focuses on enhancing communication and leadership skills within the agriculture industry, and includes targeted training in the areas of public speaking, media relations, messaging and advocacy.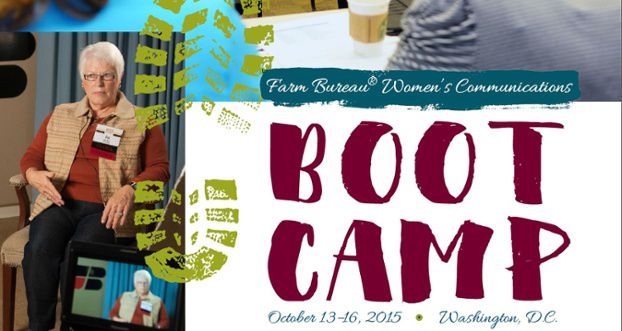 American Farm Bureau's Women's Boot Camp is this fall. Sign up for a chance to help develop your communication skills.
Sherry Saylor, an Arizona row crop farmer who chairs the American Farm Bureau Women's Leadership Committee, said participants gain tremendous confidence in using communication tools to address agricultural topics.
"It is so important for those of us in agriculture to be transparent about what we do to produce food," Saylor said. "The women who participate in boot camp become confident and powerful voices for rural communities across the nation, allowing our positive message about the agriculture industry to expand."
Arizona Farm Bureau had a farmer represented at last year's Boot Camp. "This was the most intense conference I've ever been to," said Nancy Caywood of Caywood Farms. "They gave us such incredible learning experiences and applied a lot of pressure but they get you through it and when you leave you feel like you've gained so many communication skills."
Saylor said women are important representatives of agriculture, particularly in speaking with the public and reaching out through social media. The Women's Communications Boot Camp is vital for producing powerful advocates for the agriculture industry, Saylor said.
"I will forever be grateful for this boot camp experience," added Caywood. "You obtain an incredible network. I'm also now on the AFBF Go-Team and I will continue to stay strong and stay aware of issues related to agriculture. I also plan on using the skills I learned for tours on our own farm. And, I'm willing to speak to any group about agriculture if asked."
Caywood, a member of Arizona Farm, Bureau believes this training will help her with the media. "This boot camp also taught me to shave down my comments," she explained. "I feel much more comfortable speaking to the media."
Fifteen women will be selected to participate in this year's program, which is sponsored by the AFBWLC. Applications are available online through state Farm Bureaus. The deadline for submissions is Tuesday, June 30. All applicants will be notified of their status by July 31.
The American Farm Bureau Women's Leadership program provides women with the training and education they need to encourage positive change in their communities and within agriculture. For more information, visit fb.org. Details about Women's Communications Boot Camp includes information about what will be covered during the boot camp.