A Conversation about Yuma Water with a Yuma Farmer: John Boelts
By Julie Murphree, Arizona Farm Bureau Communication Director: We're interviewing a variety of people regarding water and its vital role in sustaining life and growing agriculture in this state.
We're also celebrating our farmers and ranchers in their efforts to manage and conserve this critical resource in our desert state. John Boelts is one of those individuals. A Yuma farmer, he is also Arizona Farm Bureau's second vice president.
Here, we chat about the importance of water in Arizona and certainly to Yuma agriculture.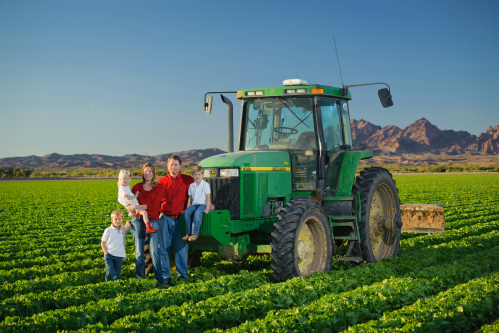 John and Alicia Boelts and their three children. They are advocates for protecting Yuma agriculture where 80 to 90% of all leafy greens are coming from for Americans to eat during the winter.
Arizona Agriculture: For everyone we have interviewed about Arizona's water issues, I have asked on a scale from one to 10, where would you rank Yuma's efficiency in water use (10 being the best) and why?
Boelts: I rank it a 7. The reason I say that is twofold. First, is the natural inefficiency due to Yuma's naturally salty soils. We face that same situation in most of the western United States. In order to displace salt properly, we must use more water (approximately 15% depending on actual field conditions) than what is actually required for the crop, particularly at germination. Then there are a few inefficiencies that we continue to address with ditch-lining projects and such, as time and financial resources allow.
Arizona Agriculture: Yuma has transformed over the last 40 to 50 years into an amazing agriculture center and certainly water is core to this. But based on your knowledge of Yuma's water situation, what is it that our pioneer farmers and other stakeholders got right about water in Yuma?
Boelts: The use of gravity to move most of the water is not a new concept, but certainly an invaluable one. Delivery cost of most of our irrigation water is less than $30 per-acre foot, and that is a huge advantage. Secondly, the pioneers who settled Yuma did so many years ago and established a continuous beneficial use of Colorado River water. This put Yuma-area farmers near the "front of the line," aiming water use contracts of the precious and somewhat over allocated resource.
And they did this in an area with largely inhospitable conditions 5 to 6 months out of the year.
Arizona Agriculture: What were the core drivers that moved Yuma from growing our more traditional crops like cotton and alfalfa to vegetable production?
Boelts: Climate is paramount. The limited freezing temps in the winter in the Yuma area, and the lack of exposure to hurricane weather, like in Florida, make this area more desirable than most other areas in the southern United States for growing vegetables. Second to climate is water availability, and lastly is human ingenuity. Private marketers of fresh vegetables and vegetable seed have driven our market and production-area infrastructure development.
Arizona Agriculture: A few years ago, I interviewed Howard Buffet. He criticized Yuma's lack of low-till and use of drip. But in studying your report, I noted that one aspect of water efficiency in the region is its multi-cropping strategy. Explain why and how this is so effective in Yuma-area farming.
Boelts: Drip irrigation is used regularly in the area, however, its use is far more economically viable when farmers can grow multiple crops using a single installation of drip tape. You are correct that the big challenge to getting the most out of a drip installation is to spread that cost over two crops when a secondary crop may be planted flat as opposed to on beds.
Arizona Agriculture: I've often said if Yuma agriculture disappeared, America would become a nutrient-deficient country at least during the winter. But to the uninformed, why is this so important?
Boelts: Yuma and a few other coastal areas in California and Florida offer a rare opportunity to our country to have domestically produced fresh fruit, fresh vegetables and vegetable seed crops, during winter. This production can only be replaced from international sources if these areas quit producing and of these limited locations, Yuma offers the lowest risk and lowest cost of production along with the most consistent production.
Arizona Agriculture: Why is there such a significant area of Yuma water rights that are Present Perfected Rights (PPR) and why is this level of rights so important? If they are the oldest and best water rights on the lower Colorado River, what happened to get them?
Boelts: In the late 1800s we had great leadership in our country who pushed to develop the natural resources our bountiful land has to offer. After watching Europe suffer millennia of war with various countries fighting time and again to establish self-sufficiency, our wise leaders developed forestry, mining and water for agriculture to insure we didn't suffer like our ancestors in Europe had.
The water rights from Imperial Valley to the west of Yuma all the way to The Wellton-Mohawk Valley to the east, in 8 irrigation/drainage/electrical power districts, pioneers carved their dreams in the form of irrigable farm land in fertile soil. By developing the land and putting the water to beneficial use meaning it would benefit the general population of our country, farmers developed and paid for the infrastructure we all now find is so vital to living in the desert southwest. That being dams and hydroelectric power generating capacity in the Colorado River watershed. And for doing those things first, the right to continue farming with that developed natural resource of irrigation water and hydroelectric power has endured and preserved, to the great benefit of all Americans.
Present Perfected Water Rights were established by federal court decree and were established as having been mainstream users prior to June 15, 1929, the effective date of the Boulder Canyon Project Act. The exceptions to that status would be projects perfecting rights in the subsequent decrees in Arizona v. California in 1979.
Arizona Agriculture: From the perspective of Arizona agriculture, what should be our biggest concerns regarding Yuma and water? And what do we do to resolve these concerns?
Boelts: The right to use a natural resource is a blessing and a responsibility. If agriculture fails to make a compelling argument to our urban friends as to how and why places like Yuma should remain permanent holders of present perfected rights, then agriculturalists will not have just failed our industry but also will have failed our urban friends in kind. Furthermore, if long standing rights to continue beneficial consumptive use can be undone, such as those held by Yuma-area irrigation districts, it will be a monumental failing of our political and social charges to maintain domestic security through self-reliance.
All that said, farmers have a responsibility to preserve and protect the resources we depend on to produce food and fiber. And I am sure we will see farmers in this area continue to take up conservation measures as readily as in the past, which has been frequent, if not more so! The present concern is if fore-bearing water, even if only temporarily to wet the thirst of some other area establishes a weak link in a well girded legal chain of decrees that established these as permanent rights.
Arizona Agriculture: If we conclude that Yuma's water efficiencies rank high, do we have room for improvement and if so how?
Boelts: Certainly. As technologies improve in crop and soil science we may be able to reduce our need to over apply water to overcome salinity conditions. The increased use of drip and sprinkler irrigation, although currently frequent, will also reduce some surface water consumption, though may not greatly effect consumptive use. Also the prospect of treating brackish ground water might prevail as a means to grow more crops with less diversion of water or an expansion of arable land.
Arizona Agriculture: How are we working to secure the future of agriculture in Yuma?
Boelts: While some will rest easy on the thought that the status quo will be maintained, many of us have no delusions. Rights, no matter how perfected by one judge or Congress, may be undone by another. These are fast and loose times we live in with regards to such things most of us thought were settled. So we promote our industry regularly to remind all who will listen in public policy makers and private citizen alike that the bounty we now enjoy, the year round, is not only a blessing worth preserving but also the predicate for all other industry existing as we know them.
We organize in trade groups to build war chests of funds for legal, legislative and outreach opportunities. We encourage public policy makers to maintain and expand water conservation tax credits. And we continue growing the food and fiber this uniquely irreplaceable area can produce, since that is by far our best advertisement of the value of agricultural water use.
A few years ago, John Boelts was interviewed for America's Heartland regarding water and Yuma leafy greens.
Editor's note: John's answers to our questions serve as a compliment to the Yuma water article featured in the October issue of Arizona Agriculture.