A Deep Dive into the Importance of Arizona's Local Markets
Kimber Lanning is founder and executive director of Local First Arizona, a statewide organization implementing strategies for new models of economic development that create vibrant local economies. Lanning is an entrepreneur, business leader and community development specialist who works to cultivate strong self-reliant communities and inspire a higher quality of life for Arizona families.
Through the years Lanning and I have stayed connected assessing opportunities between our two well-respected member organizations. And, through it all, I've seen her grow even more as an impassioned leader on behalf of Arizona businesses. In fact, Lanning has grown Local First Arizona into a widely respected organization that is leading the nation in implementing systems and policies to ensure a level playing field for entrepreneurial endeavors of all sizes. Local First Arizona's membership might be the small "mom and pop" shop all the way up to Hickman's Family Farms with more than 600 employees. Their common distinction is they are locally-owned businesses. The organization has 3,000 business members and four statewide offices. She leads a team of 20 who work on a diverse array of programs ranging from healthy local food access, entrepreneurial development in underserved communities, and rural community development, each of which plays a part in building sustainable and resilient local economies.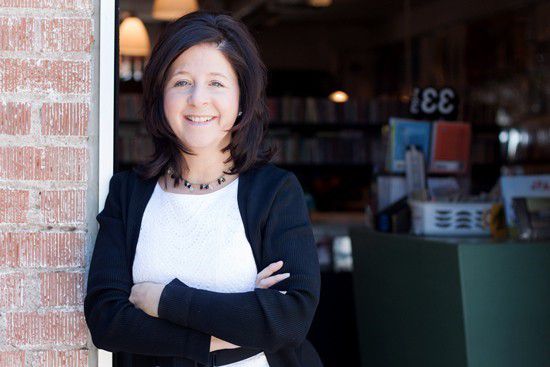 In 2014, Lanning was recognized as the Citizen Leader of the Year by the International Economic Development Council, a pivotal moment in recognizing Localist policies as a force for economic development. Her work in promoting adaptive reuse in Phoenix's urban core was recognized by the American Planning Association, who presented Lanning with the Distinguished Citizen Planner Award in 2013. Lanning has also been named one of the "50 Most Influential Women in Arizona" (Arizona Business Magazine, 2011), was the recipient of the Athena Award by the Greater Phoenix Changer of Commerce in 2013, and was the 2014 Leaders of the Year in Public Policy (Arizona Capitol Times).
With all these accomplishments, it was only natural that I reach out to Lanning and ask her about Arizona's local markets. Her insights are valuable.
Arizona Agriculture: Knowing you're a business owner, you certainly must have been inspired to strengthen local markets, but what compelled you to put forth the blood, sweat and tears to launch Arizona's version of Local First?
Lanning: I had two things on my mind when I started the organization back in 2003. First, I wanted to create a community where people put down roots and felt connected, believing that if they were more connected, they would feel more accountable for the overall health of our state. Back in the 1980's through the early 2000's, so many bright young people left Arizona and we were a very transient state. I wanted those folks to stay here and build their lives and families. And I believed that small, local businesses were playing a critical role in building a sense of place. In other words, people who know the businesses in their communities, who have relationships with business owners, they actually feel more connected to their communities and therefore they're more likely to vote, to volunteer, and to give charitably. The Knight Foundation study called Soul of the Community outlines incredible findings that show connection to place is the leading indicator in places that have prosperity. So: go local! It's good for your soul!
The second thing that was on my mind was that I wanted to level the playing field for Arizona businesses. At the time we were giving away massive subsidies to big chain stores to come in and set up shop. Now, I am all about free markets and I believe all businesses should be able to move in here and do business. But when did it become okay to pay them to come here? For example, the Cabela's store in Glendale received a $68 million subsidy. The Bass Pro Shop in Mesa received $32 million. Most Wal-Marts received between $20 to $35 million per store, oftentimes receiving a sales tax abatement, which means when you pay your sales tax there and it's supposed to go for things like parks, libraries, and fire departments, well, they get to keep it. For 10 years. That is a raw deal for Arizona and I wanted that to stop.
Arizona Agriculture: In the late 1980s and throughout the 1990s, National Cotton Council had a "Buy America" campaign, specifically called "Grown & Made in the U.S.A." We finally switched to a "Cotton Counts" Campaign because foreign textile products became too overwhelming to compete against. Do you ever get overwhelmed by the barrage of foreign-made products and what are your answers?
Lanning: I think one of the things Local First is best at is helping people understand the true costs of the things they buy. Often here in the United States, people don't really think about the true costs. A hammer made in the U.S. by an American company not only supports their employees with jobs here in the U.S. but also, they support what we call secondary and tertiary jobs such as accountants, graphic designers, website developers, etc. People don't realize the multiplier effect of choosing to buy something made here. Nor do they think much about eliminating jobs. We call it Buying Ourselves Broke. Once folks wake up to the idea that the economy is ours to own, they start thinking about what they CAN do to help retain and grow jobs and keep wealth recirculating in the local economy. Ultimately, cheap stuff is costing us a fortune. But the more we buy, the more we are looking for someone to blame for our economic situation.
One other important note is we're called Local First, not Local Only or Local Always, we're simply Local First. If everyone just shifted 10% of their spending from big corporations to locally-owned enterprises it would have a significant impact on our economy. In fact, if 600,000 people shifted 10% of their spending, it would create $132 million new dollars recirculating locally and 1,600 brand new jobs. So, go get a local oil change, get a local haircut, buy some Arizona grown carrots, or move your money to a local bank or credit union. All these simple efforts can make a HUGE difference and provide hope for the next generation to stay here and thrive.
Arizona Agriculture: Even technology that shifts consumers' tastes?
Lanning: There's a lot to be overwhelmed by these days. Right now, Amazon is keeping me awake at night because most people have no idea how they are undermining the U.S. economy. Study after study show they are systemically eliminating jobs of all kinds and exporting wealth from our communities. When retail stores go away, it's not just the retail jobs I'm worried about. It's the accountants and graphic designers and website developers that are eliminated too. Just imagine the impact on schools, parks, and libraries in states where Amazon still collects no sales taxes. People believe they're paying the cheapest prices but I can show time and again they're not. In fact, there's a new study that shows that folks who pay for Amazon Prime are paying more for their purchases than those who don't pay for Amazon Prime 56% of the time! Amazon knows people trust them and that they'll rarely ever shop around. And so, they're going to charge you as much as they can get away with. There's a high price tag on convenience, and we're all going to pay for it.
Also, when it comes to food especially, consumers want to see, know, and trust where their food is coming from. With the onset of technology, we've watched a few efforts now that have tried to take specialty crops to market via online platforms, and they haven't taken off the ground the way the entrepreneurs wanted since people wanted to see, touch, and choose the food!
Arizona Agriculture: Having said that, I know you recognize that while we celebrate "local" we also celebrate international trade. Arizona exports approximately $1.5 billion worth of agriculture product from our state. We need international markets. Do you see any synergy between local and international markets at least as it relates to agriculture?
Lanning: I'd like to see more Arizona-grown food eaten by Arizonans. Otherwise, we are growing a whole lot of tomatoes to ship off to other markets so we can import someone else's tomatoes. And that creates a reliance on oil that I'd rather not see. But to get more local foods to local markets we have a lot of work to do around food-systems development and policy so it's easier for the farmer to sell to an Arizona school district than it is to sell to China. We have kids in food deserts across our state who can actually see the farm but they can't eat the food. I want the farmer to have more options to bring their goods to market.
We have a number of large farms, like Sunkist citrus down in Yuma, that would make donations to local schools, but the local districts are forced to throw away most of the donations because they don't have the ability to process and store the lemons into lemon juice, lemonade, custard, etc. We have a lot of work to do to build more capacity to keep food circulating locally.
Arizona Agriculture: Local First Arizona has carved out a niche to serve the small, beginner local farmer client with some financial and educational opportunities. Talk about this and what do you anticipate for the future?
Lanning: We know that farmers still must be businesspeople, yet the system can be especially tough to navigate, especially if you don't have a strong family history in farming, or a strong mentor to help you gain access to land, capital, resources, and help see you through from plantings to market.
To support these small and beginning local farmers, Local First Arizona Foundation has established its Healthy Local Food initiative to help local farmers access local markets.
Good Food Finder AZ is Arizona's online directory of local foods, serving as a hub where you and institutional food buyers alike can discover and contact Arizona's farmers and food producers. This free resource shortens food supply chains and improves access to local production. Additionally, the Good Food Finder Resources pages navigate users to food education opportunities, food access programs, and new market opportunities.
Food & Farm Forum is an annual 2-day conference for producers, food entrepreneurs, local food advocates, business owners, and investors, programmed to change the way our desert state feeds itself. This year, the event is really focusing on bringing together folks from all aspects of the supply chain to discuss, "What makes food good?" We'll be diving deep into conversations about connecting resources strategically to increase food access and prosperity for our producers.
Farmer + Chef Connection is an annual food expo featuring exclusively Arizona-grown and produced foods and beverages. This industry-focused event is open to producers of all sizes, as long as their product is Arizona grown and made. Chefs, restaurateurs, and all wholesale buyers are invited to connect with our homegrown producers.
We plan to continue providing resources to local food producers and helping to expand their market, both through Good Food Finder and our annual events.
Arizona Agriculture: Water, labor, and regulation are some of Arizona agriculture's biggest challenges. From the perspective of a businesswoman, you can identify with these issues. For agriculture, some might contend it's even more complicated. What do you say to our Arizona farmers and ranchers facing this myriad of complicated issues?
Lanning: "God bless them" is where we can start. The regulations and fluctuations they face are astounding. As I mentioned above, I think it's critically important for us to help develop food systems that reduce the burden on the farmer and create more opportunities for them to sell their products consistently, locally.
We're excited by the work of the local NRCS Conservation districts to offer water and soil conservation practices, but we recognize that the desert is a harsh place with ever-more difficult growing conditions.
Arizona Agriculture: Not always talked about, but there is somewhat of a conflict between our beginner farmers and our generational farmers --- legacy farmers if you will --- that at times puts both parties on the defensive. Our use of the word "sustainability" means different things to different people. How do we bridge the gap and create more support and collaboration between various farm and ranch families and dispel some of the misconceptions?
Lanning: I agree with you and believe we are doing all we can to be good stewards of the food producers large and small. We often find ourselves 'translating' between the two and dispelling myths as you said. Our event called the Food and Farm Forum is aimed at specialty crop producers and small farms, but we always present the fair and balanced view of agriculture overall. I believe more dialogue will go a long way in building relationships and a deeper understanding of each other's priorities. We all recognize that diversity is what makes our system more resilient.
We've also been proud to see generational farms like Duncan Family Farms that have a vested interest in supporting small-scale farmers in their growth and commitment to sustainable, organic agriculture.
Arizona Agriculture: And on that point, perception becomes truth. Many beginner farms perceive that Arizona Farm Bureau takes care of only big farms despite the fact that our farm and ranch policy is agnostic as it relates to all farm sizes and types. We're the one agriculture organization that is equipped to advocate (lobby) for any type of operation on the local, state and national level. How does Arizona Farm Bureau work with Local First Arizona to help us change this perception and advance the cause of both groups?
Lanning: Your participation in the Food and Farm Forum speaks volumes about your interest in caring for Arizona's smaller producers. Not to mention many, many years of Fill Your Plate advocacy! I view Local First as a great place to continue conversations around policies and their impacts. Who will the policy benefit or hurt? How can we hear all the voices around the table? I think we stand with you in widening the net and finding ways to have respectful dialogue to strengthen Arizona's overall agricultural industry and celebrate Arizona's homegrown foods, which is a huge reason I'm proud to call Arizona home.
We also can collaboratively invest in Arizona's next generation of agriculturalists. We've seen your recent work to establish the Agriculture Industry Certification and think there's the opportunity to further partner to support youth who have had annual 4-H and FFA projects, and help them transition into young entrepreneurs and business owners to further strengthen our agriculture industry and local food scene.
Arizona Agriculture: Finally, we're both not-for-profit, member-driven organizations. Besides the local business focus of Local First Arizona, what do you consider the organization's sweet spot? And, what kind of collaboration do you see taking place between these two organizations?
Lanning: I think our sweet spot is getting folks to change their behavior. I would love to work with the Farm Bureau to strengthen the Arizona Grown label so it's a well-vetted and trusted brand that people are excited to support. I think we've done a great job of building awareness about the importance of eating locally, but we should continue to increase visibility and access to Arizona grown foods while we build a community that cares enough to seek out Arizona Grown.
Editor's Note: This article originally appeared in Arizona Farm Bureau's May 2018 issue of Arizona Agriculture.
Join Our Family