America the Beautiful Covered in Clouds of Dust from Off-Highway Vehicle Overuse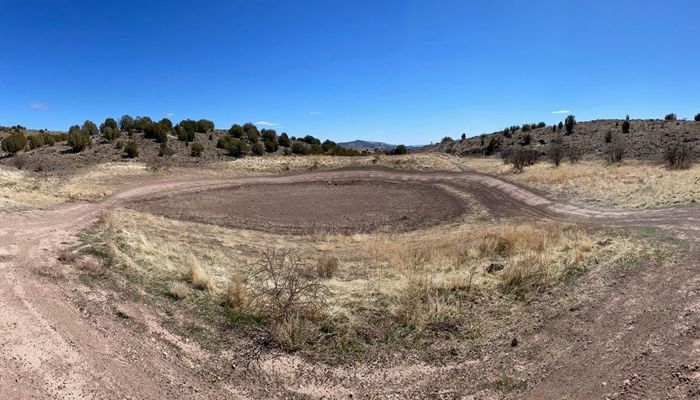 Northern Arizona rancher Becki Ross is a partner in a diversified family agricultural business that currently farms and dairies in western Maricopa County and produces beef in Yavapai and Coconino counties. If anyone has been front-and-center on the issue of off-highway vehicle misuse, it's Ross as their ranching operation is situated in one of the most popular places for Arizona families to come "off-road."
Since the pandemic in 2020, there has been a dramatic increase in outdoor recreational activity in Coconino County and throughout the state. Arizonans have been using the outdoors to escape from the mundane activities of everyday life, especially when we were all sheltered in place. This has spurred the rise of Off-Highway Vehicle (OHV) activity and traffic. 
Fortunately, legislation passed in 2022, HB2130, limits a landowner's liability for any injuries to educational or recreational users on the owner's land; additionally, these users are responsible for any damage they cause to the land. Later this year, a study committee created pursuant to another bill passed last year will convene for the first time. This committee will bring together representatives from government, agriculture (including Farm Bureau members like Becki and Coconino County Farm Bureau President Benny Aja), sportsmen, law enforcement, tourism, and OHV rental and manufacturing companies to discuss mutually beneficial solutions to the multitude of issues our state is facing because of the increased use of OHVs. 
"As our state continues to grow, so will the impacts on public lands from recreation, travel, and climate change. Our charge is to provide effective management of these lands to ensure sustainability for future generations," said Sheriff Driscoll of Coconino County.
In the midst of all this are ranchers dealing with the day-to-day on lands they are raising their cattle on. Ross has plenty to share. She grew up in Gilbert where she met her husband, Dustin. After graduating from Gilbert High School, she attended NAU and graduated with a B.S. in Parks and Recreation Management with an emphasis in Forestry and a B.S. in Elementary Education. Of note, ranchers are not opposed to off-highway vehicles, they often use them for their own ranching operations. And, areas exist that are designated for OHV activity. 
Dustin and Becki raised their sons, Wyatt and Nate, on the ranch near Sedona, Arizona, while also farming in Gilbert and Paloma. Both boys have ambitions to participate in the family business soon. 
Ross likes to say her official title is cook, chauffeur, bookkeeper, maintenance, feeder, spoiler of all horses and dogs, and a part-time cowboy. She paused long enough to answer my questions about what her ranch and farm family has faced.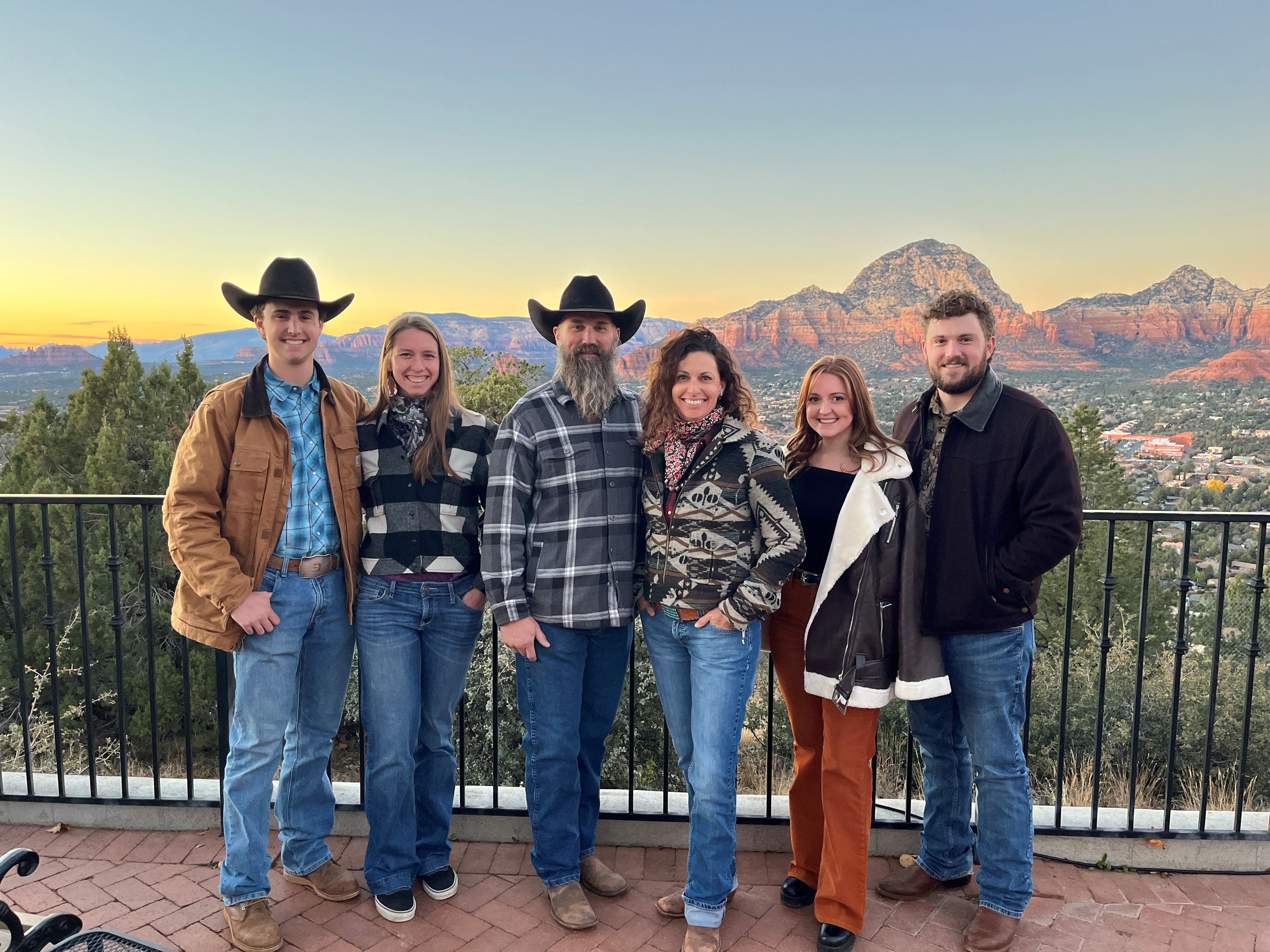 Becki Ross and her family have first-hand experience with how improper use of off-highway vehicles are tearing up our beautiful public lands.
Arizona Agriculture: At 30,000 feet, discuss the current situation with OHVs as it relates to ranching and the environment.
Ross: The number of OHVs has dramatically increased in the last twenty years. At that time, side-by-sides were relatively brand new, and almost all of them were used by hunters, who generally used them as a tool for their hobby. Now there are thousands of them being used by "weekend warriors" and the hobby is adventure driving. The machines have evolved dramatically as well. They are much bigger and much faster with incredible suspensions that allow fast travel over the roughest of roads. 
According to data from the Arizona Department of Transportation, the number of registered OHVs in the state has more than doubled over the past two decades, going from just over 128,000 in 2002 to over 256,000 in 2022. This trend is likely due to several factors including the growing popularity of OHV sports and recreational activities, as well as the state's expansive and varied terrain, which is well-suited for off-road driving. An even larger number than DOTs, the Sedona Chamber of Commerce reports that the number of registered OHVs in Arizona exceeded 450,000 in 2021. While these numbers vary greatly, it does indicate the necessity of gathering accurate data to make educated management decisions for OHVs in our state. 
In addition to the increase in OHV numbers, many people don't realize that there are laws out in the woods. They think that because there are no speed limit signs, no speed limits exist. Human nature seems to make people want to use these machines in a destructive manner, whether it's spinning donuts, or trying to climb a steep hill, or creating a "track." Arizona OHV operators are using Arizona ranches as their playgrounds. While most ranches are leased public lands, they are multi-use land. When these types of "adventure users" come onto ranches this activity of off-road driving is especially destructive to natural resources and roads and negatively impacts Arizona's ranching operations. 
Arizona Agriculture: What are some long-term impacts or some of the challenges you've dealt with as a rancher?
Ross: The roads have drastically been degraded because of the high volume of highly capable OHVs and the lack of adequate maintenance of existing roads. Road accessibility is shrinking for us. Specifically, we have loading chutes that can no longer be accessed by semi-trucks. Many roads that we historically have traveled with our ranch trucks and gooseneck trailers are now impassible. We used to load a pallet of feed or salt in the back of the truck to deliver supplements to cows. Now we hand load feed tubs and salt in the bed of an OHV to do the same job but with multiple trips. 
Additionally, the cows aren't comfortable being in places that are highly used for recreation. We estimate that about 25% of the ranch is not evenly grazed anymore. The cattle move away from recreational use near so-called "OHV trails." We are required by our allotment environmental assessment decision to utilize our pastures in a very specific way and must utilize less than 40% of the grass and brush. But as our cattle spend their days moving away from these "OHV trails" and are concentrated in a smaller area, we run the risk of being out of compliance with our agreement with the United States Forest Service (USFS). Our workload has dramatically increased trying to get cows to utilize pastures evenly. We now spend many more days moving cattle, only for that work to be undone by OHVs and other visitors to the ranch.
For us specifically, we are mostly impacted by the OHV rental business. The first OHV rental business appeared in Sedona in 2010. Currently, there are about 300 units available to rent in Sedona and most are directed our way. It's like we have a bunch of folks in rental Corvettes on a racetrack on the ranch. We see mostly inexperienced operators, on vacation making the most of their four- or eight-hour rental. Unfortunately for us, many do not understand forest etiquette and they think they are out in the middle of nowhere and the roads are their OHV track. An OHV racing by, blowing dust on us is not only insulting but also dangerous whether we are on horseback, on foot, or in our vehicles. 
As residents, my neighbors and I have many stories of very dangerous driving encounters with rental operators, and we are frustrated that this is happening near our homes and on the ranch roads that we travel every day. Both the USFS and Arizona Game and Fish struggle with the management of OHVs because of budgeting, large areas to patrol, and multijurisdictional issues. But if reckless driving of any kind was happening near neighborhoods or places of business, we would expect law enforcement response to be effective and quick to control the situation. We have not seen the same management in rural Arizona. 
Arizona Agriculture: Have you experienced economic losses? If so, explain.
Ross: Yes. It is like we are being killed by a thousand tiny papercuts. We do have cattle hit by vehicles. The cows are being squeezed out of highly recreated areas resulting in uneven usage of our pastures. We handle and move cattle more to encourage them to use pastures evenly. More gates are left open, and more fences and cattleguards are crashed into, creating extra work. 
This demand on the ranch manager does not allow for other ranch projects to be completed. Damage to our work and personal vehicles and trailers because of the dramatic decrease in road quality, repairs are more common. Our efficiency is decreasing as we make more trips in smaller vehicles to do the same job because of road quality. 
Arizona Agriculture: I recall you saying the situation became out of control, especially during the pandemic and when families were forced to shelter in place. Has it improved at all?
Ross: I see some improvement, but not enough. Just like all northern Arizona, in the summer of 2022, we saw a slight decline in forest users. Is it because of lessened pandemic restrictions and people seeking other recreational opportunities in previously closed areas of the country or world? Or maybe high gas prices kept people closer to home this summer? I don't really know. One thing we've noticed is Arizona Game and Fish-focused OHV enforcement on holiday weekends has made a positive impact on behavior in some of the heavier-used areas around Flagstaff. 
But OHV manufacturers are working against responsible riding. They are working against cattle producers and caretakers of the land and law enforcement. Most of the advertising that I see by Can-Am or Kawasaki or others have professional drivers doing doughnuts, splashing through water, speeding and driving cross country. The message they are sending does not align with the conservation of our natural resources or the responsible use of public land. If OHV operators have a need to do that type of destructive driving, they should do that on their own private property or the few OHV play areas in the state that have been designated for such activity. 
Arizona Agriculture: Recent legislation is trying to address the situation. What makes you hopeful?
Ross: It's a fantastic start! State legislators are aware of the increasing problem and are interested in balanced solutions. But because this is such a complex problem a Study Committee on OHVs has been created to work together towards solutions and recommendations. The group will include land managers, law enforcement, elected officials, representatives from the agriculture industry, landowners, as well as OHV enthusiasts. It will be challenging to be a part of this group, but I am very much looking forward to participating on the Committee and working towards solutions. 
Arizona Agriculture: What still needs to be done?
Ross: The state of Arizona needs to decide on how to manage public lands. As our population continues to grow, and OHV numbers continue to increase, this issue is only going to become a bigger problem. Do we want to manage our lands for natural resource health, watershed and food production? Cattle are amazing and utilize otherwise non-productive land and turn it into a high-quality food source. Ranchers' livelihood depends on a healthy range. As producers, we steward our resources, reduce fire risk, and make water available for cattle and wildlife. We go to great lengths to improve production on the ranch and care for ranch improvements. But recreation has value and is important to land managers. Do we want to go so far as to prioritize recreation over the health of the forest? A lot of the damage is a volume-created problem when it comes to recreation in the forest. We as cattle producers are far outnumbered even on our own ranches. Land managers are directed to manage multiple uses, but in many places, OHVs have turned the forest and deserts into single-use areas. OHVs have pushed campers, hikers, bicyclists, and equestrians away. Wildlife has been affected, which then reduces hunting opportunities. We are also being pushed out by recreation. 
As a rancher, I appreciate how we use these machines to check and repair fences, check waters, etc., and if driven responsibly, they put less pressure on the roads. I also understand that when used in this manner, OHVs are good for hunters to get around as well. We don't want to lose access, but the explosion of irresponsibility is causing resource damage that will take years to correct. 
Another important thing we need to do as a state is creating a revenue stream that is solely for enforcement and resource damage mitigation for OHVs. I believe this should be paid for exclusively by OHV users. 
While we need to mitigate the existing resource damage by OHVs, the focus needs to be on prevention. It would be much better for the environment, law enforcement and funding if the damage didn't happen in the first place. But how do we get there? How do we get folks to stay on existing roads and drive responsibly?  How do we get ahead of the bad behavior? Law enforcement, education, stiffer penalties, closures, signage, permit systems, and designated trails or play areas are all ideas that people both like and hate. Maybe we need a little more common sense, but how is that implemented? When we focus our attention on where we want to be, which for me is the prevention of damage to natural resources and improvements, the cycle and culture of environmental abuse will cease, and public lands and ranches will heal and thrive.
Arizona Agriculture: How have you worked with local authorities and other groups?
Ross: A little background… Our contiguous federal and state allotment is close enough to Sedona and Flagstaff to be highly affected by tourists. That's both a blessing and a curse. Our visitation level is higher than a lot of other ranches across the state. But most visitors are here to enjoy the beauty of our state. Often visitors don't understand how fragile our high deserts and forests are to their impact and locals are very concerned with this damage. Nearly all residents live here because of some aspect of the environment and are highly protective of it. Although both towns are dependent on tourist dollars, most residents still view these folks as visitors and are not entitled to treat our public lands as their personal Disneyland. Residents are also still weary from the misuse we saw from the pandemic influx and the natural resource damage is evident. 
My family has gained much respect from our neighbors because of our longevity in the community. We have dealt with many local businesses for a half century, attending the same churches and schools. Many locals also are protective of the ranch and the cattle because we are their neighbors. People tell me that they love seeing the cattle and appreciate their benefits such as fire suppression. We are thankful that these residents are joining us in speaking out against public land abuse. 
With a lot of that local public pressure, we have caught the attention of many city officials including Sedona Mayor Scott Jablow and all Sedona City Council members, Cottonwood Police Department, county level officials including Supervisors Donna Michaels, Harry O'Berg and Matt Ryan, state authorities like Senator Karen Fann, Senator Sine Kerr, Sheriff Driscoll, AZ Game and Fish officers, and federal officials including Congressional Representatives Eli Crane and Tom O'Halleran. OHV damage is of great concern to Keep Sedona Beautiful and they are working towards local solutions. Diablo Trust has created a working group that is addressing recreation issues on the Diablo Trust ranches and all-around northern Arizona. The USFS is participating in a newly formed working group; Greater Sedona Recreation Collaborative to identify and see implemented solutions to better mitigate, manage and maintain OHV recreation. 
Arizona Agriculture: What tips would you give other ranchers in working with other groups and agencies?
Ross: Our neighbor, Andy Groseta gave me great advice about eight years ago to document everything with photos, dates and notes. We had a conversation when I first decided it was time to address the recreational issues we were dealing with on the ranch. Lots of trash, dumping, homelessness, campers overstaying in the forest, and general overuse impacts on natural resources and on ranch improvements. At that time, OHVs were not the primary problem for us but are now. Unfortunately, unlike recreational trends, land management agencies are not flexible or quick-moving, with a big ship, and small rudder. But ranchers are here for the long run. We have been here long before social media shared every hidden spot and "Instawrecked" many corners of our state. We will still be here, caring for the land and our cattle long after people go home, or move on to the next spot. 
About five years ago, I took on the position of telling the story that I see daily on the ranch. If someone in a white van was camping on our water trough, using the Game and Fish "No Camping Within a ¼ mile of Water" as a brace for his tent, I snapped a picture. I shared the story with everyone I could. Every USFS, local, state or national official I connected with would get an email about the craziness I saw. 200 camps in the first couple miles on the ranch, I shared that data. I photographed the progression and spread of off-road damage. I have lots of before and after photos and would share them side by side. Another fantastic resource for documentation is Google Earth Pro, which has historical photos. I have used their archival information to share before and after aerial photos. Google Earth Pro is an excellent resource to prove that OHVs are widening roads, braiding roads and turning grass rangelands into dirt doughnut spots. 
While I remember what the ranch looked like twenty or thirty years ago, the people in the USFS office may not understand the history or progression of damage. People making management decisions on the ranch want and need to know, and that is often very hard to understand what's really going on from a USFS office. It's our job to tell that story because there is no one else that understands it better than the people that live and work on the land. 
The lesson I learned along the way is to not take these tough situations personally or place blame on land management agencies. But I take every opportunity to tell the story. To make the necessary change, we must provide documentation proving that there's a problem and share it.
Arizona Agriculture: Is this the opportunity to have more "common ground" with environmental groups?
Ross: I have had the privilege of learning from environmental advocates at a local level and the same folks have been very willing to listen to me. I have been warmly welcomed by people and groups that I would have never expected to work with. We need to take the opportunity to connect with others that in the past may not see eye to eye with us. It's our responsibility to show that we as producers are improving the health of our forests with regenerative grazing practices. Ranchers already have the tools and have been implementing range improvements for decades, but we need to share what we are doing. 
Arizona Agriculture: Besides the obvious, why should more of us be concerned?
Ross: At a local level, we see a death loss of range grasses and trees alongside roads that are heavily used by speeding OHVs. The dust is choking range near the road. We also see rangeland denude of vegetation due to extreme off-road driving and as a result, erosion which creates a less desirable runoff. I wish our stock tanks would catch slow-moving water, filtered by healthy rangeland. But we have tanks on the ranch that have been blown out or are filling with silt at a faster rate than in the past. While that may be expensive, at this level it is generally fixable. 
On a statewide scale, for example, sediment is taking up water storage space at the bottom of Lake Pleasant and requires huge investments in infrastructure to remedy the issue. While we can't change the drought and how it has affected our water systems, we can expect a change in bad behavior that is damaging to that system. Air and water quality at a state level is considered the highest concern by almost everyone. What is the effect this adventure activity is having on our watershed and the air we all breathe? 
Arizona Agriculture: Are you hopeful?
Ross: I am hopeful because more people in agriculture, residents and legislators are talking about it. People are aware of the problem and damage. In previous years, I would try to share our story, and few understood the problem. I got a lot of blank stares. But as the resource damage becomes more widespread people are taking notice. 
Unfortunately, we can all see the damage caused by OHVs in many areas across the state, not just tucked away on rural ranches. Look around Lake Pleasant, north of Peoria or along I-17 in the Black Canyon City area, or east of the valley, Box Canyon, Sycamore Creek, and around Florence. The damage is becoming so apparent that currently, just about everyone I talk to about OHV damage is aware of the problem, has a story of their own, or knows of ranches that have been impacted. Everyone has seen state or federal land that has been impacted by negligent OHV operators. 
Arizona Agriculture: What's Next?
Ross: I would love to ask readers to share their stories and photos with me. I am interested in learning about other farmers and ranchers experiencing OHV issues across the state. I want to bring this information to the Arizona OHV Study Committee that will be convening this year. It's my responsibility to share not just my story, but others' stories as well. State legislators are listening. It will be a much more powerful statement, if the information is coming from across the state, not just from the few people that I connect with. But this will only work if we are willing to take the time to collect stories, photos, and some data and share it with them. Please reach out to me!
Editor's Note: If you are interested in sharing your own experiences with OHV incidents on your ranch, send an email with your story to outreach@azfb.org and our team will forward it to Becki Ross.