American Farm Bureau Launches Website to Assist with Right to Repair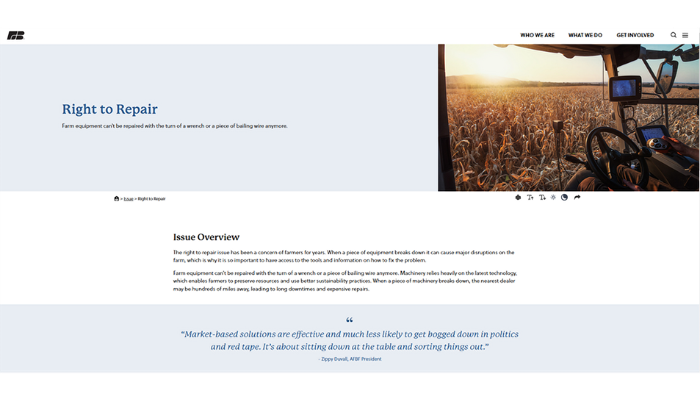 In this modern era, it may be true that farm equipment can't be repaired with the turn of a wrench or a piece of baling wire anymore. Machinery relies heavily on the latest technology, which enables farmers to preserve resources and use better sustainability practices. When a piece of machinery breaks down, the nearest dealer may be hundreds of miles away, leading to long downtimes and expensive repairs.
The right-to-repair issue has been a concern of farmers for years. When a piece of equipment breaks down it can cause major disruptions on the farm, which is why it is so important to have access to the tools and information on how to fix the problem. But the Farm Bureau family has worked toward solutions.
American Farm Bureau Federation (AFBF) now has a "Right to Repair" page fully launched on the American Farm Bureau website for you to use if you need more information about the Right to Repair MOUs.
Additionally, section four of the MOUs outlines what is to happen if there is disagreement over the interpretation of the terms of the agreements. To assist with any issues that may arise, the right-to-repair page provides an opportunity for members to give feedback on the MOUs or share if they are having issues with a manufacturer over the terms of the agreements that can't be resolved at the dealer level.
There is a form linked that may be filled out and sent to r2rsupport@fb.org. AFBF staff will be monitoring this inbox.