Apply for an Agricultural Scholarship Today!
By Lauren Scott, Arizona Farm Bureau Intern: Are you planning to further your education or seek a career in a field of agriculture? Well then we've got a scholarship opportunity you might be interested in! The Pinal 40 Foundation will be awarding scholarships (minimum awards of $2,000) to individuals who want to do just that: seek a career in agriculture. It is a great opportunity for those with a passion for agriculture, and you are highly encouraged to start applying today!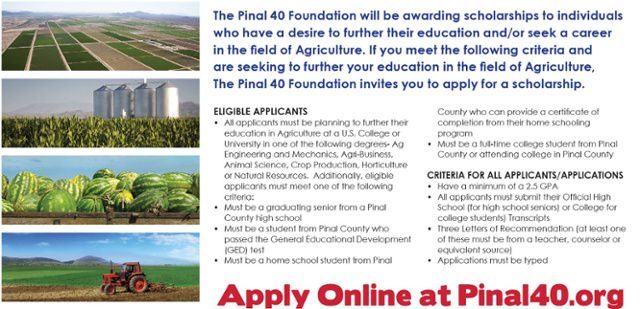 The eligibility of applicants is as follows:
You must be planning to further your agricultural education at a U.S. college or university.
You must be studying one of the following degrees: Ag-Engineering and Mechanics, Agri-Business, Animal Science, Crop Production, Horticulture, or Natural Resources.
The applicant must be a graduating senior from a Pinal County high school.
Must be a student from Pinal County who passed the General Education Development (GED) test.
Must be a home school student from Pinal County who can provide a certificate of completion from their home schooling program.
Must be a full time college student from Pinal County or attending college in Pinal County.
The criteria applicants must meet is as follows: You must have a minimum GPA of 2.5, must submit their official high school (for high school seniors) or college (for college students) transcripts, must submit three letters or recommendation (at least one must be from a teacher, counselor or equivalent source), applications must be typed.
If you meet all the above criteria and are passionate about having a future in agriculture, take a moment to fill out the scholarship application at Pinal40.org or got to Arizona Farm Bureau's scholarship page for a variety of scholarships you might be eligible for. We wish the best of luck to all applicants!