Arizona Agriculture Asks, "What's Local to You?"
By Julie Murphree, Arizona Farm Bureau Communication Director: As posted in a recent USDA blog, "All USDA Foods are local to someone." And, in fact, the use of the word local in food discussions is a constantly shifting definition of terms.
For those of us representing Arizona Farm Bureau, our "local" is all Arizona agriculture. In some ways, our geographic border is clear. But, if you're an ardent "slow food" foodie, your geographic region might only encompass 250 miles.
It all has value. It all has meaning.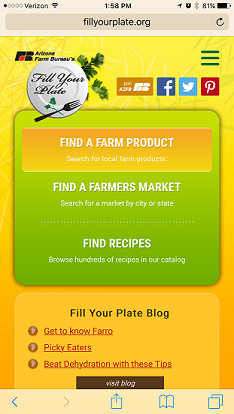 Arizona Farm Bureau's mobile-Friendly Fill Your Plate is all about "local" and celebrates our direct-market farmers and ranchers. Today in Arizona the direct market represents .2% of the total value of Arizona agriculture sales.
And, if you want to wrap your arms around some numbers representing the local, direct market (retail) food market in Arizona, we have some for you.
For Arizona Farmer's Market data, the closest we can get is using USDA's 2012 Census of Agriculture data of direct sales for human consumption. This includes roadside stands, farmer's markets, Pick-Your-Own, etc.
The data show that in Arizona only 0.2% of the Total value of Arizona agriculture sales is from direct sales. There were 1,216 farms in Arizona that sold directly for human consumption in 2012 with a total value of $7.96 million. Here's a brief breakdown of sales.
Farms Value
<$5,000 in sales 1,016 $1.08 million
$5,000 - $50,000 172 $2.70 million
>$50,000 28 $4.19 million
The top 4 counties (below) had 70% of the value of sales.
Maricopa County 218 $2.04 million
Pima County 102 $1.32 million
Cochise County 122 $1.15 million
Coconino County 115 $1.04 million
Nationally, there were 144,530 farms that sold directly for human consumption valued at $1.31 Billion or 0.3% of total Value of Sales nationally.
In the meantime, for more than 70 years the USDA's Food Distribution Programs have purchased foods from American farmers that then find their way to children's lunch trays. Since the signing of the National School Lunch Act in June 1946, USDA Foods have been available to schools nationwide. The programs' more than 200 offerings span the food groups.
In fact, the USDA purchases more than 2 billion pounds of food worth nearly $2 billion from American farmers and distributes the food to schools, food banks, Indian Tribal Organizations, disaster feeding organizations, and other charitable institutions and feeding organizations. The programs benefit both ends of the food chain by supporting local agriculture and the economy while also providing a nutrition safety net for vulnerable Americans.
What's more, each state has specific agriculture food items to sell to the USDA. The USDA's 2015 State of Origin chart reveals a variety of foods purchased in Arizona. In 2015, Arizona sold 9,255,020 pounds of food to the USDA at a value of $4,289,261. Compare this to California's 385,622,235 pounds of food at a dollar value of $487,422,392. Granted, California is one of America's largest agriculture states.
The Arizona Foods Sold to USDA in 2015
Dried Fruit (pitted plums)
Orange Juice
Eggs (I'm sure they were Hickman's Family Farms eggs)
Whole grain pasta
Whole grain macaroni
Whole grain spaghetti
Other Pasta (Mainly egg noodle
Yogurt
Powdered milk
For the United States, local is our country and the USDA appears to be doing a decent job of sourcing for foods in this great country. I contend they could buy a bit more from Arizona.