Arizona Agriculture: Food Safety Training Program Available for Online Purchase
Presented by Arizona Leafy Greens: Just in time for the Southwest's planting and harvest crew trainings, the Arizona Food Safety Committee (Arizona LGMA) has made all of its training materials available for purchase on the organization's website.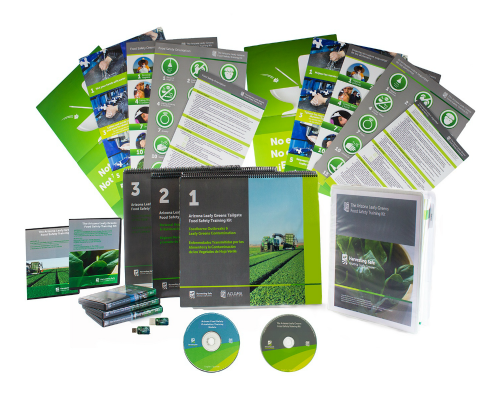 "We began a process two years ago to make the Food Safety Training Kit (FSTK) available online, in our ongoing quest to make this universal program as flexible and accessible as possible," said Vicki-Lynne Scott, technical subcommittee chairperson and board member of the Arizona Leafy Greens Food Safety Committee. "With anticipated FSMA standards, employing our practices now can give farmers and harvesters a head start when compliance deadlines come closer."
The online store at www.arizonaleafygreens.org is the first time the Arizona Department of Agriculture has ventured into online commerce. The store offers the entire Food Safety Training Kit for the introductory price of $499, which includes all materials in both English and Spanish (workplace posters, tailgate flip charts, DVDs, training binders, etc.), as well as a la carte pricing for supplemental materials starting at just $5.
The entire kit can be purchased with all camera-ready materials on a thumb drive, acquired electronically through a secure web link, or via FedEx shipping. The site takes major credit cards. Traditional purchases can still be made with a purchase order or electronic check.
The organization's comprehensive Food Safety Training Program is targeted to harvest supervisors and foremen, food safety coordinators, production supervisors, quality control personnel, extension educators and/or industry consultants who conduct food safety training at leafy greens farms, and is specifically targeted at those who handle leafy greens before, during, or after harvest. The program was designed to ensure compliance with federal regulations for food safety including anticipated Food Safety Modernization Act (FSMA) standards.
Late last year, Arizona Leafy Greens introduced Module 4 "Pre-Harvest and Daily Harvest Environmental Assessments" to its comprehensive program. Module 4 addresses the industry's need to train those responsible for monitoring potential environmental contaminants. This highly technical module is specifically designed for those in supervisory roles and personnel who conduct daily field assessments by providing templates to encourage uniformity in monitoring. The development of Module 4 coincided with the production and launch of a bilingual DVD series, a plug-and-play version of the entire FSTK.
The seven-chapter video series was shot on-site at farms throughout Arizona, and closely follows the format of the Arizona Leafy Greens' Food Safety Training Kit. It features a general orientation and chapters on foodborne outbreaks, leafy greens contaminants, personal hygiene, hand washing, and cross-contamination in the field. The videos are produced in both English and Spanish, and range in length from 5 to 30 minutes. The video series was made possible in part by a USDA Specialty Crop Block Grant awarded to fund various initiatives that strengthen and expand economic opportunities for local and regional producers.
The Food Safety Training Kit (FSTK) is a comprehensive training tool that addresses safe food handling practices in the field. The bilingual program has been widely used by the leafy greens industry and serves as a model for creating uniform standards and practices. Various components of the Food Safety Training Kit were named finalists for "Best New Food Safety Solution" at United Fresh 2012 and 2014.
The program was developed in collaboration with Sergio Nieto-Montenegro, Ph.D., of El Paso, Texas-based Food Safety Consulting & Training Solutions.
The Arizona Leafy Greens is a consortium of shippers of Arizona leafy greens produce that have put protective controls in place, to ensure the integrity of leafy greens products grown and shipped from Arizona. Arizona's Leafy Greens industry provides 75 percent of the leafy greens produce consumed in the United States and Canada for the months of November through March. The $1 billion industry employs approximately 20,000 workers. Arizona Leafy Greens is comprised of 97 percent of the state's growers and shippers in a volunteer network that enables them to proactively diffuse potential issues through an intricate system of checks and balances. The program is administered by the Arizona Department of Agriculture and closely monitored by USDA-licensed auditors. More information can be found at arizonaleafygreens.org.