Arizona Agriculture Talks to a Leader about Water Strategy in Pinal County
By Julie Murphree, Arizona Farm Bureau Communication Director: Arizona Farm Bureau continues our Conversation series with stakeholders and leaders in Arizona agriculture, especially as it relates to water. This latest conversation article will appear in Arizona Farm Bureau's August 2015 issue of Arizona Agriculture. A portion of the interview follows.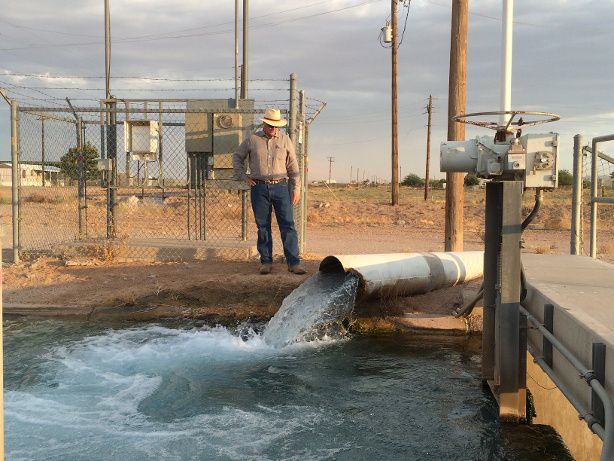 Bryan Hartman inspecting one of the pumps that's part of the irrigation system in Pinal County's Maricopa Stanfield Irrigation and Drainage District (MSIDD). Watch for the August 2015 issue of Arizona Agriculture to read the entire conversation we had with Hartman.
Knowing the west's water challenges and certainly Arizona's water concerns, I was prompted to ask long-time friend and fellow Pinal County farm kid, Bryan Hartman, how his area was going to handle the expected "call on the river" recently during a social gathering. Since Hartman is current president of the Maricopa Stanfield Irrigation and Drainage District (MSIDD), created in 1962 for the purpose of providing irrigation water for agricultural use in the area, I was certain he'd have an opinion. In his familiar persuasive, mild-tempered tone he said, "Julie, we're going to do fine."
Director of the Maricopa Economic Development Alliance and a principal of the Santa Cruz Ranch Partnership, Hartman is a fourth-generation farmer who assumed the mantle of the family farming tradition during young adulthood. As a principal in the Santa Cruz Ranch Partnership, Hartman is responsible for the management of a 2,000-acre farm operation whose major crops include alfalfa, corn, cotton and sorghum. In addition, he is the owner of the C Spear Ranch, located in Benson, Arizona, where primary operations are comprised of pasture crops and a cow calf operation. Previously, Hartman was manager of the Hartman Ranch Partnership, consisting of his family's original homestead and farming operations.

Serving on several boards at the local, regional and state levels, his leadership as MSIDD president allows him to work with a dedicated board and staff to manage MSIDD's system of more than 200 miles of distribution facilities, which includes delivering surface water from the Central Arizona Project as well as water from wells that are operated and maintained by the district. In addition, he serves as Vice Chairman of the Electrical District No. 3 Board of Directors. Former Arizona Governor Jane Hull appointed Hartman to serve on the Best Management Practices for Irrigation Committee, and he served on the University of Arizona's Farm Board.
With a Bachelor of Science in General Agriculture from the University of Arizona, Hartman and his wife, Mary, and their four sons reside in Maricopa.
In this context, I sat down with him to more fully understand what MSIDD and other irrigation districts are doing to manage Arizona's precious water resource.
Arizona Agriculture: This water dance between management and use, sounds like the potential to farm in Pinal County looks fairly bright partly because less land will actually be farmed.
Hartman: Yes. While it's sad to see farmland go to development, you also have to look at it in terms of land going to best and highest use or value. While we may be biased and see it as a bad thing to lose farms to development, you also have to think of what makes sense business-wise to the individual landowner or family.
As long as farming is profitable, we'll plan to stay in business as long as possible and as long as we have water available.
The other thing most people don't realize is that Arizona is prepared. Water has always been the most critical factor for farmers in Arizona. When the Spanish came here they named it Arizona: Arid Zone. We're used to being as efficient as possible. With the technology and the wells and the remaining allotment of surface water, I believe there will always be farming here especially if people want and desire to farm.
Special Note: Arizona Farm Bureau has had an ongoing conversation about water in our state.
Editor's Note: The rest of this conversation will appear in the August 2015 issue of Arizona Agriculture, Arizona Farm Bureau's monthly agriculture publication. This conversation and others is part of our ongoing conversation with stakeholders in Arizona's continuing water management and planning effort.