Arizona Agriculture Visits with a Food Industry Executive
By Julie Murphree, Arizona Farm Bureau Communication Director: (This article first appeared in the May 2016 issue of Arizona Agriculture) At the end of last year, the multi-billion dollar company, Land O'Lakes, promoted Beth Ford to group executive vice president and chief operating officer at Land O'Lakes, Inc. She has responsibility both for the Purina Animal Nutrition and U.S. Dairy Foods businesses and for Supply Chain and Operations, Information Technology and Research and Development across the entire Land O'Lakes, Inc. enterprise. Of course, I was curious to connect with Beth due to her role in supply chain and operations having covered supply chain management for the Institute of Supply Management for a decent chunk of my career. She was gracious enough to respond to my questions about the food supply chain.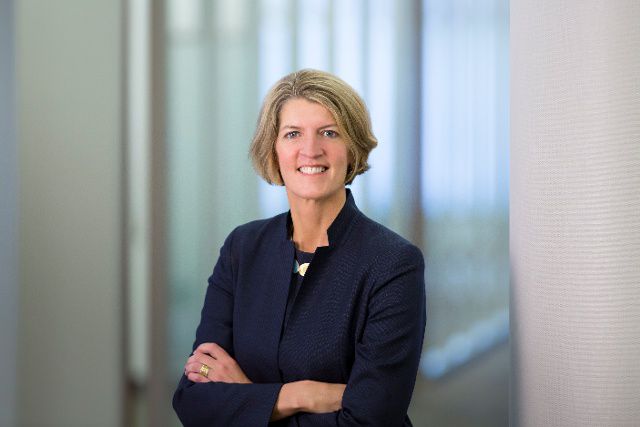 Says Beth Ford, "Companies need to focus on their core and build from there. Innovate from your expertise. The need for agility cannot be overstated; it's critical to responding to market changes and consumer needs."
And, her boss says great things about her. "Beth has done a remarkable job of establishing and leading a fully integrated supply chain and operations function. Adding IT and R&D to her responsibilities has resulted in even stronger functional teamwork and improved operating effectiveness. These accomplishments and her stronger partnerships with the business units opened new opportunities with our customers and built capabilities for continued rapid growth," said Chris Policinski, president and CEO of Land O'Lakes, Inc. "Beth's promotion continues my commitment to executive development and succession management."
Ford joined Land O'Lakes in 2011 from International Flavors and Fragrances (IFF). At IFF, she was responsible for optimizing the company's global manufacturing infrastructure, including consolidation of multiple international facilities as well as the construction of new manufacturing facilities in India, China and Singapore. Prior to IFF, she held leadership positions at companies in multiple industries including PepsiCo/Pepsi Bottling Group, Mobil Oil and Scholastic Corporation.
With corporate headquarters located in Arden Hills, Minnesota, Land O'Lakes, Inc., is one of America's premier agribusiness and food companies. It is a member-owned cooperative with industry-leading operations that span the spectrum from agricultural production to consumer foods. With 2015 annual sales of $13 billion, Land O'Lakes is one of the nation's largest cooperatives, ranking 203 on the Fortune 500. Building on a legacy of more than 94 years of operation, Land O'Lakes today operates some of the most respected brands in agribusiness and food production including LAND O LAKES® Dairy Foods, Purina Animal Nutrition and WinField Solutions. The company does business in all 50 states and more than 60 countries.
This conversation with Beth is quite timely in today's GMO-labeling environment. More and more large food companies are labeling their key products for GMOs. In fact, you may hear commentaries such as, "We are not anticipating any supplier issues, but we have a lot of people and resources to throw at this - a lot of companies don't," said General Mills spokeswoman Mary Lynn Carver, on complying with Vermont's GMO labeling law. I asked Ford in this article about the issue too.
Arizona Agriculture: Land O'Lakes has been around for some time and as a premier agribusiness and food company it has links up and down the food supply chain. But because it's large, can it innovate in a market that moves at a fast pace? What's your best advice for companies wanting to effectively innovate?
Ford: We constantly innovate and do so across our enterprise. People know us for our butter, and we're an innovation leader in that space. Last year we introduced European-Style Butter, and it's been a great success. But our innovation spans our enterprise — from farm to fork. We also own Purina Animal Nutrition which is a leading provider of nutritious, scientifically-balanced feed for lifestyle and livestock animals.
Some of our greatest innovations are coming from our Winfield Solutions business, which is one of the country's leading suppliers of seed and crop and seed inputs and crop protection products. We've invested in technology and science, giving the producers the ability to select the tools they choose on the acre. We develop drought-resistant seed and tools — including our satellite R7® Tool — that help farmers pinpoint exactly what nutrients underperforming products need. We know what is going to work because we have more than 200 Answer Plot® locations across the country that allow us to research what works best and provide a proving ground for our products.
Companies need to focus on their core and build from there. Innovate from your expertise. The need for agility cannot be overstated; it's critical to responding to market changes and consumer needs.
Arizona Agriculture: I note that your bio identifies you as establishing and leading a fully integrated supply chain and operations function at Land O'Lakes. What's been the biggest challenge in this effort and how did you overcome it?
Ford: Land O'Lakes' unique position is that we operate across the value chain from farm to fork or retail. While this gives us a complete view, it doesn't mean that there aren't distinct segments with varied operating issues, velocities, and challenges requiring different competencies. Feed is different than dairy retail, for instance, but there are similarities in operating practices.
A great example is manufacturing. We have 80 manufacturing sites, some with Ag chemicals, others with animal feed and even others manufacturing dairy products like butter. We have all manufacturing and engineering under one leader because we focus on manufacturing competence and the similarities rather than the differences. This allows for talent development and leverage. At the same time, we act as business partners with the front end of the business, helping develop and shape go-to-market strategies and driving profit.
The words "full partner" and "integration" dictate teamwork and transparency of information that allows for the most robust business decisions to be made.
Arizona Agriculture: Production agriculture is ground zero of the food supply chain. Considering all stakeholders, and certainly farmers and ranchers, what do we need to be doing better to ensure strong links up and down the supply chain for the consumer and the overall health of the agribusiness and food market?
Ford: One of the top things we need to do to ensure ongoing success is address our challenges with recruiting and retaining top talent. We—Land O'Lakes, Inc. in particular and the industry as a whole—are growing, but the talent pool hasn't kept up with the demands. We need to have enough highly talented, highly trained people in positions to feed 9 billion people by 2050. More globally, the biggest challenge is feeding the world sustainably. Lastly, we need to address the headwinds that require better thinking, better planning and better execution.
Arizona Agriculture: What do you see as future trends in the food supply chain?
Ford: The biggest trend in the food supply chain and in the industry as a whole is consumers' desire for information about where their food comes from, the ingredients and how it's produced. Put simply, consumers want transparency. This trend will only continue. And that's good news for all of us. We see this as an opportunity to tell our story as a farmer-owned cooperative more deeply and broadly.
Arizona Agriculture: From the agriculture production side of it, organizations like Farm Bureau often see food companies making arbitrary (perhaps uninformed) decisions that dramatically impact production agriculture without often consulting with well-respected leaders in the farm and ranch industry. Recent antibiotic, GMO and cage-free decisions by corporations in the food chain come to mind. Often, the new decision actually has greater adverse impact on consumer health and food safety. What's your take on this?
Ford: Consumers are demanding more transparency about their food, and this has impacted food production and foodservice (restaurant) companies. We need to be responsive to consumer demands and respond appropriately. Companies need to be able to show that they hold animal care as a core value and how they're ensuring that through suppliers and members. For example, 100 percent of the member milk we process at our plants comes from FARM-verified farms [Farmers Assuring Responsible Management]. It's one way we can help consumers understand the importance we place on animal care.
That said, we have an obligation to educate. We need people to understand that foods made with GMOs are not bad food or different food. They're safe, affordable foods made with ingredients that help farmers produce more food more sustainably.
Arizona Agriculture: Talk about your perspective on American agriculture and certainly what agricultural production means to you and Land O'Lakes.
Ford: American agriculture feeds the world. We need all parties at the table as we figure out how to feed over 9 billion people by 2050. Farming isn't a job; it's a commitment and a way of life. The producers who are our member-owners know the end-to-end business that we're in. I would encourage farmers—and anyone working in agribusiness—to ask themselves whether we're in touch and aligned with marketplace demands.
Arizona Agriculture: What's your number one counsel to yourself to be successful in business and what you do?
Ford: It's the same advice that I give people about their careers: Get broad experiences, especially early, in their career paths. Don't be afraid to take what looks like a sideways tract to get additional experience. Realize your career is a journey, and you need to be a positive partner in that journey. Encourage others to succeed with you. Investing in education is some of the best money you'll spend.
Arizona Agriculture: What excites you on a daily basis about what you do?
Ford: I get excited when the company has success based on teamwork. Land O'Lakes is one of the most collaborative environments I've ever worked in and when a team of people successfully tackles a challenge together -- each person bringing a different perspective and making the solution better – that's a good day.