Arizona Agriculture's Amazing Alfalfa!
By Julie Murphree, Arizona Farm Bureau Communication Director: In a recent Arizona Agriculture articlearticle, Professor and Extension Specialist in the Department of Agricultural & Resource Economics for the University of Arizona, George Frisvold, Ph.D. recently gave us some insightful forecasts on farm commodities for the foreseeable future. His insights mean we'll have pain in farm income for at least the rest of 2016. And, this means commodities across the board including alfalfa.
Says Professor Frisvold, "USDA doesn't report state-level forecasts, but makes forecasts by larger regions. Arizona is split between two regions where farm income is forecast to fall by 2%-5% in 2016. Unfortunately, farm income is down because agricultural commodity prices are falling across the board. It isn't just one or two commodities. Cattle and calf prices are down, dairy prices are down; same for cotton and wheat. Vegetable and melon prices are also forecast to be down in 2016. So, weak prices are hitting nearly all of Arizona's main agricultural commodities. Rising labor costs can be an issue because Arizona agriculture is more labor-intensive than many other parts of the U.S."
Plus, Professor Frisvold highlights overall farm income across the United States. "According to the USDA Economic Research Service, U.S. net farm income fell by 38% between 2014 and 2015 and is forecast to fall by another 3% from 2015 to 2016. Keep in mind, though, that 2011 to 2014 saw record highs for farm income. Farm income is volatile and commodity price spikes don't last for long. While farmers don't like to see incomes fall, a downturn after four record-setting income years, unfortunately, isn't that surprising. Federal farm program payments rose by about $1 billion in 2015 and are forecast to rise by another $3 billion in 2016. That helps, somewhat but the rise in payments is not keeping pace with the fall in market returns. When cash receipts are down, farmers can try to economize on inputs. Fuel and feed expenses are down, but labor costs are rising as the overall economy is improving."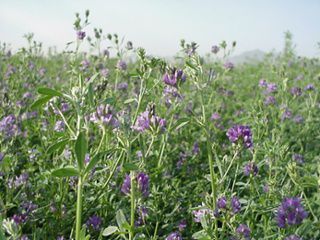 In Arizona, one field can get up to 9 to 10 cuttings in a year, generating over 10 tons of quality hay. When an alfalfa field is on drip the numbers can be even higher.
So, in the midst of all this, where does that leave alfalfa prices in Arizona and other western states, one of the most commonly produced forage crop of all. The latest Arizona alfalfa acres and value are from 2015. According to the USDA, last year, there were 300,000 acres harvested that produced 2.52 million tons, 8.4 tons per acre. The alfalfa was valued at $406 million, approximately $161 per ton. To compare, in 2008 Arizona grew 250,000 acres of hay producing 2.08 tons per acre.
Alfalfa acreage for 2016 will be released June 30. The All Hay acreage forecast to be harvested in 2016 as of March 1 is 330,000 acres.
If you are a dairy farmer, you'll remember the sky-high alfalfa prices back in 2014, where it peaked at $339 per ton. Today, the going rate for supreme quality hay delivered in central California is $250 to $290 per ton, according to hay market expert Seth Hoyt at the World Ag Expos in Tulare, California.
In Arizona, talking to a few of our alfalfa farmers, the prices are not quite that high. Domestically, dairies are typically the largest market for the West's alfalfa hay.
Why our Alfalfa from Arizona and the West is so Special
As we wait out these weaker prices, we continue to celebrate the high-quality hay that Arizona produces.
As with so many crops, Arizona and other western states can attribute much of the success of our quality alfalfa to plenty of sunny days and water. With the appropriate inputs, Arizona and California are known for getting as much as 8 to 10 cuttings from one alfalfa field in a year. With drip irrigation on alfalfa, that number is even higher.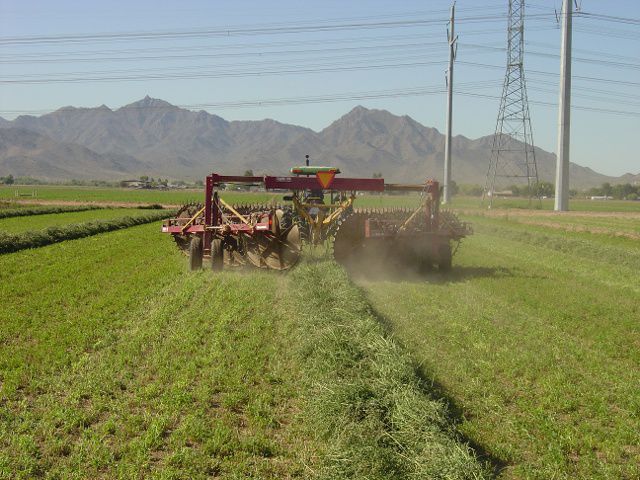 Clyde Sharp, another one of our Yuma alfalfa farmers, along with a variety of other crops can attribute quality water, sun and soil to the high-quality hay our state grows.
"We're getting 8 to 9 cuttings per 12 months generating over 10 tons," says Yuma farmer and 2nd Vice President of Arizona Farm Bureau John Boelts. "Our dry climate coupled with good soils, irrigation water and abundant sunshine provides an opportunity for proficient farmers to produce massive forage production of the highest quality throughout the entire year."
Regarding the Arizona alfalfa market, Boelts had several insights. "$140 for domestic dairy-quality alfalfa is the norm now, down from $185 for like-quality in February. It's a buyer's market. First, an interruption in supply caused by striking longshoremen in California which drove buyers away from U.S. growers and now the plummeting economic conditions in Pacific Rim countries has driven the average export values down to below $140 per ton for the first time in a few years. All these prices are in the stack at the fields in Yuma. It cost us about $120-$150 per ton to produce that alfalfa, depending on a number of input costs, in Yuma, where we have high rents but low water costs compared to the rest of the desert southwest."
Buckeye, Arizona alfalfa grower, Steven Bales, gives a similar assessment of our quality alfalfa hay. "Why such great alfalfa? The number one reason is the weather. Arizona is blessed with warm to hot days but cool nights and low humidity for most of the season. It's this combination that allows Arizona to put up bright, green alfalfa hay with great nutritional analysis."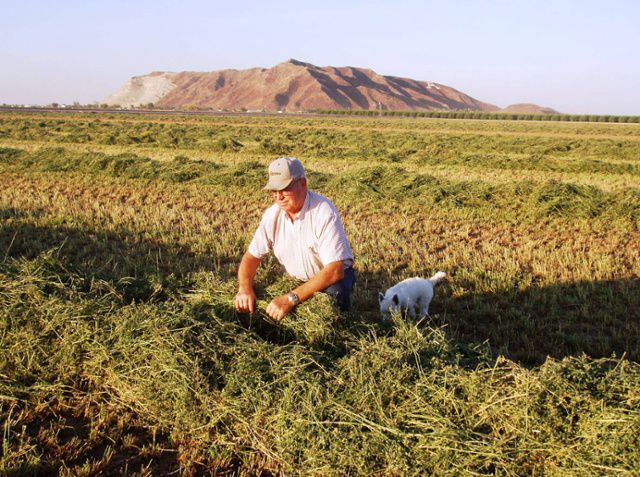 Horse owners place a premium on very high quality hay for their horses.
This premium hay commands a premium price.
Bales overview on hay prices right now depends in part on what a buyer is looking for. "Are you talking Dairy milk cow quality hay? Or, number one horse hay. Or, hay for export to foreign countries? This is the reality of the market today. To give you an idea a lower quality baled alfalfa that would end up at a dairy would be in the $125/Ton range and a high quality feed hay would be in the $175-180 range.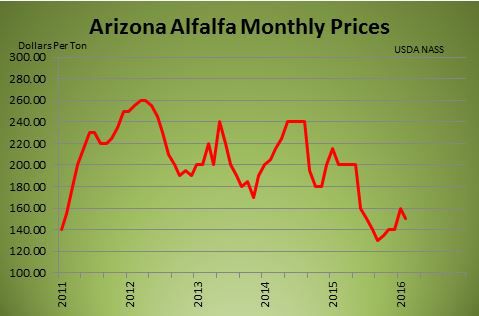 Monthly Alfalfa hay prices in Arizona since 2011.
"For horse hay, what I call number one in quality, it would fall between $175 to $200-range. And if you can find some 'premium' alfalfa (hard to do right now due to time in the cutting cycle and growing season as well as the weather we've been experiencing) the going rate for farmers that can grow it can be as high as $220."
In Arizona, we know how to grow alfalfa. This will continue despite the ups and downs of price.