Arizona Agriculture's Father Son Leadership Duo
By Julie Murphree, Arizona Farm Bureau Communication Director: Special Note … The following article first appeared in the March 2012 issue of Arizona Agriculture where Arizona Farm Bureau did a monthly historical profile in celebration of the state's centennial birthday. We re-release it here for those of us who value history and especially Arizona agriculture history: I merge onto the I-10 heading west. It's Valentine's Day, 2012. It's also Arizona's 100th birthday. Appropriate, I think as I drive to meet Arizona Farm Bureau's longest serving president in history, Cecil H. Miller Jr., who served from 1971 to 1992.
This house call has sentimental value to me as I've known Cecil for the past 15 years or more. I first met him and his wife, Alzora, to record their family's history. One thought struck me back then: "Julie, you've got so much more living to do if you ever want to catch up to the amazing lives of Cecil and Alzora."
I'm still working my way there. In the meantime, this series celebrates another Arizona farm and ranch family's well-lived life.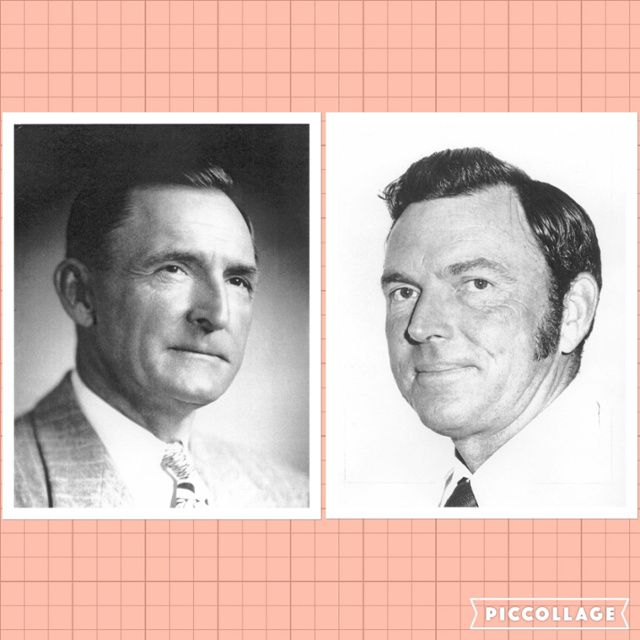 On the left, Cecil H. Miller Sr., served as Arizona Farm Bureau's President from 1941-1943, his son, Cecil H. Miller Jr., served as Arizona Farm Bureau president from 1971 to 1992. The Millers are the only father-son team to serve subsequent presidencies for the Arizona Farm Bureau.
Third-generation Arizonan, Miller was born into a Salt River Valley farming family. He is the son of another Arizona Farm Bureau president, Cecil Miller, Sr. In fact, the Miller family is the only farm or ranch family that can claim a father and son served the presidency in the Arizona Farm Bureau. Miller Sr. served from 1941 to 1943 during a time when our nation was at war.
"Dad was tough but fair," says Miller Jr. "One time I was bold enough to tell dad I didn't think something would work. He grabbed me by the collar and said, 'you will try.'"
His farming family tradition is older than Arizona's statehood. His grandpa came to Arizona in 1904, often swimming the Agua Fria River just to get to Phoenix.
Visiting with him on Valentine's Day and on Arizona's 100th birthday, we kept circling around family stories like his grandpa's Agua Fria swims and so much more. And we kept talking about his dad.
"No one ever questioned my dad's integrity," says Miller. "He was honest, played fair and wasn't afraid of hard work."
Somehow, the theme plays out with so many of the farm and ranch families I speak with. I know it in my own parent's lives too. I'm in good company, I think, as Cecil continues telling me his family stories.
Miller's Bio Became Values-Based Diligence for Hard Work
This work ethic was passed down to Miller Jr. You just have to look at his bio to understand this Miller values-based diligence for hard work. Receiving his B.S. degree in 1949 in animal science and a minor in commercial law from the University of Arizona, Miller Jr. raised cotton, barley, corn, along with other crops and ran cattle in central and northern Arizona.
Eventually, the family partnership grew beyond Arizona to manage more than 10,000 acres of pistachios, cotton and tomatoes in the central valley of California. The California farming operation involved his daughter and son-in-law, Ted and Debbie Sheely, where they did research work with the National Aeronautic Space Administration (NASA) to monitor pesticide, herbicide and water needs of the operation using satellite imaging.
Of farming and ranching, Miller Jr. says, "I just love it, love it."
He can remember a work-filled childhood, but he remembers fun times right along with the farm and ranch work and speaks fondly of summers up north at the summer range ranch headquarters at Rogers Lake just west of Flagstaff. "I was busy as a kid but I had fun, especially our fishing trips," explains Miller Jr.
His Passion for Politics and Volunteerism was Partly Influenced by his Dad
Miller will tell you his first agricultural service began as chapter president for the Phoenix Union High School FFA. Certainly, FFA is where one can craft and refine their leadership skills.
But his Farm Bureau volunteer leadership began in 1962 when Miller was elected president of his Tolleson Community Farm Bureau in addition to his local Salt River Project irrigation district board of directors. Since then, he's never looked back but only forward in his quest to advance the cause of agriculture in Arizona and the nation.
Miller Jr. has to admit that his father helped ignite his passion for politics. "Dad did not like to admit he was so political. But when a local or state issue arose, he jumped in with both feet. Dad started out as a southern Democrat; meaning he was a Republican at heart."
Leadership skills honed in the FFA and a Father that loved politics prepared the son. Miller Jr.s' more than 20 years as president of the Arizona Farm Bureau began with the controversial farm labor issues between Arizona agriculture and a minority of transplanted unionizers.
The 1972 Farm Labor Relations Act was passed by the Arizona Legislature and signed by Governor Jack Williams after much debate and great controversy. Union organizers led by Cesar Chavez and others insisted the bill was designed to keep farm workers from unionizing.
But, in fact, the opposite was true. The dominant feature of the Act permitted agricultural employees to decide for themselves whether they wanted to be represented by a union or not; also giving them the right to choose which union would represent them. Other features of the Act included prohibiting unfair labor practices by both employers and unions, granting an agricultural labor relations board (that is in full operation today) the authority to investigate and prevent unfair labor practices, declaring that the secondary boycott is an unfair labor practice, providing for a 10 day cooling off restraining order in the event of a strike or secondary boycott and imposing upon both the employer and the union the obligation to bargain in good faith.
These were stressful times for Miller Jr. as he was regularly in the "eye of the storm" as Arizona Farm Bureau president. Appearing on KPHO-TV one evening during the controversy he revealed his concerns for what the organization had not done well. Said Miller, "We've spent a lot of time visiting among ourselves about this legislation and we have not made clear to the general public what it really is. We keep hearing that this legislation would prohibit farm labor from organizing. The truth is it does just exactly the opposite, but I don't think we've made the general public aware of it."
And once the Act past, the rancor, and controversy only increased. While Cesar Chavez got on with his "fast of love" his cousin, Manuel Chavez, gathered three- or four-hundred strong in the Yuma area to disrupt the harvest of cantaloupe. With bull horns, shouting and threats, they intimidated some workers into walking out of the fields. The Arizona Farm Bureau News at the time estimated as many as 400 pickets were scattered throughout Yuma Valley traveling in auto convoys with many of the cars bearing California license plates.
Growers called the limited exodus of workers a "walk-off" while the Chavez camp called it a "strike." Out of an estimated 1,000 to 1,400 workers in the fields, growers estimated perhaps 200 walked out as a result of intimidation and threats.
Finally, Arizona Farm Bureau President Miller called a press conference. In a prepared statement, Miller said, "…the discordant and distorted campaign of outsiders to overturn legislation deemed vital to Arizona is an affront on the free institutions of our state that have made a determination through the free processes of democratic government. We have a Senate and a House …each of which, on a bi-partisan basis and by a margin of better than two to one, voted to enact farm labor legislation after two years of study and analysis. We have a governor who signed this mandate into law. Thus the people of Arizona, through their elected representatives, have spoken. And yet a small group of self-appointed Wise Men from the East have come to us to demean our legislature, call for the recall of the governor, and even urge a boycott of all Arizona products and tourism.
"An announced part of their campaign is to go beyond the destruction of the new farm labor law to outright repeal of Arizona's long-standing right-to-work statute."
Miller went on to stress that the new law would not repress but guarantee the rights of farm workers to organize through secret ballot elections that had long been denied them by Cesar Chavez and his United Farm Workers National Union.
These times were defining moments for Miller and so many others. In the Yuma area, explained the Arizona Farm Bureau News, "The citizens for Agriculture committee went into action. Radio stations punctuated their programs frequently with messages from the Yuma Vegetable Shippers Association, calling for help to pick the melons. The Yuma County Farm Bureau Women and others manned sound trucks carrying American flags. They drove between the pickets and the field workers, playing loud patriotic and Mexican music to drown out the bullhorns and the screaming performances of the pickets. Sheriff's deputies patrolled the roads to keep order."
Because the demonstrations by the Chavez picketers had such limited success in the fields they moved to the U.S./Mexico border and tried to intimidate Mexican Nationals with worker permits from crossing over to work.
From observers at the time, Chavez's picketers hurled threats and innuendoes against "green card" holders coming across to work the melon fields. And while they succeeded in preventing some Mexican Nationals from coming over to harvest melons, those that did make it to the buses were able to work in the fields.
Ultimately, union efforts at stopping the melon harvest in the Yuma area were broken.
The culminating event occurred in 1979 when the Supreme Court overturned a 1978 decision of a three-judge federal panel which had said the Arizona Agricultural Employment Relations Act was unconstitutional. An Ad Hoc group of agriculturalists, formed in 1972, was instrumental in battling the ongoing attack by the United Farm Workers on Arizona's Farm Labor law. It's believed without the efforts of the Ad Hoc group Arizona would not have won its farm labor law appeal to the Supreme Court.
Said Miller, Jr. in the June 1979 issue of Arizona Farm Bureau News, "The law guarantees an atmosphere of order and fairness for both farm workers and farm employers. …It's a state issue, that's why we intervened on behalf of the State of Arizona and the Arizona legislature. We have a good law which helps farmers and farm workers."
The Busy Life of a Leader
Of course, many other issues and commitments also occupied Miller Jr.'s Farm Bureau presidency. While other Arizona Farm Bureau presidents have sat on the American Farm Bureau Board of Directors, Miller is the only one to have been vice president of the American Farm Bureau. He also sat on the American Farm Bureau Executive committee for 15 years, served on the board of the Salt River Project, was one of the founders of the Western Agricultural Insurance Company, served on the public lands committee for the Bureau of Land Management and was a member of the advisory group that worked with Gov. Bruce Babbitt to create the 1980 groundwater code. He has also been a board member of the State Compensation Fund, the Central Arizona Project, Arizona Historical Society and the Tolleson Union High School Board.
Not long ago, Miller represented agriculture on Arizona's Navigable Streams Adjudication Commission and served in an advisory capacity to the Dean of the College of Agriculture at the University of Arizona. In 2006, Miller's family funded the Dean's Chair for Excellence in Agriculture and Life Science for the University of Arizona.
Miller was the 2007 recipient of the Distinguished Service to Agriculture Award given out by the American Farm Bureau Federation (AFBF). I had the privilege of being there when Miller received the award during AFBF's Annual Meeting in Salt Lake City, Utah that year. His family was among the invited guests.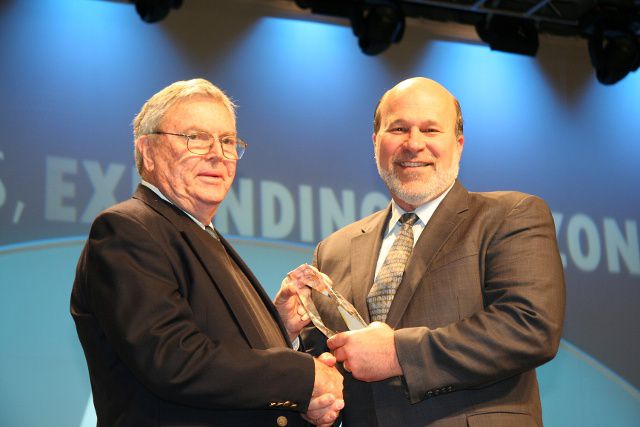 Miller Jr. was the 2007 recipient of the Distinguished Service to Agriculture Award given out by the American Farm Bureau Federation. He's pictured here with former AFBF President Bob Stallman.
Says Miller Jr., "When you've been around as long as I have been, you've got to learn something along the way."
Records of his dad's presidency from 1941 to 1943 are scarce. I scanned old documents and newspapers for any old speeches that might have been kept for posterity. I could find none. But somehow, listening to Cecil talk about his experiences and his Dad, I feel I have met Miller Sr.
Certainly, I admire this father and son team for what they've accomplished for Arizona Farm Bureau, Arizona agriculture and for our Arizona.
Editor's Note: Writing this series draws for me a simple conclusion: Being involved in Arizona Farm Bureau matters.