Arizona Agriculture's Veterans: In Great Company
By Jeannette Fish, formerly with Maricopa County Farm Bureau: Since April of 1775, when farmers of rural Massachusetts took up their muskets to battle the Redcoats at Lexington, Concord and along the road as the British retreated back to Boston, America's farmers and ranchers have responded to the call to serve their country in the armed forces.
Today's modern U.S. military is no exception. You can find countless examples in our own Arizona Farm Bureau. As Veterans Day nears this November 11th, it's time to remember the sacrifices of our military and also recognize how many from our military come out of agriculture.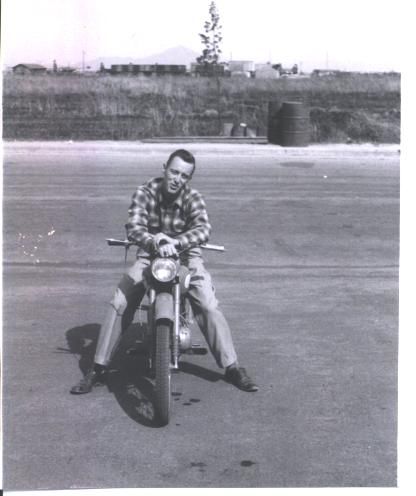 Jamie Sossaman, Queen Creek farmer
Over a lifetime of farming, public ser, ice and military service, Jamie Sossaman of Queen Creek has observed a connection between those who live and work on farms and ranches and military service. "Farm people have more love of their country than perhaps some other groups of people," he said.
Himself included.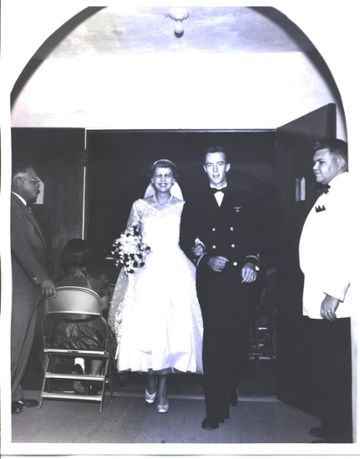 Jamie and Sue Sossaman married as soon as he received his wings and commission during the Korean War.
In the early 1950s, with the Korean War in full swing, college sophomore Jamie Sossaman and a good friend signed on for the Navy Cadets, an officer training program for pilots. After more than a year of training, he received his wings and commission.
Flying a large seaplane, he "saw a little action" during two six-month tours in Korea and was awarded the Navy's Air Medal, "along with some other awards," Sossaman modestly reported. His unit lost one airplane and crew when they hit a mountain.
Sossaman was scheduled to be on that flight but he said at the last minute another man asked if he could take Sossaman's place because some of his friends were in that crew. The cause of the crash was never determined. "The best we could think of was they hit a tremendous downdraft," he said.
Sossaman and his wife of more than 50 years, Sue, got married as soon as he received his wings and commission. He was supposed to have 30 days' leave but their honeymoon was interrupted by a telegram to report for duty. His unit went to Hawaii for additional training so he bought an airline ticket for Sue, they rented a small house and finished their honeymoon.
He bought a small motorcycle to ride back and forth to the base but when it was raining he would arrive at the base with wet pant legs because his raincoat only protected him down to about his knees. One day in formation his commanding officer noticed and asked Sossaman why his uniform was wet. When he explained, the CO asked, "Didn't you get the word that none of the officers were supposed to bring their wives to Hawaii?"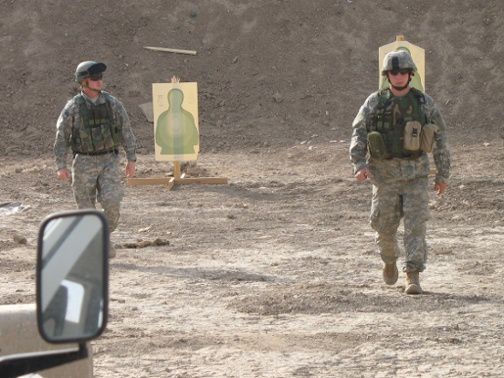 First stationed in Hawaii in the Navy, Sossaman bought a small motorcycle to ride back and forth between a small, rented house he and Sue had found on the base. His motorcycle treks on rainy days eventually got him in trouble with his commanding officer.
The commander promptly forbade Sossaman to go "ashore" any more. He started keeping a spare uniform in his locker on base, and "I didn't get caught again."
When he completed his four years of service, Sossaman's father informed him he would need to make a career decision. If he chose the military, the elder Sossaman planned to sell the farm. While he enjoyed the military, Jamie felt he would prefer to be a full-time farmer.
He returned to Queen Creek, got involved with farming organizations and served as president of Maricopa County Farm Bureau. He was also asked to fill an unexpired term on the local school board and discovered he enjoyed politics.
Shortly thereafter, the local precinct committeeman sold his farm and asked Sossaman to fill his unexpired term. That led to a request from Sen. Marshall Humphrey, then president of the State Senate, that Sossaman run for the Legislature in the old District 8-A, which covered South Phoenix, Guadalupe, a large chunk of Tempe, plus Chandler, Gilbert and Queen Creek.
He was elected and served 18 years in the Arizona House of Representatives, the last two as Speaker of the House. When Sen. Stan Turley retired, Sossaman was elected to his seat and served in the Senate for six years including serving as Senate President while in office.
The Sossamans are parents of two sons. Their oldest, Steven, was very military minded as a child. His toys were military toys and he often played soldier. He applied to the Air Force Academy and was appointed by then-Sen. John Rhodes.
However, after a year as a "doolie," Steve told his parents he would rather be a farmer, so he returned to Queen Creek and got his degree from ASU's College of Agribusiness. He has been active in several agricultural organizations, including serving as president of Maricopa County Farm Bureau.
Steve has also served on the Queen Creek school board, as city councilman and was mayor for a short time. He has served on the Queen Creek Planning and Zoning Commission for several years.
Sossamans' younger son, Scott, was the one who seemed pointed to a lifetime of farming. He studied diesel mechanics and worked for John Deere, then joined the Army National Guard. "He really enjoyed it," said Sossaman. "When he came back from boot camp at Ft. Sill, Oklahoma, I said if the military is your thing, why don't you go back to college and get a commission?"
Scott considered that for about six months, then went back to college and excelled to the point that he won one of only two available regular Army slots (instead of Reserves) when he was commissioned.
He is now a Lieutenant Colonel. He served in Desert Storm and spent 15 months in Iraq about two years ago. After an interim assignment at the Armed Forces Joint Services Command in Virginia, he returned to Iraq again at the end of this year, where he trained Iraqi police and military for another 15-month deployment.
Jamie Sossaman said living and working on a farm makes young men and women more ready to accept the rigors of the military life. "With a farming background and working close to nature, you learn to hang in there and stick with it, no matter what happens," he said. "Calling it quits was just not an option to me."
He does not hesitate to recommend military service to the today's young adults. "I still firmly believe that if most young people put in a couple of years in the military, they will be more successful in life, especially for those who volunteer," he said. "They learn about life, discipline and the traits an employer wants to see."
Dent Family, Coconino County ranching family
Gail Dent of Coconino County, previously a Women's Director on the Arizona Farm Bureau Board of Directors, had twin step-grandsons in the military; one was deployed to the Middle East. Her son-in-law Army Pfc John Ross Davidson was wounded in Iraq, recuperated in Hawaii but had received orders to return to Iraq back in 2007.
The Dent family, like many agricultural families, has a long history of military service. Gail and her husband, Tad, vice president of the Coconino County Farm Bureau, can point to family members who died in service. "My mother had five brothers in the military," said Gail. "I lost an uncle and Tad lost two cousins in the Vietnam War."
When Tad and Gail traveled to Washington, D.C., they visited the Vietnam Wall and found names of family members and friends memorialized there. They later visited the Arlington National Cemetery and were moved by the sacrifice made by so many for the freedoms we enjoy.
"When you have a touch of agriculture in your background, you have a higher respect for history and what your family has come through to hang on to that heritage," said Gail, "and you are more likely to support your country, whether in public service, philanthropy or serving in the military."
She continued, "Every day is a gift and we owe thanks for that gift to those who served and who are willing to serve now."
Flake Family, Navajo County Ranch Family
Air Force SMSgt Mike Flake, son of Dean and Nerita Flake of Navajo County, went to flight school, along with his brother. He loved flying so much he joined the Air Force as a flight engineer.
He has served two tours of duty in Afghanistan, been to Turkey several times and was also based at Davis-Monthan Air Force Base in Tucson.
Like the Sossamans, Mike is not the son the Flakes would have expected to join the military. "We have seven boys and he's probably the most peaceable one we've raised," said Mrs. Flake.
Growing up on the ranch outside Snowflake provided the experiences that would serve as a training ground for a military career. "I think that he's had plenty of experience with duty because of the agricultural background our children had," Mrs. Flake continued. "They always had responsibilities – chores – and they learned that you (just) do it."
But the preparation included more than his developing dependability in fulfilling responsibilities. "Living close to the land makes you appreciate the country more as a whole," said his mother. "I think you feel connected. He loves his country."
Fish Family, Maricopa County
Soon-to-be promoted to Lieutenant Colonel Jeff Fish, son of Dean and Jeannette Fish of Maricopa County, has served 7 deployments to the middle east, including a short stint in Turkey, 11 months in Kuwait, 3 deployments with Special Forces to Iraq, and two one-year deployments to Afghanistan.
He is still with Special Forces, currently at Special Forces HQ at MacDill AFB in Tampa, FL.
Fhish enlisted directly from high school, took college courses while based at Ft. Hood, Texas, and won the Army's Green to Gold scholarship.
After completing his degree at Northern Arizona University, he was commissioned and assigned to the Signal Corps. He serves as Signal officer for a unit involved with training Iraqi police and military. In almost 20 years of Army service, he has also been deployed to Kosovo, Turkey and Kuwait.
Army Capt. Jeff Fish (left), son of Dean and Jeannette Fish of Maricopa County, enlisted directly from high school. Capt. Fish took college courses while based at Ft. Hood, Texas, and won the Army's Green to Gold scholarship.
Fish's grandparents were farmers and he grew up in small towns in several states, always in rural America. "Growing up in a rural area ingrains the core values of community and commitment to the way of life that allows individual freedom," he said. "Every person's reasons for joining the military are different -- education, training, advancement, financial, and the opportunity to see the world (mostly desert right now). However, there is only one good reason to join the Army. That is to serve."
While each person will have a different experience in the military, based on the unit they are assigned to, the mission that unit has and the people they work for and with, Fish said, "It is the service to our country that matters."
He concluded, "Service in the military allows everyone to be able to make a difference. While life in the military is rarely easy, it can be rewarding and the experiences you gain can go far beyond the life you currently know."
Editor's Note: With minor updates, this article first appeared in the August 2007 issue of Arizona Agriculture.