Arizona Agriculture's Young Farmers Help Feed Hungry Americans
By Julie Murphree, Arizona Farm Bureau: The farm and ranch families of Farm Bureau raised more than $810,000 and donated a record of more than 32 million pounds of food to assist hungry Americans as part of Farm Bureau's "Harvest for All" program in partnership with Feeding America. Combined, the monetary and food donations also reached a record level of the equivalent of more than 34 million meals.
Now in its 11th year, Harvest for All is spearheaded by members of Farm Bureau's Young Farmers & Ranchers program, but Farm Bureau members of all ages from across the nation contribute to the effort. In all, 18 state Farm Bureaus heeded the call to action. The joint effort between Farm Bureau and Feeding America, the nation's largest hunger relief organization, is a national community action program through which farmers and ranchers can help ensure every American enjoys the bounty of food they produce.
In addition to raising food and funds for the initiative, farmers and ranchers tallied nearly 13,000 volunteer friend hours assisting local hunger groups in 2013.
"We are encouraged by what we can accomplish by working together and sharing our bounty, to help nourish those who need help the most," said Jake Carter, who chairs the AFBF YF&R committee. He and his wife, Jennifer, offer u-pick strawberries, blueberries and blackberries, a fall corn maze and educational school tours year-round on their farm near McDonough, Ga.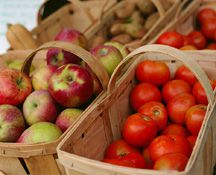 Whether fresh produce or financial donations, the Harvest for All Program generates thousands of dollars in donations and thousands of pounds of food.
"America's farmers and ranchers continue to step up to the table in a coordinated effort to serve their fellow Americans," Carter said. "No American should be allowed to go without food and because of Harvest for All, the equivalent of 34 million meals made it to the tables of those who needed it the most this past year."
Here in Arizona, our Young Farmers and Ranchers raised a couple thousand dollars through fundraising and food donations. Most of the effort occurs at the county level and allows county leadership to get involved. "I think several counties are keenly aware of the Harvest for All program," said Arizona Farm Bureau Field Manager Christy Davis and Young Farmer & Rancher coordinator. "We continue to strive to make our goals each year."
Arizona Farm Bureau's Young Farmer & Rancher Chair Eric Rovey is an advocate of the program. "It's an opportunity for us to really help those in need in our community," he said. "We're best suited to do this. We're in the business of food on a daily basis."
Harvest for All is one of the most important community service efforts undertaken by Farm Bureau members. Despite some improvement in the U.S. economy overall, many Americans still need the help provided by Feeding America and its national network of local food assistance organizations, according to Carter.
"Feeding America greatly appreciates the American Farm Bureau and its Young Farmers & Ranchers for its consistent contributions through Harvest for All and for our 11-year partnership that has provided much-needed assistance for the 1 in 6 Americans who are struggling with hunger," said James Borys, regional produce officer at Feeding America.
Join our Family!