Arizona Cooperative Extension Waives Enrollment Fees for 4-H Youth and Covers Costs of Volunteer Background Checks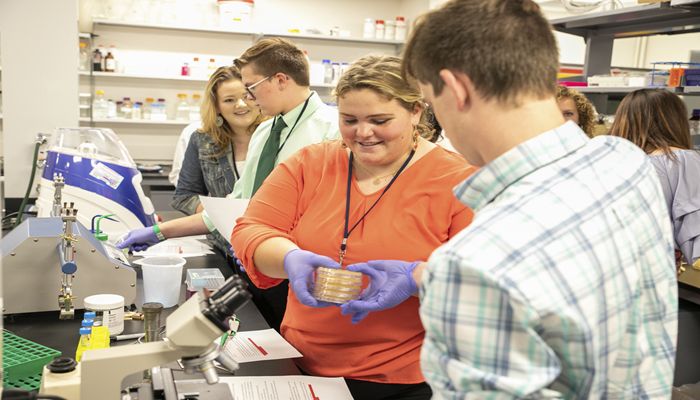 The University of Arizona Cooperative Extension will waive state and county program fees for the land-grant university's youth development program, Arizona 4-H, for the next year.
Arizona 4-H provides development opportunities for youth in every Arizona county and five tribal nations through eight participation pathways including agriculture, civic engagement, community service, cultural understanding, camping, healthy living, leadership, and science, technology, engineering, and math (STEM). 
The research-backed 4-H experience supports young people who are four times more likely to contribute to their communities and two times more likely to make healthier choices, be civically active, and participate in STEM programs, explained Jeremy Elliott-Engel, associate director for 4-H Youth Development in the University of Arizona Cooperative Extension.
"We believe this is an important time for the University of Arizona Cooperative Extension to step up and do what we can to engage even more youth and families so they can benefit from what Arizona 4-H has to offer," Elliott-Engel said. "Ensuring Arizona 4-H is free means we can create opportunity for all." 
"4-H programs have a positive impact on youth across the state and help our young people on a pathway to leadership and civic engagement," said Arizona Farm Bureau CEO Philip Bashaw. "I hope these efforts will help remove barriers for more youth to become a part of 4-H and help the volunteers who dedicate their time to serve."
4-H is a community-based program that relies heavily on caring adult volunteers. In addition to waiving youth state and county program fees, the UArizona Cooperative Extension – in partnership with the Arizona 4-H Youth Foundation – will cover the costs of volunteer background checks for the next six years starting July 1, 2021. While volunteer background checks are required for all UArizona Cooperative Extension authorized 4-H adults, many authorized 4-H adults generously covered their own costs for the background check in the past.
"We all know that the past year has had a lot of challenges that have been hard for many. The silver lining is that we have attracted audiences who now have the ability to thrive and find their spark" Elliott-Engel said. 
Throughout the COVID-19 pandemic, UArizona Coopartive Extension county-based 4-H professionals adapted their programming to support Arizona youth remotely. The online format allowed 4-H Healthy Living Ambassadors to grow from three participating counties to a statewide initiative. STEM YOUniversity was expanded from a weeklong camp to a series of multiple month-long programs, engaging hundreds of youths across the state that had never previously participated in 4-H and helping to launch the County 4-H STEM Ambassador program. 
County-based 4-H professionals also helped county fairs transition their livestock sales to a virtual platform, ensuring that every 4-H youth was able to sell their livestock projects. 
"Removing financial barriers to participation is another positive move forward. Investing in our adult volunteers and in welcoming 4-H youth means we can ensure even more Arizona youth thrive," Elliot-Engel said. 
Prior to the pandemic, Arizona 4-H introduced a strategic plan designed to grow the Arizona 4-H program from approximately 6,000 club members to 20,000 over the next five years. 
"We cannot reach our goal of 20,000 by 2025 without first supporting our volunteers, and this was identified as the greatest burden and barrier," said Deb Lester, director of the Arizona 4-H Youth Foundation. "We are proud we can help say thank you and help more people find the joy of investing in our youth."  
The Arizona 4-H Youth Foundation (AZ4-HYF) was incorporated in 1970 as a non-profit educational organization by a service-minded group of Arizona's agricultural, civic and corporate leaders to ensure opportunities for 4-H youth across the state. The AZ4-HYF celebrates 50 years of providing support for 4-H members this year.   Annually, foundation endowments and gifts provide 44 Arizona 4-H youth higher-education scholarships and nearly $150,000 in funding for the Arizona 4-H program.