By Julie Murphree, Arizona Farm Bureau Communication Director: Arizona FFA recently named Arizona Farm Bureau's Jim Klinker Agriculturalist of the Year. This distinguished recognition was presented to him during its inaugural Blue & Gold Gala last month.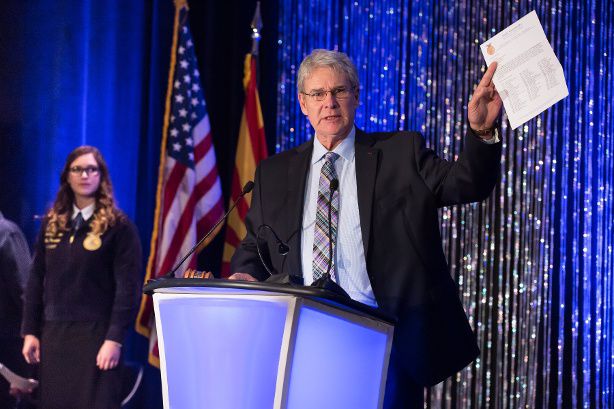 During the Agriculturalist of the Year presentation, Arizona Farm Bureau's Jim Klinker referred to the list of past award recipients and said, "Those are leadership of Arizona, not just agriculture, but leadership of Arizona."
For those who know him, this recognition is very appropriate especially because of his life-long support of the FFA. "I've known Jim Klinker since 1976 when he came out to Parker and helped my parents and I move furniture into my dad's new Farm Bureau Insurance Office," explained Stephen Goucher, agent and financial advisor with Farm Bureau Financial Services. "From that day forward, Jim has dedicated his life to serving Arizona Agriculture, helping the industry survive and prosper."
Also FFA Foundation President, Goucher added, "Arizona is a better state because of Jim Klinker. Jim personifies the true spirit and meaning of this recognition as the Agriculturalist of the Year."
2016 Agriculturist of the Year Jim Klinker Receives Award At Blue & Gold Gala from Arizona AgED / FFA Foundation on Vimeo.
Part of a select list of recipients, the recognition comes to Klinker as he prepared to retire after 44 years with the Arizona Farm Bureau.