Arizona Farmer Elected to National Women's Leadership Committee
By Julie Murphree, Arizona Farm Bureau: Members of the American Farm Bureau Federation (AFBF) Women's Leadership Program elected Sherry Saylor, an Arizona row crop farmer, to a two-year term as chair of the American Farm Bureau Women's Leadership Committee. Saylor and her husband, Rick, are partners in R&S Farms, where they grow cotton, wheat, alfalfa, barley and a white wheat for specialty bread.
Saylor has been an Arizona Farm Bureau member since 1974 and is a former chair of the Arizona Women's Leadership Committee. She was elected to serve on the AFBF Women's Leadership Committee in 1990 and most recently served as vice chair.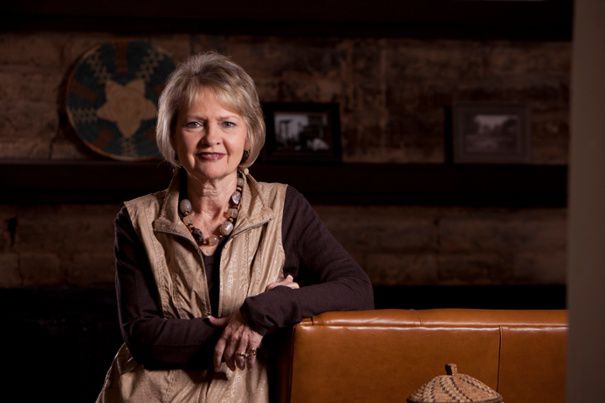 Sherry Saylor is the newly elected chair of American Farm Bureau Federation's Women's Leadership Committee
A graduate of Westmont College in Santa Barbara, California, with a Bachelor of Arts in sociology, Saylor also holds a master's in counseling from the University of Phoenix. In addition to farming, she is currently the guidance counselor at Buckeye Elementary School, a position she has held for 28 years.
Saylor and the WLC members look forward to collaborating with other Farm Bureau committees and programs to advance the shared goal of furthering the cause of agriculture.
"It's so important for those of us in agriculture to be transparent about what we do to produce food," Saylor said. "We must commit to taking our messages to local, national and even global platforms."
For the Saylor family and so many other generational farm families, farming is a tradition. Husband Rick grew up on a farm and loved it. He went to Arizona State and majored in Agriculture economics and then went to work for DuPont because at the time he graduated, the farm was not large enough for him to jump right in as a full partner.
He went to work for DuPont and sold agricultural products in South Carolina - which is where he met Sherry. During that time Rick discovered he wanted to get back to the family farm in Arizona.
"When we got married we talked about it and eight months after we were married we moved back to Arizona," says Saylor. "His father sold a piece of property that was close to Phoenix and reinvested in the Buckeye farm and we both decided to get into farming."
Adds Saylor, "Obviously, I didn't know what I was getting into but I fell in love with it rather quickly - just loved the community, the people and the feel of the land. It was exciting to put seed into the land and harvest a product six to nine months later."
Saylor, whose own family was not in farming admits moving to rural Arizona to farm was a big change. "It was a bit of a culture shock since I was a city girl from South Carolina. As I've often said the only thing I knew about cotton is that it was in the top of the medicine bottles. When I came out here, it was a steep learning curve since traditionally so many grew up in it and I was the odd man out. But this is where Farm Bureau helped me out a lot. I immediately got involved in this community of other farmers and ranchers and there was a lot of education and leadership development through the Young Farmer & Rancher program; women's Leadership Committee and Farm Bureau training in general really helped me get the bug to share the story of what we do and why we do it."
Saylor's two year term will take her all over the United States advocating for American agriculture.