Arizona Melons and Peppers, Oh My! Another great Rosie On the House Show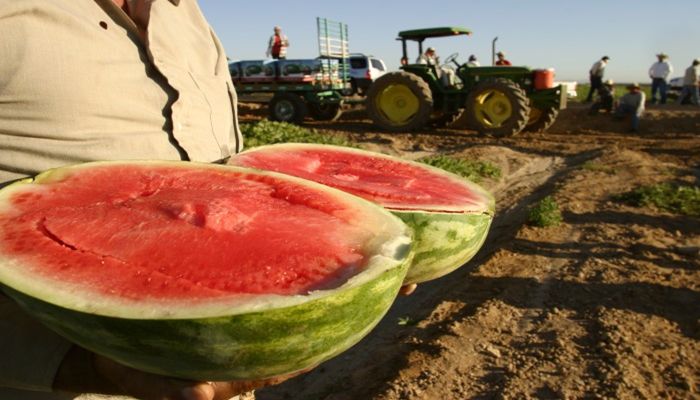 This last Saturday, over the Fourth of July weekend, our agriculture commodity topic was melons on the monthly "Farm Fresh" hour on Rosie on the House. Why? We grow them well in Arizona. However, we mostly talked about chili peppers as our guest was Cochise County farmer Ed Curry of Curry Farms.
So, we'd encourage you to listen to the Rosie show below (commercial-free). In the meantime, here are some of our favorite points about Arizona melon farming.
More than a dozen major Arizona melon growers growing for the market on nearly 5,000 acres; the majority of production. Most of it is in Yuma, Pinal and Maricopa counties. 
The growers are mostly very large commercial growers; still family-owned and operated.
One Family, Martori's: Since 1953, 3 generations. Market under the "Kandy" label. Sell to all major retailers.
Another Family, Rousseau: Watermelon is being harvested as we speak. Market under the "Majesty Five Crowns" label. They also do sweet corn under the same label. Three generations farming in Tolleson and Scottsdale. On Sarival and Olive, the family hosts a Farmers' Market that opens on Memorial Day and closes after the 4th of July holiday.
July is National Watermelon Month and Arizona is the perfect place to get a sweet crisp watermelon, also considered America's favorite melon. 
Watermelons are considered a fruit and a vegetable because of the rind.
Arizona's weather allows cantaloupe farmers to have two seasons: Spring and fall.
Go to Arizona Farm Bureau's Fill Your Plate for sweet corn and melon recipes. You can search by ag commodity. Also, check out the blog. Doing a search by "melons" will bring up a variety of articles about this amazing Arizona crop.