Conversation about Arizona's Agricultural Mentoring Program: Keisha Tatem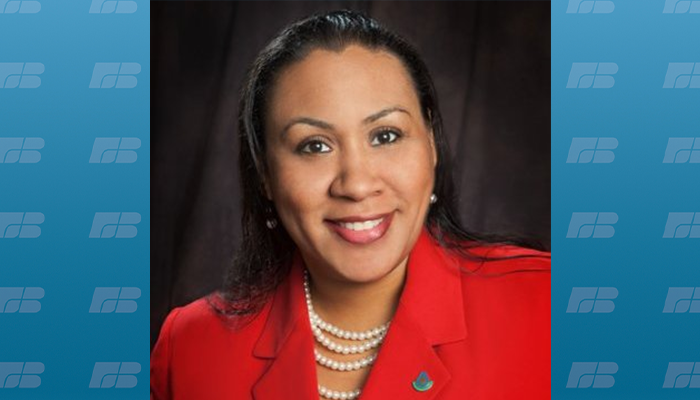 A native of Southampton County, Virginia, Keisha Tatem began her professional career with the USDA Natural Resources Conservation Service (NRCS) as a Soil Conservationist Student Trainee in 1995. Armed with a Bachelor of Science in Agriculture with a concentration in plant and soil science from Virginia State University she spent over 10 years working directly with farmers and ranchers, solving their natural resource problems as a Soil Conservationist and District Conservationist in Virginia and Florida and has held several positions with USDA in Pennsylvania, South Carolina, and Washington, D.C. 
 
In 2011, Keisha was selected to be the State Conservationist for Arizona where she currently leads a multi-level team of technical and administrative specialists. Keisha and her team provide technical and financial assistance to Arizona's farmers, ranchers, and Tribes to address natural resource priorities focused on soil, water, plants, animals, air, and energy. Their work directly impacts drought resiliency, wind erosion, invasive plant species, and wildlife habitat. 
 
Over her career, Keisha has worked on several special projects to improve agency operations and program delivery at the state and national levels. Most recently, she was assigned to an 8-month detail in Washington, D.C. where she led agency conservation initiatives for the northeastern United States and coordinated the agency's transition and reorganization efforts for the newly established Farm Production and Conservation mission area in 2017.
 
She has earned numerous honors and awards, including the Phoenix Business Journal 40 Under 40 Leaders of the Valley in 2014 and the Unsung Hero Award for Environmental Sustainability from the Governor's Commission for African American Affairs in 2015. She makes her home in Chandler, Arizona, with her husband, Roy.
 
With the launch this last April of the Conservation Agricultural Mentoring Program (CAMP), in partnership with Arizona Farm Bureau, Tatem and her team have been front and center in enthusiastically driving this unique partnership. While several other states have the CAMP program, Arizona is unique in the partnership effort with Arizona Farm Bureau. 
 
At the beginning of this 18-month effort, Arizona Farm Bureau wanted to have Tatem shine a bright light on this exciting program. Her insights follow.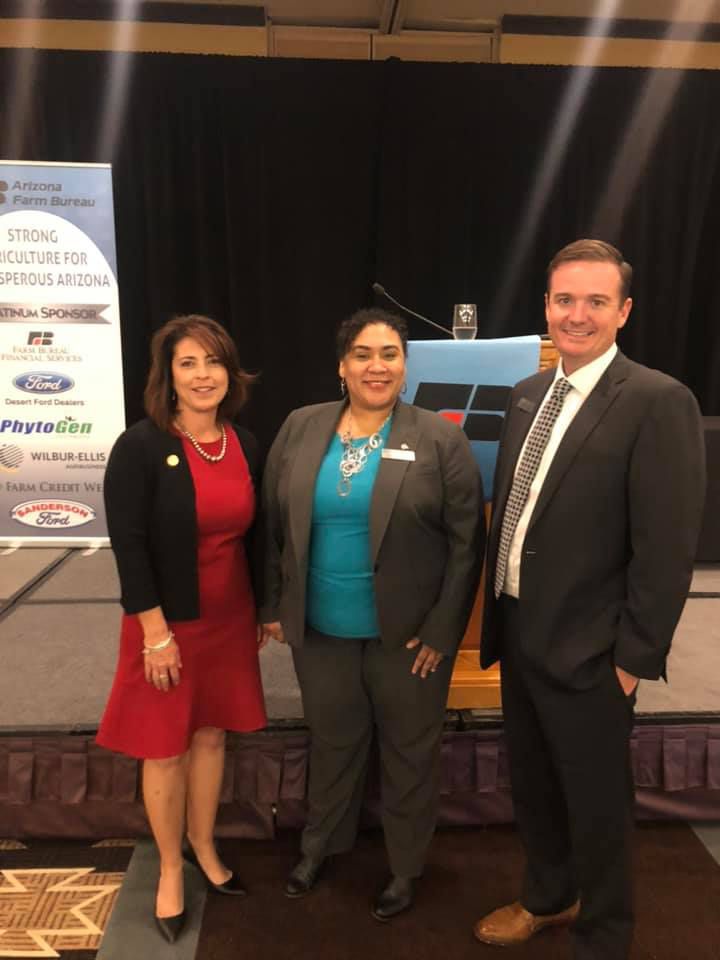 The partnership between NRCS and Arizona Farm Bureau means both agriculture producers and NRCS employees can exchange valuable information continuously learning from one another. Here, Tatem is flanked on the left by Arizona Farm Bureau President Stefanie Smallhouse and on the right by Arizona Farm Bureau CEO Philip Bashaw.
Arizona Agriculture: What was the Genesis of the CAMP Program?Tatem:
 Our previous [NRCS] Chief, Matt Lohr, received feedback from both staff and producers as he traveled around the country on how we could improve our services. Our clients spoke highly of the technical expertise of our staff and our financial assistance programs but felt that our technical assistance could be improved with more practical experience surrounding the business of agriculture. 
As we've seen a decrease in the number of farmers and ranchers in America, we seem to also have fewer and fewer employees with farm or ranch experience. To address that issue, Chief Lohr created the Conservation CAMP to grow critical relationships with the producers we serve, while at the same time advancing employee knowledge of production agriculture and natural resources in their local area, ultimately enhancing our ability to provide excellent customer service. 
Arizona Agriculture:  What excites you the most about the CAMP program and why?Tatem:
 I'm most excited about the unique way we are implementing the program in Arizona. Instead of managing it on our own, we decided to partner with Arizona Farm Bureau to ensure the authenticity of the program. We have identified [NRCS] employees with less than five years of experience and the Farm Bureau has identified local farmers and ranchers with decades of production agriculture experience. Mentors and proteges are matched and a dynamic duo is formed.  
Arizona Agriculture:  Having announced CAMP to the world and the unique partnership here in Arizona between NRCS and Arizona Farm Bureau, what do you see as the biggest intended outcomes of the program?Tatem:
 Here in Arizona, we have a lot of new staff, and this program will provide a practical learning environment for employees to advance their knowledge of the common business practices, equipment, inputs and daily challenges and decisions producers must face. Our employees will also get to see firsthand, in real-time, the impact of local natural resource concerns. Ideally, we want to see consideration of this experience incorporated into the conservation planning process our employees use with our clients. Sometimes the best technical solution is not always the best solution for the producer, and we want our staff to tailor conservation plans to the needs of our producers while addressing the natural resource concerns on their farm and ranch. 
Arizona Agriculture:  While there is much the proteges are set up to learn, the producer mentors can get a lot out of this program too. Can you give some insights on this?Tatem:
 NRCS' conservation delivery system is the best in the world. We have an effective conservation planning process that can help producers identify natural resource problems and offer alternatives on how to solves those problems. Technology changes every day and our staff, especially our newer employees that have recently graduated from college, come to us with a wealth of knowledge on the latest science and technical tools in conservation. 
These mentors will benefit from the one-on-one relationship they will develop with proteges who can help them not only identify practices to improve the environment but that can also contribute to their bottom line since many conservation practices help to reduce energy use, improve irrigation efficiencies, increase forage, and other improvements in the farm or ranch operations. 
Arizona Agriculture:  Beyond CAMP, what makes NRCS Arizona different or unique? Or should I say, the western states of NRCS?Tatem:
 As someone who spent much of my career on the East Coast, I can personally attest to the unique challenges and opportunities of the West. Most obvious is the lack of water and all the politics that go with access to the limited water we have. 
The mixed ownership of the state also makes Arizona different and has created challenges in addressing natural resource issues. Around the nation, NRCS is known for its locally-led conservation delivery system on private land. Our primary local partner includes our conservation districts that set local natural resource priorities and the producers that implement practices across the landscape. 
However, in the West, many of our farming and ranching operations include a mix of private, Tribal, Federal, and State-owned land. Therefore, partnerships are critical to our success. In Arizona, the locally-led conservation model is still led by our Natural Resource Conservation Districts (NRCDs), but it also includes Forest Service, BLM, State Lands Department, State Historic Preservation Office (SHPO), and of course Tribes. 
And speaking of Tribes, we have a government-to-government relationship with them that provides for each of them to manage their local-led process as they deem appropriate so there may be many ways that we address local resource concerns around the State. 
Arizona Agriculture:  What are some of the biggest hurdles to overcome or challenges and how is USDA and your leadership tackling them?Tatem:
 Internally, our biggest challenge is staffing because we have a great need for skilled boots on the ground. We have hosted several national hiring events this past year but have found it difficult to find applicants that meet our job qualifications. Most of our positions have specific education requirements and although degrees in environmental science, agribusiness, and animal science are popular, they usually do not meet the course requirements for our soil conservationist positions. We have even found that degrees that include the word "range" in the degree have fallen short of the plant and ecological science classes needed for our range conservationist positions. 
Most difficult has been finding agricultural or civil engineers. The most recent employment 
study conducted by USDA and Purdue University
 indicates that although the total number of students graduating balances with the total number of opportunities in the industry, the specific fields of science and engineering are not seeing enough graduates to meet the demand. 
Concerned by this, NRCS in Arizona is growing our partnerships with UA, ASU, and NAU to provide recommendations on course requirements and promote internship opportunities. We are also exploring high school developmental opportunities to increase interest in the science and engineering components of agriculture. 
Arizona Agriculture:  What encourages you about the future work of NRCS in partnership with producers? Tatem:
 As people in society become more and more focused on their health and where their food comes from, as well as how we take care of the planet, I see an opportunity for us to engage even more producers in our conservation efforts. Being able to tout participation in conservation programs could be a valuable marketing tool for our producers. 
I also think there is a lot of opportunities to include the effects of conservation practices in environmental markets and carbon trading.  
Arizona Agriculture: You seem to have a passion for agriculture. Why?Tatem:
 It's pretty simple. I like to eat. That alone should motivate everyone to have a passion for agriculture. I was also raised in a family that honored the bounty provided by the land, especially since it was such a large part of my family history. My grandfather and great-grandfather raised hogs and growing up we grew much of the food we ate. 
I know that farmers and ranchers feed the world and while life on this planet depends on them, they depend on our natural resources. I want to do all that I can to protect those natural resources so that farmers can continue to do what they do.
Editor's Note: This article originally appeared in the July 2021 issue of Arizona Farm Bureau's Arizona Agriculture.