Country Values Found in the City: Mother Nature's Farm
By Peggy Jo Goodfellow, Arizona Farm Bureau: In 1968, Wade Kelsall's parents Sam and Edie Kelsall purchased the land where Mother Nature's Farm is today. At that time they were farming alfalfa for the neighboring dairy. As the city grew, the Kelsall's, decided to grow Christmas trees (Elderica Pines) to sell to the city folks that were moving closer and closer to the farm everyday. They sold their first tree in 1985. Customers loved that they could pick out and cut their own tree.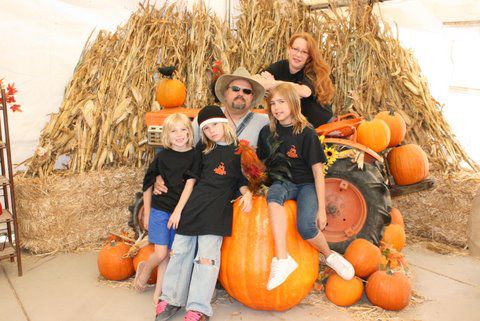 Your farm Friends, Wade, Caroline, Brooke, Alexander and Maneau Kelsall. They come from a tradition of farming.
Fast forward to 1995, Wade Kelsall, third generation farmer, and his young family decided to moved to the family farm and expand their offerings. "I wanted to raise my children with the values of hard work, living with the land and my farm country values," said Kelsall. At first they brought in pumpkins to sell under a ten by ten foot tent in their front yard and started giving hay rides.
Today, Wade grows 40 acres of pumpkins in Duncan, Arizona along with gourds, squash and other fall ornamentals. "Mother Nature's Farm gives your kids and mine the best of both worlds,"said Kelsall.
Load up the family, bring your friends and neighbors and come visit the Pumpkin Patch at Mother Nature's Farm.
Mother Nature's Farm Pumpkin Patch
Starts: October 1, 2015 – October 31, 2015.
Place: 1663 E Baseline Rd, Gilbert, AZ 85233
Hours: 9:00 a.m. – 9:00 p.m. 7 days a week
Admission: $10 per child. Adults are $3.00 each to tag along and ride the hayride
Admission Includes: an OZ pumpkin, bag of stickers, decorating your pumpkin, air bounce, a hayride, straw bounce, feeding the animals and Alexander's Advneture Maze.
See the world's heaviest pumpkins at the World Pumpkin Weigh Off on October 4th (winners will be announced at noon). Enjoy a fall gourd show, U-pick pumpkins, squash, and produce for sale.
For more information, call 480.892.5874 or visit mothernaturesfarm.com
Editor's note: This is the third in a series of Fall Festival articles: Arizona Agriculture's Family Farm in the City: Tolmachoff Farms and One of Arizona Agriculture's Happening Places: Schnepf Farms. For more information on our member benefits including our regional benefits go to Arizona Farm Bureau's member benefits page online. Or, download the Member Benefits app (FB Benefits) to your smart phone for easy, everyday access to your benefits.