Drones: Fly the Friendly Skies But Check with Your Attorney First
By Greg Harris and Tom Dougherty with Lewis Roca Rothgerber LLP: From what seemed to be science fiction, small unmanned aircraft – more commonly referred to as drones – have become part of everyday life. Drones can be used for many purposes. Insurance companies use drones to assess property and crop damage. Real estate agents use drones to provide new perspectives on properties. And if Amazon has its way, drones will deliver online purchases to you within minutes of your order.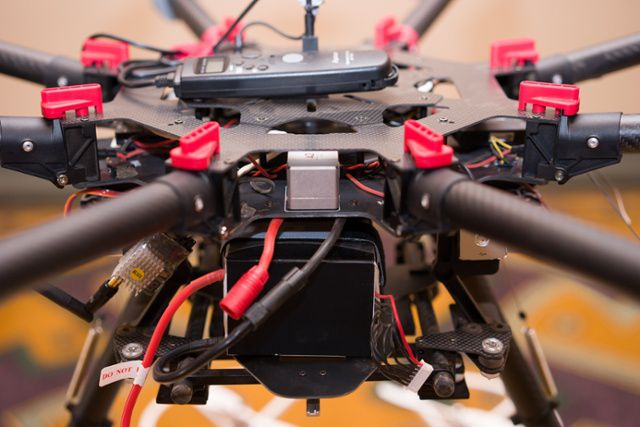 Like a scene out of Star Wars, drones are becoming more and more sophisticated and much more capable of multipurpose application in agriculture and other industries. A recent study shows the total economic impact of small unmanned aircraft systems related to agricultural uses would be more than $70 billion between 2015 and 2025 in the United States.
Farmers and ranchers are among the early adopters of this new technology which offers a flexible, low cost means to assess crop and livestock conditions. In a March, 2013 report, the Association for Unmanned Vehicle Systems International (AUVSI) projected that the total economic impact of small unmanned aircraft systems related to agricultural uses would be more than $70 billion between 2015 and 2025 in the United States. According to another AUVSI study, more than 16% of the first 1,000 approvals granted by the Federal Aviation Administration for commercial drone operations were for agricultural uses. Drones are becoming another tool in the precision agriculture toolbox, and farmers and ranchers should be aware of the applicable laws and regulations as well as the potential concerns associated with drones.
Current Regulatory Status
So, where do things stand now? Can you fly a drone over your farm or ranch? It depends on why you are flying the drone. If your drone weighs less than 55 pounds, is flown for recreational purposes over your own property, and complies with basic safety guidelines such as staying below 400 feet altitude and away from manned aircraft, then your flight is permissible without FAA approval. However, if you are flying to gather information about the condition of your crop or herd, that is a commercial purpose that requires FAA approval. Currently, that approval is a Section 333 Exemption issued by the FAA. This approval allows you to fly your drone for commercial purposes during the day only and below 200 feet anywhere in the country that drone flights are permitted or up to 400 feet altitude in specific locations for which you separately obtain approval. You must, however, possess a valid pilot's license. The FAA has issued proposed rules that would replace the pilot's license requirement with a UAS operator certification and allow drone flights up to 500 feet altitude; however, those rules are not expected to be final until sometime this year.
Property and Privacy Concerns
While farmers and ranchers are obtaining Section 333 exemptions to use drones to improve the productivity of their operations, this new technology comes with some concerns. For example, when does a drone flying over your property constitute a trespass? When does a drone flying over someone else's property constitute a nuisance? How much of the airspace above your property do you actually own? When do sounds, images, and other data collected by a drone constitute an invasion of your privacy? As of now, the answers to these questions are not entirely clear. What is becoming clear as evidenced by stories of property owners shooting-down drones they perceived to be trespassing or threatening, "self-help" is not an advisable option. The answers to these property rights and privacy questions may depend on the interplay between federal and state laws concerning unmanned aircraft and consideration of court decisions addressing similar issues in the context of manned aircraft.
The FAA has made clear that issues related to privacy and property rights are not within its purview. President Obama has directed federal agencies to develop policies on privacy and civil rights related to government use of drones, and directed the Department of Commerce to develop recommended best practices for privacy, accountability, and transparency in the commercial and private use of drones.
State Laws
Many states are moving to enact laws to address these same concerns. According to the National Conference of State Legislatures, 45 states considered 168 drone-related bills in 2015, and 20 states have enacted some form of drone legislation. During the 2013 and 2014 legislative session, the Arizona legislature considered but did not pass three bills[1] related to the use of drones by law enforcement. The legislature is expected to further study these and other drone issues again when it reconvenes in January, 2016, particularly in light of the adoption of an ordinance by the Paradise Valley Town Council[2] in December 2015 regarding the private use of drones in the town.
These efforts raise questions concerning the potential conflict between federal and state laws. The federal government traditionally regulates aviation safety which preempts states from regulating in the same area. However, the line between regulating aviation safety and other aspects of aircraft operations is not entirely clear. For example, since the FAA regulates the flight of aircraft in navigable airspace (e.g., flight altitudes, etc.), may a state enact laws that regulate the use of drones within that airspace (e.g., establishing altitudes below which a drone flight is a trespass)? Again, the answers to such questions are likely to be resolved by the courts.
Predictions
So, what does all of this mean for farmers and ranchers? The good news is drones offer considerable benefits for agricultural operations. Drones provide the ability to gather data affordably and at a level of detail previously unavailable to most farmers and ranchers. The bad news is drones also bring uncertainty and anxiety. In the coming years we can expect local, state and federal regulation of drones to evolve, with state and local governments working to determine the extent of their authority to regulate these small aircraft.
Editor's Note: Greg Harris (gharris@lrrlaw.com) and Tom Dougherty (tdougherty@lrrlaw.com) are partners in the law firm of Lewis Roca Rothgerber LLP. Greg spoke on the legal and regulatory issues with drones during Arizona Farm Bureau's Annual Meeting last November. Tom works in the firm's Unmanned Aircraft Systems practice where they advise individuals and companies in multiple industries on UAS regulatory and operational issues.
[1] HB2269: (proposed interim committee to study law enforcement uses, economic development, safety, and privacy concerns) (failed) (2013); HB2574 (warrant required for law enforcement use except under certain circumstances; class 6 felony for person to use drone to monitor individual where there is expectation of privacy) (failed) (2013); and HB2538 (warrant required for law enforcement use of drones) (failed) (2014).
[2] A copy of the Paradise Valley ordinance and information about the ordinance can be found at this link.