Equine Rescue: What's Real, What's Not?
By Chelsea McGuire, Arizona Farm Bureau Government Relations Director: When the economic recession of the late 2000's hit Arizona, one of the unexpected consequences was an alarming number of abandoned horses. Unable to afford food or shelter, horse owners simply abandoned or set free their recreational horses, and people were at a loss for where to send the animals for proper care. One of the best options was an equine rescue organization.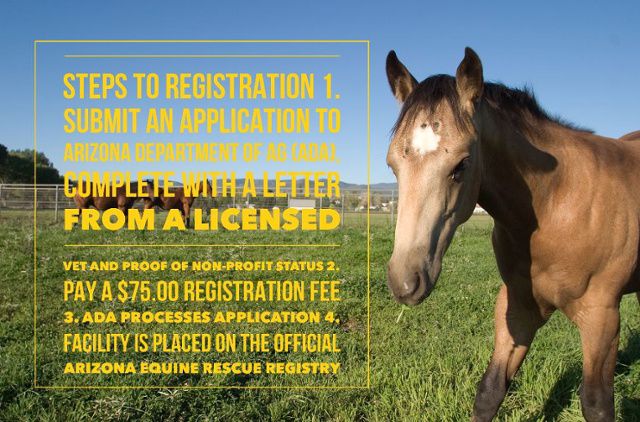 The Equine Rescue Registry, managed by the Arizona Department of Agriculture, is meant to help Arizona families know what horse rescue facilities are operating effectively and honestly.
But, according to Soleil Dolce, an Arizona Farm Bureau Member and Director of Arizona Equine Rescue Organization, Inc., a burning question remained: "How can people tell legitimate horse rescues from rescues that may not be operating honestly?" Dolce explains: "A lot of discussion occurred on this topic and in the end the team came up with the idea implemented in other states where there was an official registry of Equine rescues. In those states registration was a requirement to operate, which is something the Arizona group didn't want to do, but they did want to give a way for reputable rescues to demonstrate credibility. So we pondered how to use easily recognized credentials to validate a level of legitimacy and came up with some basic items that legitimate rescues would easily have or be able to obtain."
The Arizona Department of Agriculture also recognized the need for an easy-to-access registry, and agreed to oversee the licensing program. Today, the process for registering an organization is simple and straightforward: the organization submits an application, complete with a letter from a licensed veterinarian and proof of non-profit status in good standing. After a $75.00 registration fee is paid, the Department of Agriculture processes the application and the organization is placed on the official Arizona Equine Rescue Registry.
According to Dolce, the registry "was designed to help rescues prove they followed some minimum standard for potential supporters. A key element for the program was that it was within reach of the average horse rescue operation and affordable." Dolce also explains that she "switched from going through the BBB Charity process each year for $400 to this registration in order to save money but still establish credibility. The Arizona Equine Rescue Registry doesn't take much effort and it reassures law enforcement agencies and supporters that you make an effort to legitimize your work on a state level."
But despite all the work the equine community did to establish the registry, and how easy it is to apply, very few rescues have actually registered! Dolce urges those interested in the equine rescue registry to encourage others to get involved: "I highly recommend rescues use and advertise this credential as another way to build trust with their community. I encourage rescue supporters to look for this license to further assure themselves they are working with an organization that holds themselves to a higher standard."
To apply to certify your organization as an Arizona Equine Rescue Organization, find the Equine Forms listed at. https://agriculture.az.gov/livestock-official-forms. To find the current list of registered rescues, visit http://searchagriculture.az.gov/esd/equinerescue.aspx.