By Julie Murphree, Arizona Farm Bureau Communication Director: Recently, I interviewed Buckeye-Arizona Dairy Farmer Wes Kerr, a young and up-and-coming agricultural leader. I asked him, "As a farmer under 40, what do you think is your future? Speak also in terms of your generation in general." He gave some insightful points that follow.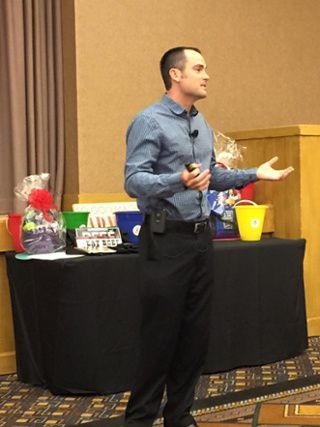 Wes Kerr talking about genetics last year at Arizona Farm Bureau's Women's Leadership conference.
I consider myself a long-term optimist but a short-term pessimist.
I believe that the future is very bright for agriculture.
Our world will continue to need agricultural commodities, and technology will continue to provide new ways of meeting demand.
However, there are threatening realities that we must overcome and that is why I am a proud member of the Arizona Farm Bureau.
I am positive that together we will overcome these challenges.
My generation in general is good at seeking out new possibilities and questioning the status quo.
As a younger generation, I believe we are constantly asking the very important question, "Is this the best way?"
My generation is also not afraid of new technology, we are eager to try new technology and we thrive on it.
Understanding our up-and-comers thinking means we have great opportunities in the future.