Farm Bureau Bank Credit Cards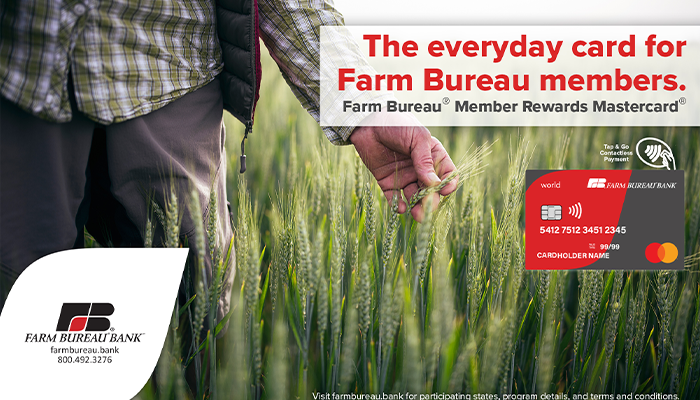 Credit cards are a safe and convenient way to make purchases or pay bills in person at your local store, or digitally from the convenience of your home. In fact, millions of people use their credit card to make over 100 million transactions every day in the United States!
As online marketplaces grow, more people use their cards digitally every day. Credit cards allow you to make convenient returns and offer security against fraud. Fraudulent charges on a credit card can be easily disputed, often with zero liability protection for the cardholder. If a debit card were to experience a fraudulent charge, the dispute can be a much more drawn-out process and could lead to troublesome fees and declines. Additionally, since a debit card withdraws funds directly from the cardholder's account, that money is gone immediately; with a credit card, you're not out any money if the issue is resolved before your next billing statement.
Some credit cards, such as the Farm Bureau® Bank Member Rewards Mastercard®, use the latest EMV chip technology. Not only does this help to protect from fraudulent card skimming on in-store purchases, but it supports contactless shopping. Instead of having to swipe or insert your card into a terminal, you just need to tap your card for a quick checkout!  
With Farm Bureau Bank offering a wide range of credit lines, low interest rates, and a rich rewards program, the Farm Bureau Member Rewards Mastercard® is one of the best credit card offerings on the market. Our cardholders enjoy benefits specifically crafted for Farm Bureau members, including:
No annual fees1 
In participating states, if a spending threshold is met, we'll pay the cardholder's membership dues2
3x reward points on gas, grocery, and dining purchases3
2x reward points on select Farm Bureau benefit partners3
1x reward point on all other purchases3
Any of these points accrued while using the Farm Bureau Member Rewards Mastercard® can be redeemed for account credit, gift cards, merchandise, tickets for travel and events, and more!
For more information or to apply, visit us online at farmbureau.bank, or call us at 800.492.3276.
1Other fees may apply. For full terms and conditions, visit www.farmbureau.bank/creditcards. 
2Based on purchases made in the calendar year that ends 60 days prior to membership renewal month. Balance transfers and cash advances are not included. State eligibility and minimum annual spend requirements for dues reimbursement vary by state and can be found here at membership dues. Available to new and existing members.
3Eligible purchases mean any signature or pin-based, online, phone or mail-order purchase made with the Farm Bureau Member Rewards Mastercard. This excludes Cash Advances, Balance Transfers, credits and returns. Triple reward points on qualifying transactions based on merchant code (5411, 5499, 5541, 5542, 5812, 5813, 5814), up to $1500 quarterly. Double reward points may vary from state to state.
Farm Bureau, FB, and the FB National Logo are registered service marks owned by and used by Farm Bureau Bank FSB under license from the American Farm Bureau Federation.