Farm Bureau Benefit: Tractors Tools of the Trade
By Peggy Jo Goodfellow, Arizona Farm Bureau: I grew up watching my grandfather, uncle and cousins working the fields and driving tractors. I learned to drive a tractor by the time I was 12. My uncle used to say a good comfortable tractor was the only thing between him and a bad back….and he didn't have time to be laying around with a bad back. He saved his back by making sure he had the right tractor for the job at hand.
Today's modern tractors have pretty much resolved the comfort factor when it comes to seats.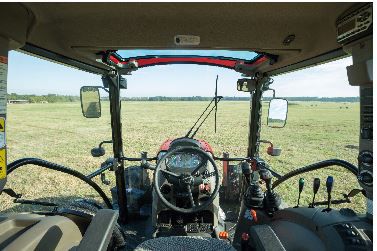 The new Farmall® 100A series tractors from Case IH, delivers great value and is eligible for the Farm Bureau member discount. And, the seats are comfortable.
In fact, our Farm Bureau member benefit tractor provider can tell you all sorts of things about seat and cab comfort in their newest tractor models.
"The Farmall 100A series updates include a redesigned, more comfortable cab, an electronically controlled engine and an economical drivetrain," said Denny Stroo, Case IH Farmall Product Marketing Manager. "It's a robust, simple, easy to operate tractor perfect for the livestock producer or smaller-scale farmer."
The new cab's improved ergonomics include a new control panel that moves and tilts with the steering column and an available high-visibility roof panel. They add comfort and convenience to the job, whether it's moving bales home from hayfields or wrapping up the planting season.

The Farmall 100A series joins the Efficient Power family of products equipped with a powerful Tier 4 B/Final-compliant engine with Selective Catalytic Reduction (SCR)-only technology and meets stringent emissions standards without compromising power or fuel efficiency. The electronically controlled engine offers improved performance and response over mechanically injected engines. Operators will appreciate the engine's other features, including:

• Faster throttle response
• Improved cold weather starting
• Better engine response to load
• Quieter operation with less vibration
• Increased fuel efficiency
The cab of a modern-day tractor is essentially your command and control center. With the right one, you'll be able to do what you need to do to farm and ranch efficiently and productively.
My uncle retired several years ago, but he would like these rugged, dependable 2015 Farmall 100A series tractors. They get the job done while saving your back.