Farm Bureau at the Western Caucus Foundation Spring Roundtable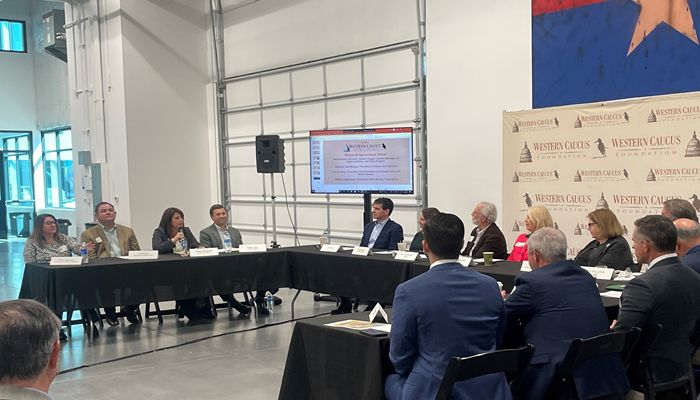 Last week, President Smallhouse joined American Farm Bureau Senior Director of Congressional Relations Shelby Hagenauer on a panel at the Spring Member Roundtable of the Western Caucus Foundation. The panel, which also featured Robert Cogan of SRP and Patrick Bray from the Arizona Farm and Ranch Group, focused on water issues unique to Arizona agriculture.
President Smallhouse used her remarks to answer the question – why are farmers losing water in Arizona? Her answer came in three parts: climate, courts, and costs. Our members know all too well how drought, regulatory burdens, and the rising costs of technology, labor, and other key inputs have made access to water a barrier to successful agricultural production. But President Smallhouse also emphasized that this barrier isn't one that only producers face. The consumer may not yet have grappled with the issue of agricultural water scarcity, but it is important that everyone who relies on agriculture (more simply stated, everyone) understand the importance of directing resources toward agriculture's water security and shaping policy in ways that protect Arizona's food production.
The recording of the Roundtable is available here. The Water and Agriculture Panel begins at the 1:15:00 mark, but don't skip the beginning, either: Farm Bureau also shared the stage with esteemed guests including Commissioner Lisa Atkins from the Arizona State Land Department and Brenda Burman, Executive Strategy Advisor to the Central Arizona Project (and former Commissioner of the US Bureau of Reclamation). We were also honored to join Congressmen Dan Newhouse (CA-04), Doug LaMalfa (CA-01), and Debbie Lesko (AZ-08) for the event.
At Farm Bureau, we're proud to be "The Voice of Agriculture" in Arizona, so it's no surprise that we have a lot in common with the Western Caucus Foundation, which prides itself in being "the Voice of the West" in Congress. We're thankful to Chairman Newhouse for inviting us to be a part of the WCF's trip to our great state, and we are excited about our continued partnership