Finding Arizona Agriculture History in Our Home
By Julie Murphree, Arizona Farm Bureau: During Arizona's Centennial in 2012, I regularly wrote about the state's agriculture heritage, profiling families and certainly the farm and ranch history that is so prevalent in our state. The first story I wrote for Arizona Farm Bureau's Arizona Agriculture was about a piece of Arizona history in my parent's home.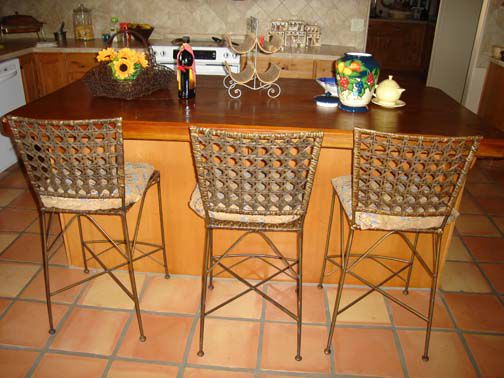 Pat and Pennee Murphree's redwood island custom-built by Judy Blair.
If you go to dad and mom's place south of Arizona City you'll discover a very lovely home. One spot family members naturally gather around is a big, beautiful redwood island (counter) in mom's open and airy kitchen. It was custom made by Judy Blair when she had her Judy Blair's Rustic Collectibles store.
The story of that redwood kitchen island, including the fact that Judy and Mom rode together with the Quadrille de Mujeres, makes that wooden countertop that much more special. That wooden island in mom's kitchen represents a piece of Arizona agriculture history. History that's so Arizona it's fit for the record books and goes all the way back to the early 1900s and the Arnold Pickle & Olive Company.
The History behind Mom's Redwood Kitchen Counter
For most of the 20th Century, anyone riding a horse or driving a car with the windows down in the 1400 block of East Van Buren Street in downtown Phoenix encountered the distinct and savory aroma of pickles and olives.
Arnold Pickle & Olive Company was started by William and Betsy Arnold, who moved to Arizona from Iowa in 1905. They opened their business in 1909 when Van Buren Street was still a dirt road. With a team and wagon they delivered cured olives, horse relish and sauerkraut. The products were ladled from bulk containers into the housewives', or customers', bowls.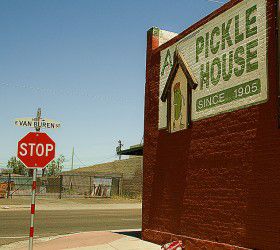 Arnold's Pickles
To sell their product to customers in the east valley, they crossed the Salt River using Hayden's Ferry. Returning empty after a successful day of selling their product and back at the riverbank, William put rocks in the empty containers so they wouldn't float away, then he swam the team and floated the wagon, this would save the 50-cent cost of using the ferry.
But Arnold's Pickles really began making a name for itself during World War II with contracts from the military, eventually employing hundreds of people throughout the state with jobs either working at the plant making the pickles and olives or buying pickling cucumbers, most of which were grown by farmers in the eastern part of the state.
Everyone in Arizona bought Arnold's Pickles. And fans of Arnold's Pickles could be heard singing the jingle, "I like Arnold's Pickles, you'll like Arnold's too, the only thing that's better than, an Arnold Pickle is TWO."
And, Arnold's pickles were truly delicious because much of their pickle production came from Arizona cucumbers sold to the Arnold family from Arizona Farmers.
One of the farm families that grew cucumbers for Arnold's Pickles was Gerald and Arlene Flake. In the 1950s, Arnold's contracted with farmers in the Snowflake and Taylor area. Active Arizona Farm Bureau leaders, the Flakes were not the biggest producers and only grew for three or four years but remember growing cucumbers from the end-of-July to late September and served to supplement their farming operation that was mainly cattle, alfalfa and corn.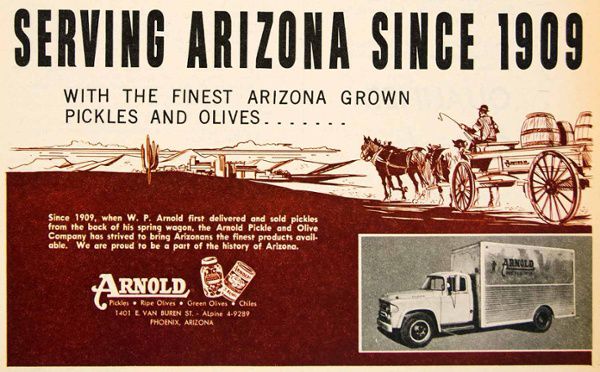 "Local" agriculture has long been popular in Arizona. This old for Arnold pickles advertisement proves it's not a "new" trend.
"Growing cucumbers was good money for those two months," says Gerald Flake. "The most we ever grew was about 10 acres because it was a labor-intensive crop."


Once planted, the continuous-bearing crop was constantly being picked. "You'd pick a third of the patch each day for three days and start all over again," Gerald Flake explains.
Area growers would take the cucumbers to a local packing house where they first were hand sorted by size until a grading machine mechanized the process, then the Arizona cucumbers were loaded on trucks in the evening and headed to Phoenix on an overnight run.
Because Arnold's Pickles was keen on quality and cucumber variety they furnished all the seed to the growers. Interestingly, the small cucumbers brought in the largest dollars because the most popular were Arnold's sweet pickles; the larger the pickle the cheaper the price.
"If you were downtown Phoenix on Van Buren, you could always tell when you were getting close to their Phoenix operation," says Gerald Flake, "because you could smell the pickles."
Packing around 5,000 tons of pickles a year at peak production, Arnold's Pickles remained in business into the early 1990s when it was sold to another food company. The Arnolds' grandson, Phil Blair, and his wife, Judy, suddenly found themselves with a warehouse full of empty white cypress and redwood vats. But quality wood should never be put to waste.
Keeping Tradition and History Alive through Judy Blair's Rustic Collectibles
In a moment of creative inspiration, Judy wanted to put a fence around the house and asked Phil if she could use some of the wood from the vats. The fence was erected but the process also created a rediscovery for her; she was mesmerized by the wood's quality and the beautiful grain.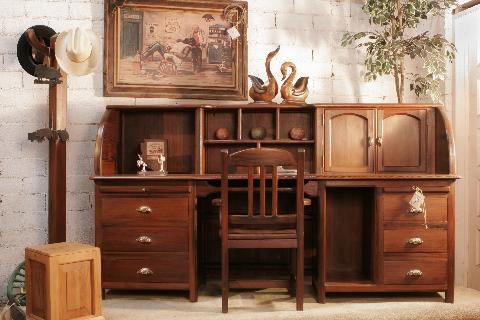 Judy's furniture reflects a bit of Arizona agriculture history in every piece.
Beginning with small steps, Judy started making planters and patio furniture. Once she began designing furniture, she was having too much fun to stop, and a new business was born, sort of a rising of a Phoenix from the ashes (or should we say wood chips) of Arnold's Pickles. The showroom was filled with rustic coffee tables, armoires, desks, lounge chairs, and other original creations designed by Judy that are true pieces of Phoenix history and can be found in homes throughout Arizona and the southwest. The wood was treated to a finish that allowed the natural colors of the redwood and white cypress to shine through. Having recently closed its doors, the business operated out of its historic site at Van Buren and 14th Streets with a sign that read, "A Pickle House."
Judy Blair's Rustic Collectibles real business differentiator involved her custom work and that's where mom's kitchen island comes in. Mom and Dad met with Judy to discuss what they wanted. The resulting redwood kitchen island is now a centerpiece in their house.
The Blairs are ranching and horse folks and are both native Arizonans. Phil was an assistant state veterinarian who formerly had a private practice. Judy grew up on a cutting horse ranch in Maricopa, Arizona. She has been in the Quadrille de Mujeres, a women's horseback drill team since high school. Although she has never been an interior designer, she has relatives who are artists and seems to be one of those people to whom design comes easily.
Judy's designs and quality of her furniture became a signature trademark of her business. "We didn't know what we were doing," Judy says. "But figured it out and built machines for making more furniture."
Phil passed away in 2011 and it feels as if a part of Arizona's living history went with him. His family's legacy remains however, and Judy's furniture creations extended the legacy since your might encounter some of her creations in an Arizona home.
For the Murphree family, that beautiful piece of history from the Arnold Pickles & Olive Company has become the place we gather to celebrate family and a bit of our own Arizona history.