Five Great Reasons to Love Salads!
By Peggy Jo Goodfellow, Arizona Farm Bureau: Since childhood I have loved salads. All types of salads made with mixed greens, vegetables, potatoes, eggs, macaroni, three bean, corn, tomato, zucchini and the list goes on. We were vegetarians from the time I was 6 years old until around my 15th birthday, so my Mom was an expert at making all kinds of salads and non-meat dishes that her imagination could conjure up. Mom's biggest challenge was to feed three children balanced nutritional meals on a vegetarian diet. Fortunately, we ate dairy and egg products too, so that made her job a little easier.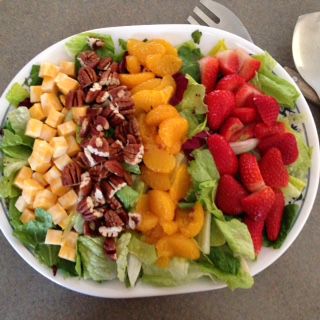 Place salad toppings in rows so each person can choose their favorite toppings.
As an adult, I still enjoy salads, especially ones that have a mix of fruits, vegetables, cheese, or something crunchy like nuts.
For me, salad dressing is optional. I can take it or leave it depending on the salad. A lite raspberry vinaigrette is one of my favorites.
In Arizona we are fortunate to have our choice of fresh produce year-round. Arizona Farm Bureau's fillyourplate.org is an online directory of farmers and ranchers that sell direct to Arizona families. Fill Your Plate also has a list of Farmers' Markets that sell Arizona Grown fruits and vegetables in season. Did you know that most of our grocery stores buy locally grown products? Don't be afraid to ask your produce manager where a particular product was grown.
A Few Great Notes about Salads
They're easy to put together.
You can create an endless variety of salads.
You can pick and choose what to put in a salad.
Salads offer an easy and effective way to make sure you're getting your daily requirements of fruits and vegetables.
You can make a meal out of just a salad.
A few weeks ago, my husband and I invited the family over for a get-together at our home. We served tamale pie, a simple mixed green salad topped with strawberries, mandarin oranges, cheese and pecans and lemon cake for dessert. I placed the salad toppings in rows so each person would be able to choose their favorite topping. It was a big hit with everyone.
Are you hungry yet?