Guess What a Billionaire Philanthropist Believes is Agriculture's Number One Priority
By Julie Murphree, Arizona Farm Bureau Communication Director: In 2013, I sat down with American philanthropist and Midwestern farmer Howard Buffett, eldest son of billionaire investor Warren Buffett. Named after his grandfather, Howard grew up in Omaha, Nebraska and has been active in business, politics, agriculture conservation, photography and philanthropy. Without question, billionaire sons might have mammoth expectations placed on them, and certainly reading his bio can make one get "credentials fatigue."
A member of Arizona Farm Bureau under Sequoia Holdings, LLC (the Willcox farm), Buffett farms 1,500 acres in Illinois. His son, Howard W., farms 400 acres in Nebraska. These represent their personal farms. Designed and developed for agriculture-based research, the Howard G. Buffett Foundation farms include 9,200 acres in South Africa; 3,000 acres also in Illinois and then 1,400 acres in Willcox.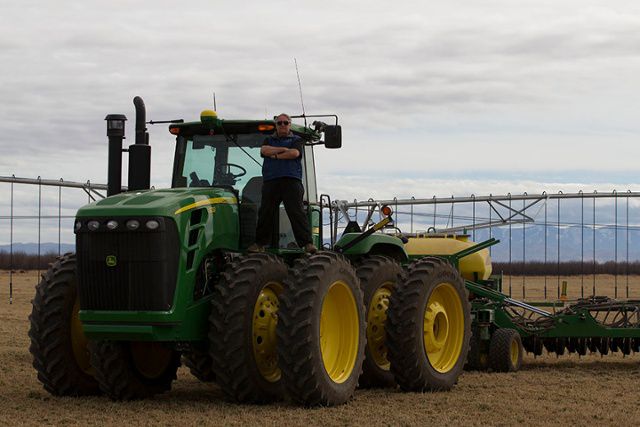 Howard G. Buffett likes big equipment. On his Willcox farm, along with the universities, he tests the latest GPS-guided equipment to determine what works and what doesn't as American agriculture continues to make advances.
As president of the Howard G. Buffett Foundation that gives away tens of millions of dollars annually, Buffett has traveled all over the world to document the challenges of preserving biodiversity, yet providing adequate resources to combat hunger and poverty. The Foundation's projects cover agriculture, nutrition, water and conservation especially in Africa and Central America. One of the Foundation's more recent projects was to launch the Global Water Initiative with several other organizations to address the declining fresh water supply and provide clean water to the world's poorest people. At its core, Buffett is trying to help small farmers increase yields without increasing costs for the world's poorest people.
His camera lens has brought him up close and personal to devastating poverty. About his photographs of suffering children, he's been quoted saying, "It becomes a set of circumstances; not just an image."
On his agriculture perspective, one might conclude that Buffett doesn't always feel American farmers are moving fast enough with their conservation practices. But, he does agree that American farmers are the most productive and efficient at what they do. One thing he hopes we continue to focus and improve on is Water Management. Here's what he says.
Global Water Management Is Key
"Water management should always be a major priority," said Buffett. "The Foundation is looking at our three major U.S. water sources for agriculture: The Colorado River, Ogallala Aquifer and Mississippi River. [The Ogallala Aquifer is part of the High Plains Aquifer System, a vast yet shallow underground water table located beneath the Great Plains in the United States. One of the world's largest aquifers, it covers an area of approximately 174,000 square miles in portions of the eight states of South Dakota, Nebraska, Wyoming, Colorado, Kansas, Oklahoma, New Mexico and Texas.]
"The first two are about water management and conservation and the third one is about runoff and pollution. We're focused on how to look at these three watersheds from an agricultural perspective, not from the EPA, USDA, not from the regulatory side, but how do we do a better job and maintain our flexibility as a farmer and our productivity. Interestingly, the Colorado is the one with the biggest wins if you implement improved conservation strategies. We have the greatest potential for maximum use with the Colorado River."
When asked if we are going to feed ourselves globally by 2050, Buffett responded, "Not real high. I mean there's a difference in feeding yourself with a minimum caloric intake of 2,000 calories a day and feeding ourselves the way we're used to eating in this country. I think if we take care of our soil and water resources, we'll be able to feed ourselves in this country in 2050. I'm not too worried about that but it does require a lot smarter use of resources."
He added, "When you look at where the population growth is, it's not in this country. And you look at scarcity of water that's going to be there and you look at the abuse of soils that has taken place globally there's going to be lots of wars fought over water and food in 2050. I say wars, I say conflicts; there will be regional conflicts."