July is Watermelon Month! Celebrate with Arizona-grown Watermelons!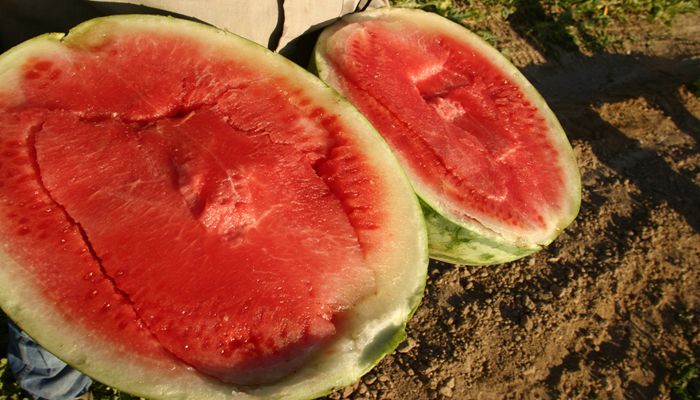 We're told watermelon is the most popular melon in America. And during July we celebrate National Watermelon Month. Some quick facts about this tasty melon will inspire you to make sure watermelon is on your weekly summer menu. And, you can find a variety of tasty recipes with watermelon. 
Watermelon's official name is "Citrullus Lanatus" of the botanical family Cucurbitaceae. It's a cousin to cucumbers, pumpkins, and squash.
Over 1,200 varieties of watermelon are grown across 96 countries worldwide.
The United States currently ranks 7th in the worldwide production of watermelon. China is #1.
For 2022, USDA-NASS numbers report Arizona watermelon acreage was 4,900 acres and valued at almost $45 million. The record high value for watermelons was $46.7 million in 2008 when 6,400 acres of watermelons were harvested.
For 2021, the cantaloupe acreage harvested totaled 11,200 acres; watermelon was harvested from 4,600 acres. These are from the latest year when both types of melons were published by the USDA-NASS. Of note, Arizona cantaloupe farmers plant and harvest for two seasons, spring, and early fall.
Watermelon is identified as both a fruit and a vegetable.
The first cookbook published in the United States in 1796, American Cookery by Amelia Simmons, contains a recipe for watermelon rind pickles.
The first recorded watermelon harvest occurred nearly 5,000 years ago in Egypt.
According to Guinness World Records, the world's heaviest watermelon was grown by Chris Kent of Sevierville, Tennessee in 2013, weighing in at 350.5 lbs. Who will be next to bust this record?!
In China and Japan, watermelon is a popular gift to bring a host.
A watermelon was once thrown at Greek orator Demosthenes during a speech. Placing the watermelon on his head, he thanked the thrower for providing him with a helmet to wear as he fought Philip of Macedonia.