Kevin Rogers Receives the CS Brown Award Posthumously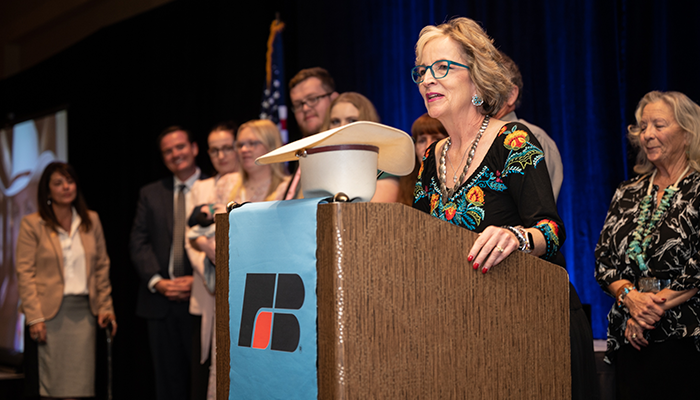 Last November during Arizona Farm Bureau 101st Annual Meeting, Kevin Rogers' family received the C.S. Brown Legacy Award on behalf of Kevin, who passed away in April of this year. His farm legacy parallels that of an earlier Arizona Farm Bureau president. 
Stefanie Smallhouse best said it in her tribute to former Arizona Farm Bureau President, Kevin Rogers: "Kevin had farming in his blood and invested much of his life in service to farming and ranching families. Whether this was for the cotton industry, serving on national advisory boards, or his decades of service to Arizona Farm Bureau – most notably his 14 years as President and FBFS Assistant Goodwill Grill Master – I knew him to be an agricultural statesman. While serving on his officer team, I learned about his way of diplomacy by observing how he interacted with policymakers, members, and staff. He had a way of disarming people and making them feel comfortable in every formal setting. He opened every congressional meeting by first relating to whomever we were meeting with on a personal level - which meant he took a lot of time building relationships. I never went into a meeting feeling he was unprepared to lead us, and he never excluded anyone from participating in the conversation. If you have never moderated such a meeting, it can be difficult. Kevin placed foremost importance on members being able to speak for themselves and easing them into the conversation, so it was seamless. I do not believe I ever saw him lose his temper or disrespect others during what was at times difficult and tense conversations over especially critical issues. In fact, a couple of those very situations were between the two of us; we did not always agree on how to get the job done but we respected each other for our differences and perspectives. I do not think I have ever known a person so willing to set aside personal hubris to preserve a friendship or working relationship as I knew Kevin to do. As part of his legacy, others will understand how important relationships, temperament, and humility are to advocating for something bigger than oneself."
The C.S. Brown Legacy Award
Charles Sidney Brown, otherwise known as "Farmer Brown," was one of the early pioneers of our organization's grassroots structure and is considered one of the most influential leaders in the history of the Arizona Farm Bureau.  
Farmer Brown was known for traveling across the state talking about farming and advocating for the industry. Brown saw the value of all ag producers working together but believed that to be effective, we had to adopt a ground-up, truly grassroots model. As a result, he led the charge to organize county Farm Bureaus across the state. He was instrumental in organizing these county farm bureaus and forming the Arizona Farm Bureau. Plus, he was one of the delegates to take part in the formation of the American Farm Bureau Federation at the national level. 
The C.S. Brown Legacy Award was created to honor an individual who has illustrated the same selfless commitment to advocating for agriculture, grassroots leadership in our industry, and a lifetime of service to the Farm Bureau and our members at the local, state, and national levels. Kevin Rogers becomes its first recipient. 
Kevin Rogers' Legacy
Rogers was a fourth-generation Valley farmer who farmed with his wife, Janel and his parents, uncle, brothers, and sister. Together the Rogers family farms over 7,000 acres of land, producing cotton, alfalfa, wheat, barley and corn. These farms are in Phoenix, Laveen, Mesa and Scottsdale.
Rogers was active in a variety of community, civic and business groups and has served on many boards and delegations involving trade, transportation and the environment. To reference just a few of his volunteer activities, he was an officer of the Arizona Cotton Growers Association and served on the National Cotton Council and is past Chairman of the United States Department of Agriculture (USDA). He was active with the 4-H Youth Foundation and County Fair Board and has served as president for both groups. At the time of his passing, he was the Executive Director of the Arizona Cotton Growers Association. 
Rogers led Arizona Farm Bureau from 2003 to 2017 as president but his reach and influence went far beyond just Farm Bureau, always willing to serve. He pushed to make sure Farm Bureau responded after both the Rodeo and Wallow fires with hay lifts as well as the fires in Yavapai County and worked with getting the claims adjusters there to help insureds get help from FBFS. 
He worked hard to make sure all staff at Arizona Farm Bureau was welcomed and their opinions were included. He led AZFB in developing the Ag in the Classroom program.