Latest Census of Agriculture Releases: Highlights Across the Grand Canyon State
The USDA's National Agricultural Statistics Service (NASS) recently released the 2017 Census of Agriculture (COA), one of our largest projects conducted once every 5 years. Unlike the annual estimating program which estimates acreage, yield, production, price and value on major commodities produced in Arizona annually, the COA takes a look at the people who are our farmers and ranchers, accounts for items not in our annual program such as total harvested cropland and total land in orchards, and accounts for minor commodities produced across the Grand Canyon State.
Here are some key highlights from Arizona's Latest Census of Agriculture.
There were 19,086 farms in Arizona in 2017, a decrease of 4.6 percent from the 2012 Census. Most of the decrease was in Maricopa and Pima counties. The Navajo Nation counties (Apache, Coconino, and Navajo) account for 62 percent of Arizona's total farms.
Ninety-five percent of farms and ranches were family owned.
Harvested cropland increased 2.9 percent to 915,647 acres. Pinal, Maricopa, and Yuma counties accounted for 67 percent of the State's harvested cropland. Since 1959, Arizona's harvested cropland acreage has fluctuated from 800,000 acres to 1,100,000 acres but has been mostly below 1,000,000 acres over the last 30 years.
Land in Orchards increased 16 percent to 53,518 acres. Cochise County, at 22,762 acres, had the largest increase from 2012, at 129 percent. Yuma County had 12,702 acres, a drop of 26 percent. The chart below shows how citrus dominated orchard acreage during the 1970s and then began its gradual decline. It also shows how pecans and pistachio acreage has increased significantly, especially since 2012.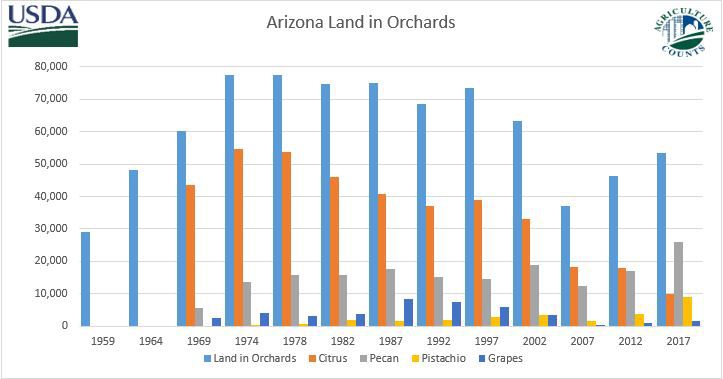 <subheadline> Economics of Arizona Agriculture
The total value of agricultural production in Arizona, at $3.85 billion, was dominated by the top 400 farms in terms of sales. These 400 farms accounted for 90 percent of the total value. Maricopa, Yuma, and Pinal counties accounted for 83 percent of the total Arizona value.
There were 17,428 farms with sales less than $50,000 (91 percent of Arizona farms) which accounted for 1.4 percent of the total value.
Crops generated 54 percent of the value and livestock generated the other 46 percent. In contrast from 20 years ago, two-thirds of the value came from crops and one third came from livestock. The top commodities were vegetables/melons/potatoes at 26.2 percent of the total value, milk from cows at 22.2 percent, and cattle at 16.6 percent. These 3 categories accounted for 65 percent of the total agricultural production value in Arizona.
Farm production expenses totaled $3.64 billion, an increase of 11.7 percent from 2012. Leading expenses were for feed and hired labor, which accounted for 40 percent of total expenses. Net farm income at $348 million, decreased 42 percent from 2012.
Demographics
For the census to remain relevant and serve the needs of the agricultural community, NASS received feedback from data users about revising the questions in the demographic section to better capture the roles of all persons involved in making decisions for U.S. farms and ranches. The 2017 COA questionnaire allowed farmers and ranchers to designate multiple people per farm as principals. The decision-makers on farms were referred to as producers instead of operators. USDA NASS also added questions about producers with military service and young producers.
The average age of all producers (32,796 in Arizona) was 59.4 years old compared to 58.2 in 2012. The chart below shows an additional number of producers and average age statistics. Young producers are those under 36 years of age. New or beginning producers are those operating any farm for 10 years or less.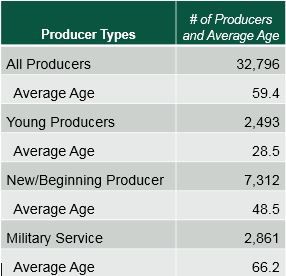 Arizona has the distinction of having the highest percentage of female producers of any other state. Forty-nine percent of all producers in Arizona were female. The national average was 36 percent female.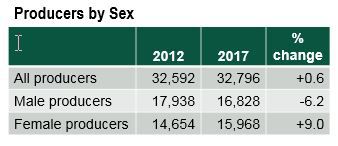 There were 19,481 American Indian producers on 11,729 of Arizona farms, amounting to 59.4 percent of all producers on 61.5 percent of the farms. There were 286 Asian, Black, or Native Hawaiian/Pacific Islander producers on 262 farms (0.9 and 1.4 percent, respectively). The rest of the Arizona producers (13,187 on 7,555 farms) were considered White. There were 1,482 Hispanic producers on 1,102 farms with Maricopa, Yuma, and Cochise counties accounting for nearly half of them.
The COA contains considerably more data. You may be curious about other data points that I haven't mentioned in this article. Feel free to contact me if you are looking for something specific for your data needs at 602.280.8850 or email dave.dewalt@usda.gov
USDA NASS could never accomplish this project without the cooperation from Arizona's farmers and ranchers and to those folks, NASS is extremely grateful for their input.
Join Our Family