Meet Another Arizona Woman in Agriculture
By Shayla Hyde, Contributing writer for Arizona Farm Bureau: At 3:00 a.m., Janel Rogers woke up for a feeding; a piglet required a bottle feeding every three hours. After the long night, Rogers tried to rest and soon returned to the paperwork and tasks ahead of her as a basic nutrition teacher for Maricopa County Extension, the University of Arizona.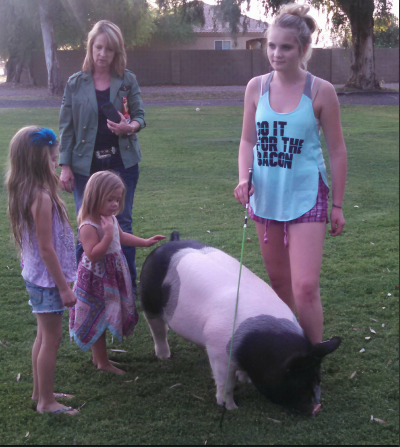 Janel (left), with daughter Morgan, showing the neighbors their livestock swine project.
Agriculture is a part of Rogers' everyday life.
Janel Rogers has a love for agriculture and her love has turned into a lifestyle of helping others understand the importance of knowing where their food comes from.
Rogers, 52, is the mother of three children and has been married to her husband, Kevin Rogers, for 26 years. She considers her family and faith to be her biggest commitments, but raising animals and teaching nutrition are things she holds dear.
Rogers has helped her children breed and raise swine since her oldest daughter, Taylor, decided she wanted to exhibit swine in the local livestock shows. "I at first couldn't see myself with pigs. I just laugh about it because now I'm in love with pigs."
Rogers is so in love with pigs, she cleaned the pregnant sow's pen at least three times a day for three weeks to ensure a clean environment for the piglets to stay in.
Rogers has spent countless hours bottle feeding some of the piglets and ensuring they have the proper care to grow up in a healthy environment.
"There's no reason to be in the business if you don't care," Rogers said. It is for this reason Rogers keeps herself involved with raising pigs.
Other than raising swine, Rogers involved herself in raising dairy goats, lambs and beef cattle in high school. She said she loves to be involved in as many activities as she can as long as she can put forth an adequate amount of effort into each activity.
Rogers has involved herself in the Women's Leadership Committee at the Arizona Farm Bureau, the Maricopa County Fair Board, the Arizona National Livestock Show, and the now-sunseted Phoenix Cotton Women's Group.
She has also been a 4-H leader and participated in Future Farmers of America (FFA) in high school.
Rogers received her degree in Spanish from the University of Arizona. She put that degree to good use early on working in advertising for the Spanish-speaking television station, Univision. More recently she is teaching basic nutrition part-time in both English and Spanish as an instructional specialist for Maricopa County Cooperative Extension for the past two years.
Rogers loves Spanish and teaching others who have a desire to know the basics of food nutrition and where their food comes from.
"She's always had a soft spot for those in need," husband Kevin Rogers said , he is Arizona Farm Bureau's president. "If there's something weighing strong on her heart…she will do what she can to help it."
As a nutrition educator, something that weighs on her heart is agriculture and the importance of teaching people about the nutritional value of the food they consume. In her basic nutrition class, Rogers believes in "sticking to the basics." This includes eating lots of fruits and vegetables, lean meats and whole grains.
One of Rogers' goals in teaching basic nutrition is addressing peoples' fears about certain foods. Rogers believes in order to do this, anyone wishing to address the consumers' fears needs to be more transparent and educated in the topics they are teaching.
She has learned another key part in teaching others is to respect opposing opinions and ideas. "I think that's how we need to approach agriculture…with openness," Rogers said.
Rogers said people are passionate about their food and the goal is to bring back consumer confidence in food and the people who produce it.
Rogers uses these ideals when teaching her nutrition class and in other aspects of her life when talking about agriculture.
"She has a passion and a true love for agriculture and promotes it at every opportunity," said friend and fellow Maricopa County Fair board member Sherri Schulz. "She has knowledge of the industry and that helps."
In addition to this knowledge as a basic nutrition teacher, Rogers came from a rodeo family where she competed in various events horseback in 4-H and FFA.
She gave up rodeoing when she went to college but has kept herself involved in agriculture to this day.
She has used her knowledge of Spanish to teach workers on her husband's farm work and pesticide safety.
She loves to keep herself involved in various activities in and out of agriculture but prefers to stay away from all the politics.
"I just want to have fun," Rogers said. When every day is filled with faith, family and agriculture "fun" is sure to be had.