Meet Arizona Agriculture's Aja Family
By Lauren Scott, Arizona Farm Bureau Communication Intern: Irene Aja was born Irene Echeverria in 1931 to Spanish immigrant Fermin Echeverria and American-born Benancia Echeverria. Her father was a sheep herder, and when she married her husband, Basilio (Bass) Aja, after meeting him at a Wool Growers meeting in 1947, she exchanged one sheep herding family for another. Their family includes six children – Basilio (Bas) Fermin, Roy Manuel, Rachel, Melanie, Gigette and the late Christina, and at latest count 15 grandchildren and 14 great-grandchildren.
Before his passing in 2014, Bass and Irene were married for nearly 65 years.
Irene and Bass raised their family on land in Buckeye which was part of the Aja family farmland. Bass, his brother Manuel, their father, also Manuel, and a partner of theirs eventually brought all their sheep and resources together. Bass and Manuel's father gave some of his sheep to their brother Robert, and thus began the Aja Sheep Company. Bass and Irene left the business in 1964, and leased ranches across the state. They eventually bought the Black Rock Ranch.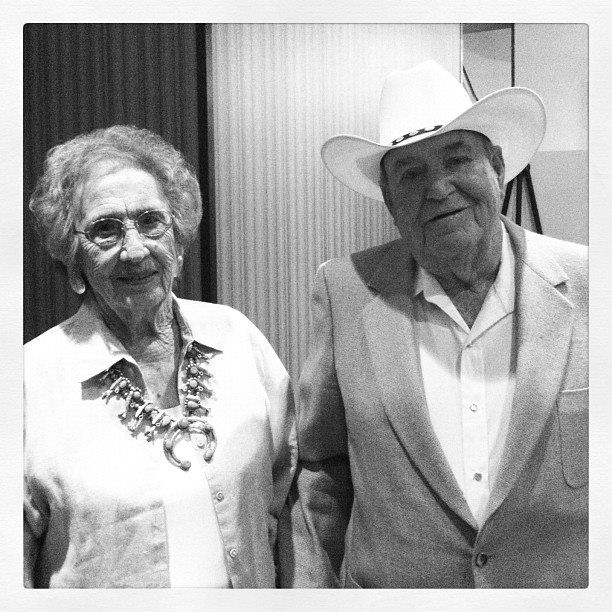 Irene and Bass Aja
Irene was the office manager for the business that included keeping the books.
In 2005 they sold all their sheep, and in 2012 they sold the Black Rock Ranch.
In 2011, Irene's husband, Bass, was interviewed by Buckeye Public Library. Bass' audio recording gives a rich history and insight in Arizona agriculture and certainly one family's agriculture history. Irene's audio recording captures the story of her family.
An interview with Irene Aja, Buckeye, Arizona.
An ongoing series about Arizona agriculture's farmers and ranchers.
Tell us about your family farm and ranch operation: My father came to this country in 1910 as a sheep herder. He came to Phoenix and then went up the sheep trail to the Mogollon Rim. That's where I was raised in the summer months, was on our ranch there. We sold the ranch in 1972, which my father had owned since 1926. There's a log cabin on the property that was built in the late 1800s, and we're going up in April to take down the cabin because the new owner has given us that opportunity; he was going to tear it down. We're going to try to save all the logs.
Anyway, my father became one of Arizona's prominent livestock men. He served on many state and federal boards, and he had a very successful business and several ranches. And then I married into another sheep family. We had sheep and cattle because when you have both species it's better for the ranch. Sheep eat feed and grasses that cattle don't, and they complement one another. My husband and I also farmed alfalfa and some cotton.
What changes have you seen in your lifetime as it relates to farming or ranching? I don't think the American public today knows enough about agriculture and what it means to them and their lives. We are too far removed from the family farm, and people today just go to the grocery store, and they don't give credit to the hard-working farmers and ranchers that are out there providing food and fiber for them.
Will anyone in your family – younger generation – go pursue farming and/or ranching? My daughter has a small farm where she has a flock of sheep, and my son is executive director of the Arizona Cattle Feeders, and they have cattle. I have one grandchild who is actively involved in agriculture. He's, I believe, a manager for Pinal Feeding, and he has cattle.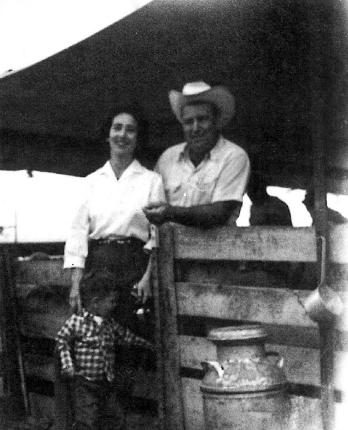 Along with their son Roy, Irene and Bass are seen here in a shearing plant in 1961. Irene was recently inducted into the Arizona Farming and Ranching Hall of Fame for 2016.
What community activities have you participated in? I was very involved in Arizona Women for Agriculture, American Agri-Women, I attended many farm women forums in Washington D.C., I was public lands council for the Arizona Wool Growers, and so I was very involved. Locally I was on several committees, also.
What is one fact/experience/achievement that no one knows about you? I don't really know! I guess I've been an open book. I love to play cards, but everyone knows that! Something else is that I play the piano.
What is something you think you do really well? Well I love to cook!
Why are you a farm bureau member? My husband and I have been members for years and years and years. We've always supported the Farm Bureau.
How will the next generation of farmers and ranchers have to operate? Microbiology is going to be very important in agriculture.
What is the best business advice you've ever been given or have given? Plan on working hard, spending hours at it, and sacrifice. You have to sacrifice much to become successful.