Meet Arizona Agriculture's Alan Seitz
By Amber Morin and Julie Murphree, Arizona Farm Bureau: Alan Seitz is best described as hard working, humble, and always going beyond what is requested. Originally from San Antonio, Texas, Seitz has been involved in agriculture since he was a young man when he worked on dairies, farms, and ranches whenever and wherever he was needed.
Cochise County Farm Bureau just awarded him the Distinguished Service to Agriculture Award this month during its Annual Meeting.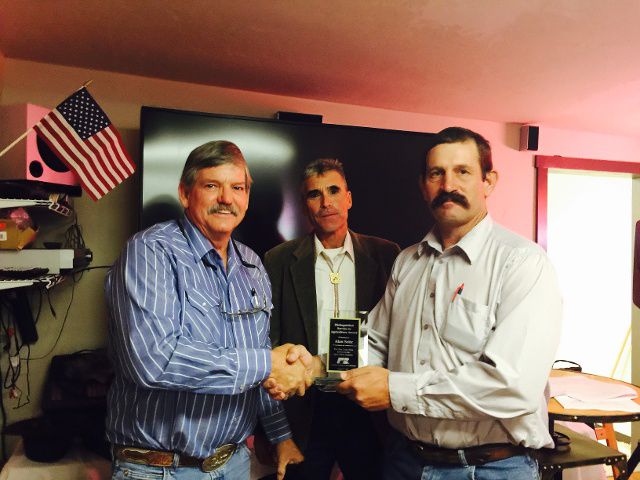 An interview with Alan Seitz, Willcox, Arizona.
An ongoing series about Arizona agriculture's farmers and ranchers.
Alan Seitz (left) receives the Distinguished Service to Agriculture Award from Cochise County Farm Bureau President Steven Klump and Ted Haas, Cochise County Farm Bureau Director.
Tell us about your farming: My dad was a crop duster in Willcox and told me good things were happening around Willcox and the Cochise County area. So, in 1978 my new bride, Jeannie, and I moved to Willcox to start a new life. Not too much after receiving my pest control advisors license Jeannie and I started A&J Farm Supply, selling Pioneer Seed Corn while working for other Ag chemical firms in the area. We also farmed a variety of crops including peppers and forage crops.
What is your educational background (i.e. Degree(s), certifications, honors)? In 1977, I graduated from Chico State University in California with a B.S. in Animal Science.
Seitz's community activities as outlined by his County Farm Bureau: When not farming for himself or working for other farmers, he always tries to give back. Past contributions and achievements include:
President of the Arizona Apple Growers Association
President of the Arizona Corn Growers Association
6 years of service on the Farm Service Agency Board
8 years on the Cochise County Farm Bureau Board, and 3 years on the State Farm Bureau Board
Additionally, he currently serves in the following areas:
Advisor to the Willcox-San Simon Natural Resource Conservation District Board
Cochise County Farmers Association Board Member
Cochise County Cooperative Extension Board Member
And has served 37 years as a member of the Southeastern Arizona Ag Day and Trade Show Board
Serves on the J-6 Church of Christ grounds committee
From the Distinguished Service to Agriculture presentation: "In addition, recently, Seitz played a significant part as a Farm Bureau leader by his involvement on an ad-hoc water committee. Their goal being to help craft a new legislative option concerning water when agriculture communities are faced with overdraft regulation from the State. While the legislation was not introduced, the language to craft such legislation does exist, and it may, in the future, be a saving grace for rural agriculture communities as they face more water shortfalls.
"Seitz has been a champion for agriculture throughout his life, and while he continues in his efforts, he always made time for his friends, family, and God. He is a leader, a friend of Farm Bureau, and more than deserving of the Distinguished Service to Agriculture Award."
What do you enjoy doing, and what is one fact/achievement that nobody knows about you? Most people don't know that in my youth I worked a lot with horses. In fact, I broke colts and loved working with them. I also coached Bobby Sox and Little League and was involved in my children's school and athletic activities while they were growing up.
I also have to say how proud I am of my two kids. While not in agriculture, they are independent, productive citizens fully engaged in their chosen careers.
I'm proud of my bride, Jeannie. She's always been so engaged and supportive of all our endeavors.
Why are you a Farm Bureau member? We get so many more things done for the farming community through organizations like Arizona Farm Bureau. It's a great organization made up of great people – some of the best people in the world to work with.
Plus, it's a whole lot easier to get things done if we're working together especially when it comes to dealing with seriously critical agriculture issues.
Seitz went on to discuss how important our engagement in organizations life Farm Bureau are to the industry, certainly protecting agriculture from over-regulation and too much government encroachment.