Meet Arizona Agriculture's Alder Family
By Julie Murphree, Arizona Farm Bureau Communication Director and Lauren Scott, Communication Intern: There is a reason Alder Lane Road runs straight and sure through town. It all started in 1900. At the turn of the 20th Century, Great-Grandfather Joseph Alder came to the Gila Valley in Arizona from Manti, Utah simply to check on his sister who had married and moved to the area with her husband. It wasn't long before Joe was struck by Cupid's arrow himself. In 1901 he chose to marry and farmed on what is today's Alder Lane Road. The Alder family's roots run deep in the valley, and today there are now 6 generations of farmers in the Gila Valley.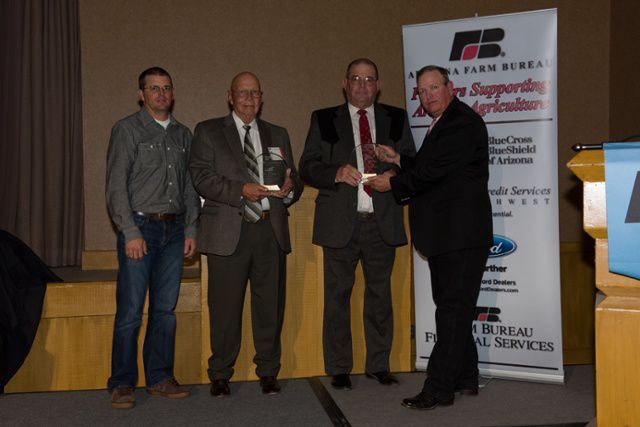 Brothers Jim and Joe Alder received this year's Heritage award. On stage is Graham County Farm Bureau President Jay Larson (far left) and Arizona Farm Bureau President Kevin Rogers (far right). Jim Alder is on stage and son, Scott Alder (second from right) received the award on behalf of his father, Joe.
Fast forward to the third-generation of Alders where today we honor two brothers, Jim and Joseph Jr. Both Gila Valley native born and raised, Jim and Joe both knew early on they'd be involved in agriculture. Jim pursued his degree in animal husbandry and later graduated from BYU, while Joe went to ASU.
While raising families, Jim and Joe farmed together and eventually Joe ran the BitterCreek Ranch with his wife, Evelyn from 1973 to 2004.
As permanent as Alder Lane Road is, so is the Alder permanence to volunteer leadership in Farm Bureau. Both brothers have been in ongoing leadership roles for Farm Bureau and other organizations. Jim spent time as vice president of the Graham County Farm Bureau, the Arizona Cotton Growers Association and Chairman of the Agricultural Stabilization and Conservation Service in Graham County. He served on the board of Directors for the Union and Graham Canals. He also served four years on the board of Cotton Incorporated.
Joe has been a member of Graham County Farm Bureau all his life. He served on both the country Farm Bureau Board and the state Farm Bureau Board. He often recalls the state board meetings he'd fly to with Arden Palmer.
One year when Jim was asked to speak at the National Cotton Council's Beltwide Cotton Conference he said, "As a grower, I think it's important for me to know what is going on beyond the boundaries of my farm. In fact, the greatest asset to me, in meetings of this kind is having the opportunity to talk with growers everywhere."
Both Jim and Joe would tell the next generation of farmers and ranchers to be just as committed to volunteer leadership.
An interview with Scott Alder, Joe Alder's son.
Part of an ongoing series about Arizona Farming and Ranching
Tell us about your farm, ranch, or agricultural operation: I farmed with my dad, Joe, and his uncle and we farmed about 1,500 acres back in the late 70s and 80s. In the mid-80s I took over and farmed there until 1995 or 96 and then we decided we had to get out of there while we could. Also in that period of time, my dad had a cattle ranch and we worked on the ranch in Duncan for a number of years. It was in the early 2000s when my dad got out of that. Since the mid-90s I've been working in the irrigation canals here in the valley and I've been involved in the hay business.
What changes have you seen relating to agriculture over your time in the business? During that period of time there were not a lot of changes. We got bigger tractors and stuff like that, but no big changes. We were still spraying for bugs and spraying the cotton, so there weren't many changes in that period of time, no.
Why did you go into the business of agriculture? It was just a family thing. I had gone to school to become a welder, and before I got out of school my family wanted me to come back and work on the farm. Even before I graduated from my welding school they wanted me to come back to the farm. I enjoyed farming, I really did. My great grandfather who lived right across the street from me, my grandfather and my dad were all in the farming business. They farmed all their lives, all of them.
Do you see anyone in your family – the younger generation – pursuing farming or agriculture? I really don't. I've got two daughters and one of those is in the insurance business and the other is in electrical, so I really don't foresee that. And their kids don't know anything about agriculture. We do have a bunch of roping steers and horses that I'm trying to teach my grandkids about, but I really don't foresee them heading in that direction.
What did you love most about farming? I liked the day-to-day 'go here go there', and I enjoyed working on equipment. I liked the pressure. I hate pressure now but I liked the pressure of "okay, we have to get this done, we have to get that done." I also really enjoyed the harvest.
What is one fact or achievement that nobody knows about you? Back when I was younger I enjoyed roping a lot. I don't do so much anymore. When I was younger I enjoyed team roping. I did that a lot back when I was younger. We had our own arena and horses, the whole nine yards.
What is one thing that you think you do really well? I think I get along with people pretty good.
Why are you a Farm Bureau member? I've been a farm bureau member for over 40 years. It's a way to support agriculture and a voice in agriculture. I've been on the state board and I was even the second vice president for a while. I understand what farm bureau really stands for and that's why I'm a member.
How do you think the next generation of farmers and ranchers is going to have to operate? You know, technology has gone so far but you still have to get seed in the ground and all that and you've still got to harvest it, and technology is what is really going to help and make it so they can do a better job.
What is the best business advice that you've ever given or been given? You've got to get along with your fellow man is the best advice I can give.