Meet Arizona Agriculture's Andrus Family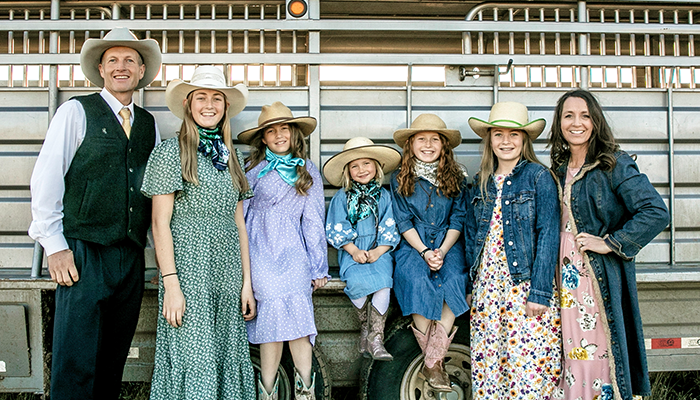 Identifying with the "Unsinkable Molly Brown," rancher and Apache County Farm Bureau President Hayley Andrus tackles all tasks before her with gusto. Hayley, and husband Milo, have five girls and each Andrus is fully and wholly part of their ranching practice, learning new ranching skills every year. 
While they might be a bit new to ranching in Arizona, Hayley and Milo grew up on ranches raising cattle and sheep and it was the profession and lifestyle they wanted to remain in and certainly raise their girls around. 
Hayley is one of our county Farm Bureau leaders taking her role seriously, along with the excitement of bringing new farm and ranch members into the fold. For this young family we are struck by their earnest dedication to all things Arizona agriculture. We're excited to profile this ranch family in May, especially since it's "National Beef Month!" 
A ranch profile of Hayley Andrus, owner/operator of Andrus Cattle in Apache County. 
An ongoing series of our farm and ranch families.
Tell us about your ranch: Ten years ago, we moved from Idaho to Arizona when we bought a ranch in Northeastern Arizona. It has been a steep learning curve for us, but we are still here operating the ranch and raising cattle and our kids. Our cattle graze on forest service, state and private land. My husband Milo and I are the owners/operators of Andrus Cattle, our cow/calf operation.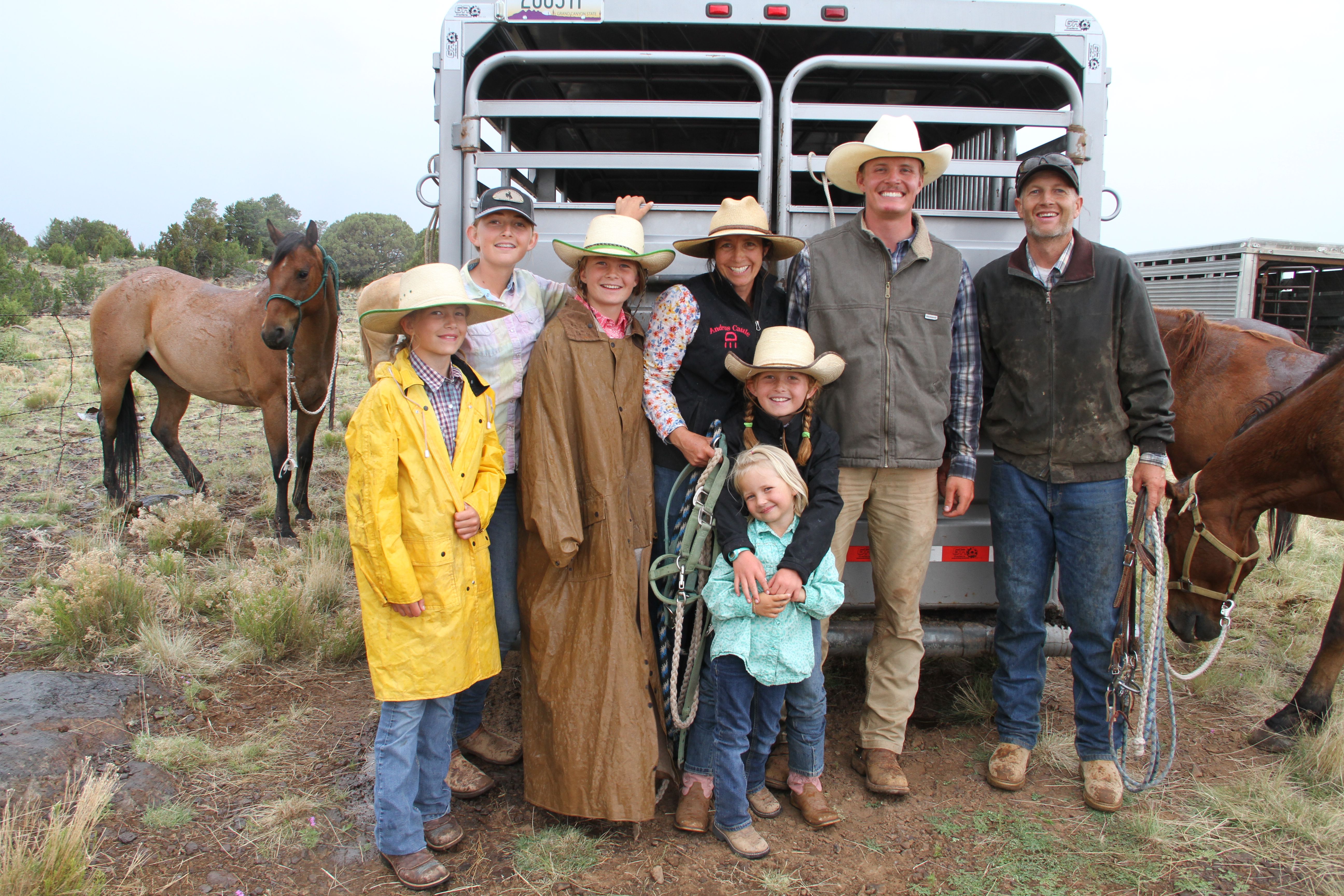 Why did you choose to go into ranching? Milo and I grew up on ranches raising cattle and sheep. We knew that was how we wanted to raise our family. We love the land, the animals, the soil, and growing things. We always knew we wanted to be in agriculture. We feel very fortunate to be a part of the 2% of our nation that get to be a part of this industry. Also, I am very grateful for the sacrifices my family has made to make it possible to have the chance to be ranching.  
What changes have you seen in your life as it relates to ranching? It seems to get harder each year to protect our assets. In general, as our nation's population gets further and further from their food sources, being able to provide food to the public becomes harder and harder. Whether in planning, zoning, or legislative policies, agriculture priorities are easily forgotten. The years of drought have also made it especially hard to maintain our business viability.  
Will anyone in your family pursue ranching? Our five girls are still relatively young, so it will be interesting to watch and see if they choose to pursue a career in agriculture. Even with them being young, you can see that some have a great aptitude for certain aspects of ranching. All five are an important part of our operation. We love working with them and working as a family, and they are becoming indispensable as they gain skills each year.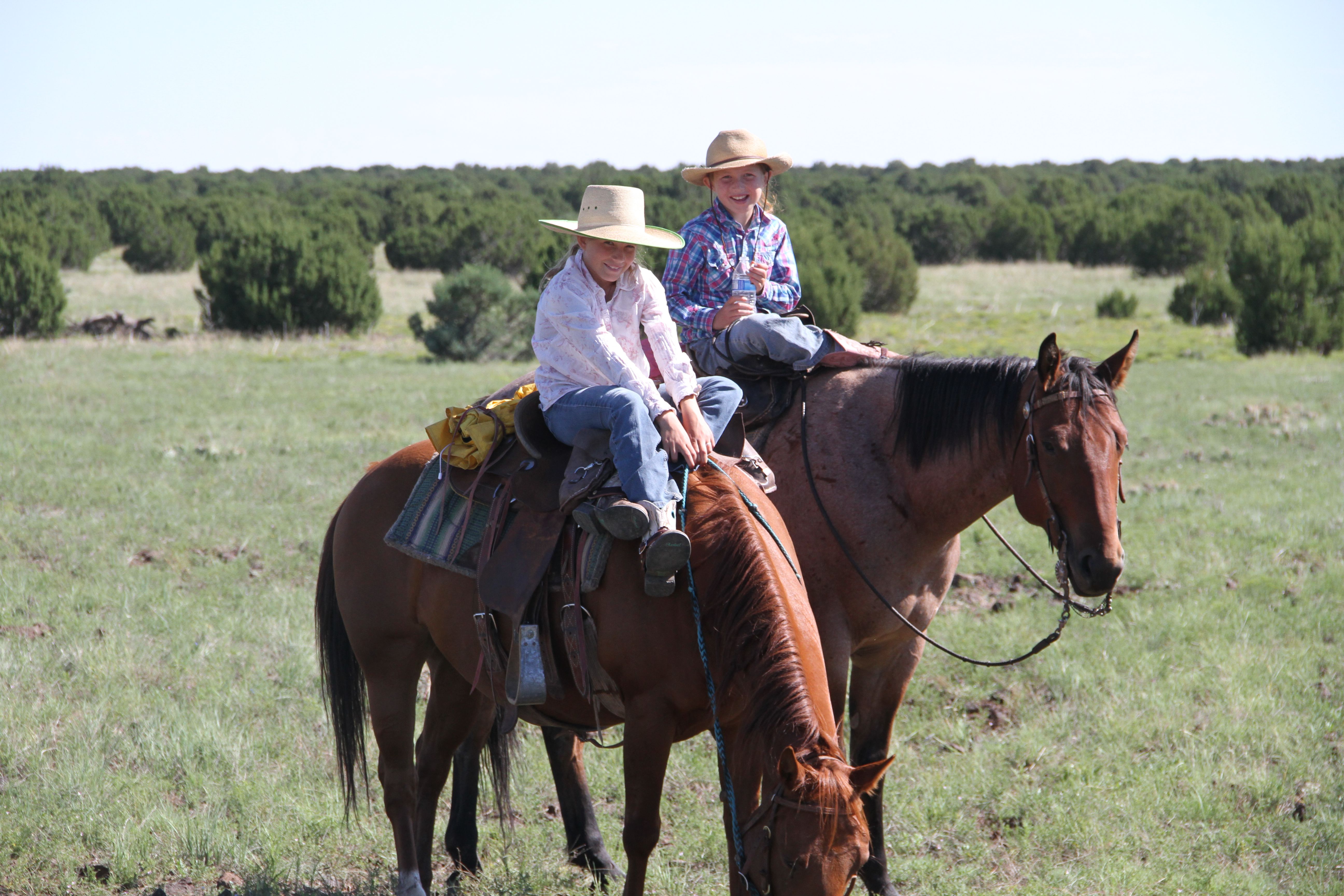 We pay them for the work in actual cattle each year, so each has a small herd to manage and make decisions about. It's our way of giving them a nest egg for college, so we will see if they decide it's a good way to live or pursue other paths. 
Would you ever consider changing your business model? Absolutely! This is what is so enjoyable about ranching, we are forever learning and adapting. Whether in genetics, marketing, managing, or the many other aspects of running your own ranch, we hope always to be changeable and willing to accept new and better methods.
What are your community activities? We feel strongly that you pitch in within your community. We are active in serving within our church community, where I play the organ and help with the music at Sunday meetings and Milo helps with the service arm of our church community. I also coach the 7th-grade girls' basketball team and many other sports teams within little leagues. In a small community like ours you've got to throw your hat in the ring so that these programs run. We volunteer in 4-H and on FFA boards and all else that comes with raising kids in a small community. Milo also serves on our NRCD board. 
Why are you involved? I absolutely believe in being part of a village to raise the next generation, so I get involved. I also participate in the Farm Bureau at the county level because I feel strongly that advocacy and education groups like the Farm Bureau are vital for protecting and ensuring that our industry remains one where we can continue to work and make a living.  
What do you enjoy doing, and what is one fact nobody knows about you? I'm afraid I have always been one of those inch-deep and mile-wide kind of people. I'm not very good at anything, but man, do I try a lot of things! One of my favorite quotes comes from Debbie Reynolds in her part as Molly Brown (from the movie The Unsinkable Molly Brown) when she said, "I'm interested in everything cuz I don't know nothing!" That is how I feel. I like to quilt, cook, garden, sing, play guitar and piano, arrange flowers, work with horses, play almost any sport, mountain bike, hike, camp, rope, fence, work cattle and almost anything as long as I can be outside. I'm an Audible junkie and love reading a good book with my eyes and ears. 
Why are you a farm bureau member? I believe in the mission of the Farm Bureau. We must advocate for our rights and the agriculture industry, or they will be trampled. I believe there is a need to connect people to their food and fiber sources that sustain young and old life. I am a Farm Bureau member for those reasons.  
What's the best business advice you've ever been given? Someone once told us not to let indecision make your decisions. That has always stuck with me. So, we try really hard to make decisions and move forward and not get too bogged down with regrets or second-guessing ourselves. We try to keep going forward and not look back. 
I am also religious, so turning the "what-ifs" of life over to God has kept us learning and growing. We deliberately try to keep the faith, winning over fear in our decision-making.