Meet Arizona Agriculture's Christine Roth
By Lauren Scott, Arizona Farm Bureau Intern: Christine Roth has had a passion for teaching kids about horses since she was in college, and now runs an after-school program focused on familiarizing children with equine care and maintenance.
Christine owns Poco Verde Ranch in Cave Creek, where a small group of students gathers after school to take care of horses, learn to ride, and do their homework if time permits.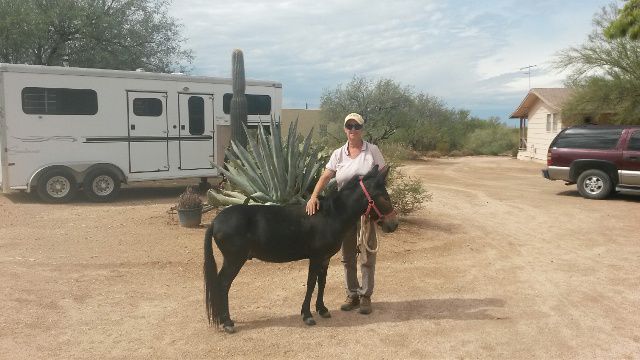 Christine Roth with her miniature mule.
She has been in the business for 35 years and plans to continue giving city kids the opportunity to learn about agriculture for years to come. Christine represents the 30% of women-owned and operated farm and ranch businesses that exist across the United States, according to the USDA.
An ongoing series about Arizona agriculture's farmers and ranchers.
Interview with Christine Roth of Cave Creek, Arizona.
Tell us about your equine operation. I have a small suburban five-acre ranch called Poco Verde Ranch in the north Scottsdale -- Cave Creek area -- where I work with horses and children. I do a program with just a few kids at a time, and I show them what is involved in having a horse. Most of the kids I work with could never afford, or have the ability to have a horse on their own, so I show them what is involved.
I also teach them how to be a good neighbor, since we are surrounded by homes. I teach them that you have to respect the fact that you are the odd person in the environment now. You want to keep everything neat and clean, you want to be careful about not raising dust, and you don't want to give your neighbors an excuse to run you out of town.
The kids I work with are that age where they are too old for daycare, but not old enough to be left alone. I do an after-school program with them, and I do work with some special needs children, too. I started back east in Massachusetts about 35 years ago, and I've been here about 15 years.
Usually, in the program, I have a couple young horses, and a couple mares so the kids can see the foals being born, and work with the babies. I've got four lesson horses, and I have a miniature mule. The mule is something you don't usually see, but it is good to have because if you have a child from a blended family that is a blended animal and they can see that. Anyway, I do most of my work through referrals, I don't do a lot of advertising.
During the after-school program, we do a 'no phone zone' and I have the kids put away their electronics. So the children get to be outside in the fresh air. They get to burn off a little energy. When they go home they aren't climbing up the walls. I have a nice little tack room with an air conditioner, and after we are done riding the kids can go in there and do their homework while they are waiting to be picked up. It's just a great opportunity for a child to have their own horse when they otherwise wouldn't be able to financially. It's good responsibility that they learn.
What changes have happened in your operation over the course of time? The biggest thing is the competition you have from the government doing their after-school programs. They kind of make it affordable so you don't see as many kids doing dance lessons, or piano lessons, or riding lessons. The other thing is that because both parents are working, they can't ferry the kids back and forth. Another thing is the shows. We don't do as much showing anymore because of the expenses, and there just aren't as many small shows as there used to be. That's one of the biggest things that's happened in this business is the loss of small shows.
What is your educational/agricultural background? I saved up my babysitting money to get my first horse when I was in high school. My father said that if I saved up the money to buy a horse he would build a stable for me. So my sister and I saved up our babysitting money and my father build us a little two-stall stable in the backyard. So I was kind of a do-it-yourselfer from the beginning. Then I went to Stephens College and they had a riding program there. After that I worked in the printing industry for a little while and I loved the horses so much and I always did a few lessons on the side, so I just got right back into it and did it full time. Back in Massachusetts, I worked at one of the first therapeutic riding stables.
Will anyone in your family, the younger generation, continue in the business? I don't have any children, but I think the business might just pass along to a couple of people I've worked with over the years.
What do you love most about the agriculture industry in general? How it develops a person and how you learn how things grow. Like when you have a foal, and seeing how they grow up.
What do you enjoy doing in your free time, and what is something no one knows about you? I'm an artist. I like to do painting in watercolor. I do a lot of illustration, not wacko stuff. Years ago I used to go to the juvenile jail near Pinnacle Peak, and I'd take stencils and paint with the kids. I'd have them create a scene around the stencil. I like to do art with my after-school program too. I show them how to draw simple things.
Why are you a Farm Bureau member? The agriculture aspect, and when you look at what Farm Bureau does with the government to keep you informed, it's our voice. Without Farm Bureau, if you're just a single person, you can't make waves. But everybody together makes it work.
How do you think the next generation of agriculturalists is going to have to operate? I think that technology is what is going to empower everything. I think you really have to make people aware that when you get surrounded by suburbia, you have to just be so careful to not annoy your neighbors.
What is the best business advice you have ever given or been given? Always plan ahead. Always have savings and reserves, and don't go overboard buying the latest and greatest things. You need to prepare for when you have slow times and don't get into huge debt.