Meet Arizona Agriculture's Clyde Sharp Family
By Julie Murphree, Arizona Farm Bureau: Arizona Farm Bureau's most recent Farmer of the Year recipient, Clyde Sharp will tell you he didn't set out to do the farming he's doing; in fact he started out as a dairy farmer. Today, Clyde and his brother, David, farm in Yuma County.
An interview with Clyde Sharp, cotton, wheat, alfalfa and produce farmer from Yuma, County.
Part of an ongoing series profiling Arizona agriculture's farmers and ranchers
Tell us about your farm business: The Sharp farm near Roll, Arizona covers 2,500 acres. The crops we grow include lettuce, alfalfa, cotton, wheat, and onion seed; also corn silage. More and more we're leaning heavier on produce and seed production because of the economic opportunities.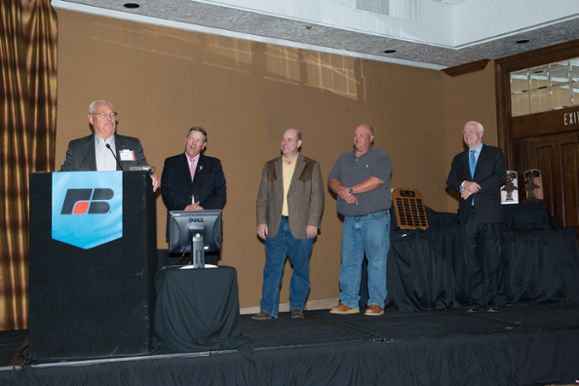 Clyde Sharp receiving Arizona Farm Bureau's Farmer of the Year award last November during the Annual Meeting. On stage with him were Arizona Farm Bureau President Kevin Rogers, Arizona Speaker of the House of Representatives David Gowan, Yuma County Farm Bureau President Mark Loghry and U.S. Senator from Arizona, John McCain. 
Sharp, like many farmers today improving water usage and management, uses level basin irrigation for his crops. Level basins require precise water control (including minimal rain), large on-flow rates, uniform soil within a basin, and precision-leveled fields. When engineered correctly water can be applied uniformly in a short amount of time. Getting water on and off the fields fast avoids water logging of sensitive crops such as alfalfa. Cotton is less sensitive to water logging, but like alfalfa can suffer root damage when soil oxygen levels are depleted during summer's high temperatures.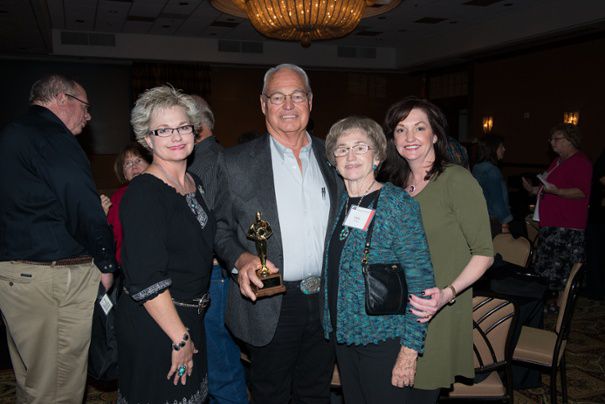 2014 Farmer of the Year Clyde Sharp with his wife, Vicky, and two of his daughters, Holly (left) and Kayla (right). 
What changes have you seen in your lifetime as it relates to farming? The biggest thing is technology. Tractors; and equipment in general are getting bigger and better. Plus, we're doing more with less. For example, you have GPS technology in farming for both guidance and leveling. This happens to be technology we've had for some time but it keeps getting better and better. Technology has really changed our lives and almost even controlling our lives. And, that's not necessarily bad. We just have to be wiser and more sophisticated in how we use the improving technology.


Why did you choose to go into agriculture? When I graduated from High School I loved math and to this day, I'm still really good at it. So, back then I told my folks I was heading to the U of A to study math. My dad looked at me kind of funny and said, "What are you going to do with it? Are you going to be a math teacher?"
So, I started out in college studying agronomy and ultimately switched to Ag education for a more rounded education; I figured Ag education was a fallback position if I didn't get into agriculture. So, when I got married and needed a job after graduating I started a dairy.
What are your community and/or industry activities? In 1991, I was elected to the Arizona Cotton Growers Association (ACGA) Board of Directors. I watched in 1999 when the Arizona cotton producers rejected a Pink Bollworm Eradication Program. I was convinced we still needed a program. In 2003, I became ACGA President and determined that, notwithstanding a failed referendum in 1999, to try again. Many in the industry believed that the Arizona cotton producers had settled the issue of eradication. I believed otherwise.
From his Farmer of the Year Profile
As a two-term member of the Arizona Cotton Research & Protection Council (ACRPC), Sharp fought for improvements in plow-down regulations, targeted research funding and hands-on implementation of critical field programs conducted by the Council staff.  Nowhere could his leadership be better demonstrated than through his shepherding of the highly successful Pink Bollworm Eradication Program from start to finish during his tenure as Chairman of the Council. Mr. Sharp led the industry team that conducted statewide grower educational meetings promoting the value and validity of the pink bollworm program. His unwavering assurances to cotton producers that the program could and would be carried out on time and on budget was not only accurate but essential to the success of the referendum enabling the program.  Sharp however didn't just stop there. His leadership on the National Cotton Council Pink Bollworm Action Committee consistently helped move the program forward.  Further, he created and led an Oversight Committee that regularly conferenced with all United States and Mexico Program Directors to address and solve issues related to program continuity at the field level.  In essence, Sharp stubbornly refused to let any obstacle come in the way of pink bollworm mission success. 
In the 1990s, his brother, David, and Sharp provided fields, equipment and personal data-gathering efforts to assist Dr. Peter Cotty as he developed his bio-control technology for aflatoxin control. That technology adopted by the ACRPC is now rapidly expanding to benefit cotton, corn and numerous other agricultural crops nationwide.

What is one fact/experience/achievement no one knows about you? I am extremely happy to consider all I've accomplished in the cotton industry has helped the industry. I have super friends in the industry. It's been an honor to be associated with things that have helped us in agriculture.
What do you think you do really well? Math

Why are you a Farm Bureau member? I'd like to answer that in two parts. First, about why I'm not an active farm bureau member, in part because my brother, David, is successfully involved.
My cup of tea has been involved in the cotton industry.
The second part is, that though I'm not as involved in Farm Bureau as my brother, I believe in the importance of my membership regardless of level of activity. Why? Unfortunately all of us in agriculture need to be able to stand up together in order to be counted or cared about. It's the old truth that there is strength in numbers. We need to be united for those outside of agriculture to take us seriously. This organization is something we need to be a part of. Larger numbers mean we can accomplish something worthwhile for the agriculture industry; it also means we'll be able to survive as an industry. Membership in the Farm Bureau does just that.

How will the next generation of farmers have to operate? I think in the future we're going to have to farm without a safety net from the government. We're going to farm bigger and bigger numbers [acres] with more coming in as management of our farms. We'll have challenges to find the right people to manage ... farming is still a 365-day-a-year management affair.