Meet Arizona Agriculture's Danzeisen Family
By Lauren Scott, Arizona Farm Bureau Intern and Julie Murphree, Arizona Farm Bureau Communication Director: This last week, Arizona Farm Bureau honored a family that has shown a willingness to take a big risk to maintain the local nature of the family's agriculture business while opening up a new revenue stream: The Danzeisen Dairy family received Arizona Farm Bureau's "Farmer of the Year" Recognition.
The Danzeisen family dairies are located in the city of Phoenix. During a time of reflection about the future of their family business the family realized they had three choices: 1.) do like so many other dairies: sell the land and relocate away from a population center, 2.) complain about the impact of a growing city around them, or 3.) change their business model to become an integral part of the growing community. As a result, they decided to bottle their own fresh, local milk in glass bottles.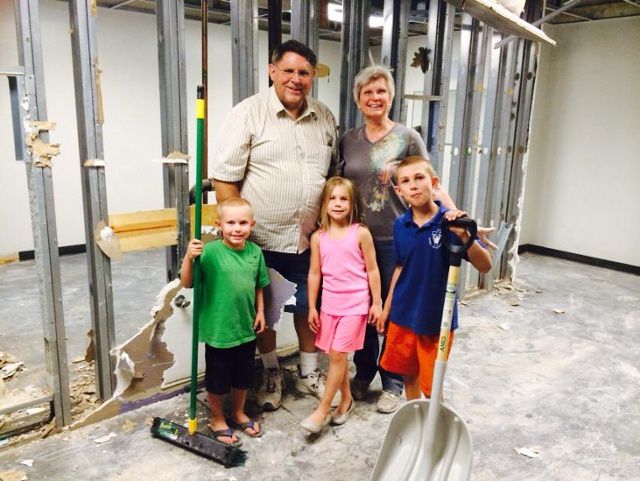 Clayton and Gail Danzeisen with their grandkids getting their Danzeisen Local Milk Shop ready on Southern Avenue.
While the idea of milk in glass bottles harkens back to the "Good old Days," the idea of old-fashioned, door-to-door delivery was not going to work. They would hold on to modern-day transportation and distribution methods, specifically distributing the milk through the retail grocery stores in the valley. And, they'd feature a variety of flavored milks!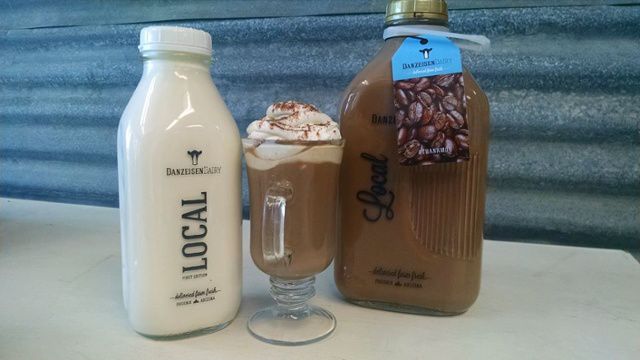 A popular flavor, mocha, rootbeer, and others are among the variety of flavors Danzeisen Dairy specializes in.
The genesis of their flavored glass-bottled milk can be traced to a charming little ice cream shop in Laveen, called "Scooptacular," a favorite snack stop for the family. They hired the Scooptacular owner, Nindi Wadhwa, to develop the flavors.
Faced with demands for millions of dollars of permit requirements to build a bottling plant on the current dairy, The Danzeisen family found it miraculous when the Arnold Machinery building on Southern Avenue came on the market. They bought the building, cleaned and renovated it with the help of the whole family. At the same time, they scoured the country for the old-fashioned separation, pasteurizing and homogenizing and bottling equipment needed to create the creamy, tasty bottled milk they wanted to serve to their customers. They brought in this equipment from seven different states, as far away as New York. The older equipment leaves in more of the milk solids so the milk tastes creamier.
By the fall of 2014 they were open for business. Danzeisen Dairy Local milk is now in Whole Foods, AJ's, Sprouts, Haggens, 17 Safeway stores and about 20 Bashas' plus a handful of specialty shops, including their own store on Southern Avenue. That's more than 100 locations in Phoenix, Tucson, Prescott, Sedona, Flagstaff and Lake Havasu City.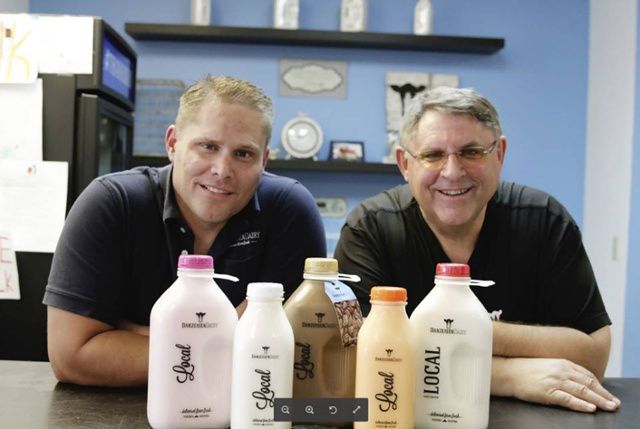 Son, Kevin Danzeisen, is the general manager of both the bottling company and the dairy, while father, Clayton Danzeisen, is CFO and another son, Brett Danzeisen, is in charge of transportation and customer relations. The whole family is involved, either working in the store or marketing on social media.
At the head of an involved Arizona Farm Bureau family, Clayton Danzeisen, served on the Maricopa County Farm Bureau Board of Directors from 2004 to 2011. And, they continue to stay involved because agriculture and this $17 billion industry matters to them.

An interview with, Gail Danzeisen – Phoenix, Arizona
Part of an ongoing series about Arizona Farming and Ranching families.
Tell us about your operation: Danzeisen Dairy is a local, family run dairy farm with over 50 years in Phoenix, Arizona. Our dairy farm is the first local, Phoenix dairy to offer glass bottles to grocers within the Phoenix market – direct and fresh from a local dairy farm, near the base of South Mountain. We strive to offer Danzeisen Dairy to be the freshest, best tasting milk direct from the farm to your local grocer. We began this glass bottled direct to grocers market in 2014 but we've been in the dairy business for decades.
Tell us the family dairy history: From their website: Descending from a rich family history of farming, the Danzeisen Dairy has been a part of the dairy business in Phoenix for generations. Neil and Gertrude Viss, grandparents of present-day owners, moved to Phoenix in 1959 from Southern California to rent the first dairy of the family business near 51st avenue and northern. They later built another dairy on 75th avenue and Broadway in 1967, and a second dairy was purchased less than a mile east at 67th avenue and Broadway. Gail, their oldest daughter, met and married Clayton Danzeisen. Together they have four children and thirteen grandchildren. Kevin, the oldest of the four, is now the general manager of dairy operations. Brett, the third son, is in charge of transportation and harvest for the dairy. In 2002, the name of the dairy was changed to Danzeisen Dairy.
What changes have you seen in your lifetime as it relates to farming and ranching or your own farm? My family, the Viss family, started in the dairy business in 1959. So there have been a lot of changes. Obviously one is technology, which is huge, and also the size of our operations. My parents started off with 50 cows and you just couldn't do that today. It's still hard work, but things just aren't as labor intensive as they used to be. When we started, we just had the bucket machines.
Why did you go into the field of agriculture? When I was growing up I had five brothers, and I thought they'd be more into it. I married a music teacher, so I never dreamed that we'd be back in agriculture. After my dad died, my mom asked us to move back here and one thing led to another.
Will anyone in your family – the younger generation – pursue farming, ranching, or the family business? Absolutely, yes! In fact if it wasn't for our kids being interested in agriculture, we would have never started it. Two of our kids are involved with us here, and then one of our sons is in California and is involved in a different aspect of dairy, and then our daughter lives in Iowa and is married to a dairyman.
Would you ever consider changing your farm model? Well one year ago we started bottling in glass, and that's kind of how we've changed our model.
What community activities are you involved in? We donate, and we are quite involved in the Christian school our grandchildren go to. We are members of Farm Bureau, and we are involved in our church.
What is one fact/experience/achievement that no one knows about you? For one year I was on my college gymnastics team. It was a very low-key thing. We didn't compete or anything like that. We mostly did halftime entertainment at basketball games, so it wasn't a big competitive thing.
What is your favorite thing about being in the business you're in? My favorite part is interacting with the customers.
Why are you a Farm Bureau member? Well, Farm Bureau is so important. It's important for lawmakers to understand agriculture. It's important for the public to understand agriculture. I just appreciate the people, like Joe Sigg, and those who interact with the legislators so that they can understand farming. It's just so important because our society, generally speaking, doesn't understand where their food comes from. I don't understand why farmers are the bad guy lately.
How will the next generation of farmers have to operate? They will have to know technology; understanding and applying the right technology in agriculture will be huge.
What's the best business advice you've ever been given? I can tell you, and this relates to business in every part of life, really, my dad told us kids many times that if you're going to do something, do it well. Do your best.
Is there anything else you'd like to add? One thing is that we wouldn't be where we are now without the hard work and the good business sense of my parents. I appreciate them more all the time. This wasn't handed to us, we worked for it. But just the fact that they started the dairy with such a small herd and they worked so hard, I just appreciate that.