Meet Arizona Agriculture's David Sharp Family
By Julie Murphree & Justen Ollendick, Arizona Farm Bureau: Julie and I got to sit down with the 2011 Arizona Farm Bureau Farmer of the Year (his brother, Clyde, received the same recognition just last year) for a quick interview and some words of wisdom as we all attended the 2015 Southwest Agricultural Summit in Yuma, Arizona. This family has strong community roots, and is truly an exemplary model to Arizona Agriculture.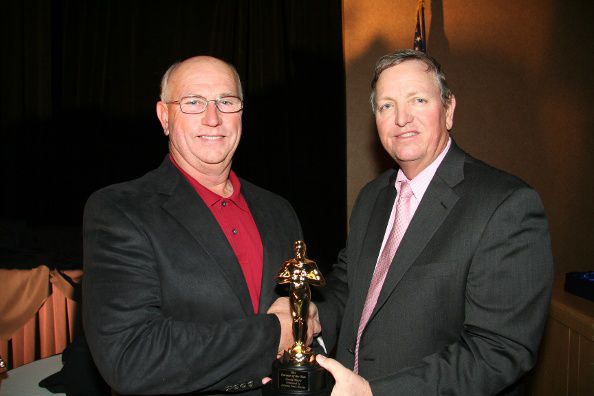 An interview with David Sharp – Yuma County, Arizona
Part of an ongoing series about Arizona Agriculture's Farming and Ranching families.
Tell us about your farming operation: Our farming operation is a partnership between four people: my wife, Melissa, and I, and my brother Clyde and his wife, Vicky. We farm about 2,500 acres in the Wellton-Mohawk area which is comprised of many different crops. Right now at this time its alfalfa, wheat, cotton, Sudan, corn silage, and of course vegetable seed production. While we ourselves do not grow vegetables, they are grown on property we own.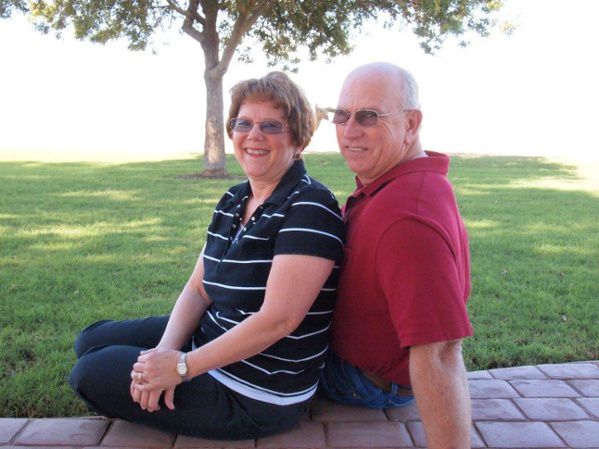 Seen here with Arizona Farm Bureau President Kevin Rogers receiving the 2011 Farmer of the Year recognition, David Sharp received this "Oscar of the Arizona agriculture industry" just a few years before his brother, Clyde, also received the recognition. This is the only time in recent history, and possibly in the entire history of Arizona Farm Bureau, where two agricultue brothers were both recognized with one of the industry's top awards, proof of the deep commitment and dedication the Sharp families have to Arizona agriculture.
Why did you choose to go into agriculture? I don't know that I chose to go into agriculture as much as agriculture chose me. When you grow up in an agricultural family you obviously have a choice of which way you want to go. I was very blessed to grow up in an agriculture family and at a very early age I knew that I wanted to be a part of agriculture, and that is the path that I chose.
What changes have you seen in your lifetime as it relates to farming? The changes that I've seen in agriculture over the years is that instead of a localized market, it has become a world market, and that doesn't matter if it's alfalfa or vegetables, everything is related to world-markets. When you get past the world-market, it comes down to certain issues like water and fertilizers. Again when you're talking about fertilizers you're talking world-markets. The technology that we have today is phenomenal to what we had, but that technology comes with a price. That technology is so expensive, but it's part of what makes us so productive and efficient. We heard this morning from the water seminar about how efficient we are with water here [in Arizona] because of technology.
Will anyone in your family - younger generation - pursue farming? My wife and I were blessed to have three sons and I guess I worked them too hard when they were growing up. Do they have an interest in agriculture? Yes. All three of them attended the University of Arizona; one has an engineering degree with an emphasis in water management, and the other two got their agricultural business degrees and went on to get their MBA's. So we have three very successful sons who are all interested in the farm and have a desire to see the farm stay around, but do they want to come back and run the farm? No.
Would you ever consider changing your business model? If you're not willing to change your farm model, then you're probably not going to stay in business. You want to try and use the equipment and skills that you do have because that's what you can be the most productive with or that is what you already have in your arsenal. But if you're not willing to step out of the box and look at something else, then you're going to lose. A lot of years ago Clyde and I started growing hybrid onion seed. The traditional way of curing the seed was to put it out on plastic in the field. We had a weather event our first year, and we wondered if we wanted to be subject to that again. We sought out a different way of curing the onion seed. Small step, yes, but it was a step outside of the box.
What are your community activities? I am a session member and elder of the Mohawk Valley Community Church. I am on the board of directors for the Wellton-Mohawk Irrigation and Drainage District. I'm also on the board of the Wellton-Mohawk Natural Resource Conservation District and on the council of the Arizona Grain Research & Promotion Council. I'm also a Yuma County Farm Bureau board member where I served locally and statewide. I have been involved over the years with 4-H and FFA.
There's always a fundraiser in the community and a way to be involved. We are always going to get the job done in our community that we live in.
What is one fact/experience that nobody knows about you? You know, my life is an open book because I am not that exciting of a person. Basically from the time I was a kid I wanted to stay on the farm, so I never played any sports or served in the military. I never succeeded or made the grand drive when showing livestock.
What I do really well is serving my community. I try to support my community, I want to be involved and be a part of it. When Melissa and I moved from Gilbert to Roll, Arizona, we took the attitude that Roll was our hometown now. We branched out and found new friends instead of running back to the ones that we left behind. We wanted Roll and the Wellton-Mohawk Valley to be our new home.
I want to bring up another thing. Where I am today has a large part to do with my wife, Melissa. Melissa has been a great supporter, a great helper. For example, the raffle that we are doing for the Yuma County scholarship fund is backed by Melissa. She is the one counting and recording donations as they come in, counting the tickets and doing a lot of stuff. It's been a partnership with everything we do; when we were involved in the Rotary Youth Exchange, booster clubs at schools. She's also very involved as president of the Mohawk-Valley elementary school.
Melissa and David Sharp
Why are you a farm bureau member? Well why are we members of many associations? We do that for the support and the infrastructure that they bring to the industry that we are involved with. Farm Bureau has the "family" that embraces not just the alfalfa growers or the cattlemen, but brings us all together for the good of all agriculture. It's not prejudice, but brings together the state. We are members of many associations to bring support to the state and industry. Collectively a few dollars can bring together the efforts of many.
How will the next generation of agribusiness leaders have to operate? Yuma County is very blessed with the strong young farmers. We have a lot of young people that have a desire to be a part of the industry and they see the successes of the industry. Maybe partly because of how strong agriculture really is in Yuma County. It's attractive to bring people into because they see well maybe I can't be a farmer but I am cut out to be a PCA or I can work in plant breeding.
They see what agriculture really is and what they can do. You read many articles about the graying of the American farmer. Well yes, but I get to go to Farm Bureau meetings with a high percentage of the [Yuma County Farm Bureau] board that is under 35 years old. We have embraced them and brought them in. We old guys don't want to get out of it but we have done our time in the leadership ranks. Life is all about taking turns, and the sooner you realize that life is all about taking turns, the easier it is.
Editor's Note: David won Arizona Farm Bureau's 2011 Farmer of the Year recognition mainly for his selfless work at trying to protect agriculture funds that were being swept by the state of Arizona. When first elected Chairman of the Arizona Grain Research and Protection Council in 2007, David had no way to foresee the magnitude of the battle that he and others would face over the next few years to secure protection of council funds so that they could be used appropriately in support of their respective commodity industries.
When faced with the reality, in 2008, of having the Grain Councils' funds swept by the state legislature, David, like many in agriculture, was appalled by this blatant theft of funds which were being held in trust for a designated purpose.
Beyond being personally indignant, David stepped up to lead the charge to attempt to reverse the sweeps and to protect council funds in the future. He retained a law firm to represent the Arizona Grain Council in a law suit seeking to reverse the sweeps.
The suit was joined by other agricultural groups and was initially successful in requiring refund of the swept funds. Although this judgment was ultimately reversed on appeal, the ongoing litigation helped to illuminate the ethical injustice of confiscating industry funds that are used for research and marketing, and therefore reduced the willingness of legislators to participate in additional sweeps.
In parallel with the law suit, David worked to secure legislative protection against future sweeps. He met with elected representatives in Yuma and Phoenix to present arguments in opposition to the sweeps. He coordinated with agriculture lobbyists who were also seeking reversal of the sweeps. He testified numerous times before legislative committees that were considering legislation for protection of grower assessments.