Meet Arizona Agriculture's Herrington Family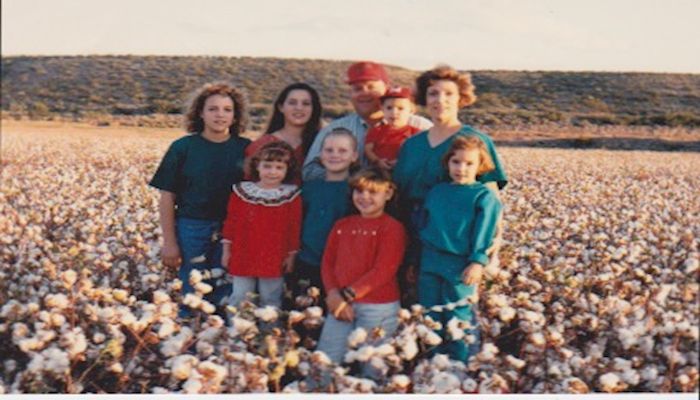 I serendipitously met Mark and Nona Herrington via a very kind email the other day. "Thank you so much for the very informative and captivating article about Amazon's purchase of Whole Foods [ Conversation about Amazon's Big Food Move: A Rancher's Perspective, October 2017 issue of Arizona Agriculture]. It felt like very 'inside' knowledge, thanks to both parties involved in the interview and subsequent story. My husband has a lifelong love of agriculture and Arizona Farm Bureau, having served as its 1st Vice President under President Ken Evans; I once served as the state Women's Committee Chair. Though we quietly slipped from active production in 1999, we remain vibrantly involved intellectually. Thank you so much for the connection that your publication provides us - and Bravo! It is excellent!"
Sincerely,
Mark and Nona Herrington
Safford, Arizona
So, of course, I was curious to know more about them. Ultimately, I convinced them to participate in our profile series of our farm and ranch families. And though they are no longer involved in leadership roles on the county and state level in Farm Bureau and no longer farming, they are lifelong members of this grassroots organization.
I had to know why they've committed themselves to this organization for life. Here's what they told me.
An interview with Mark and Nona Herrington of Safford, Arizona.
Part of an ongoing series about Arizona's farmers and ranchers.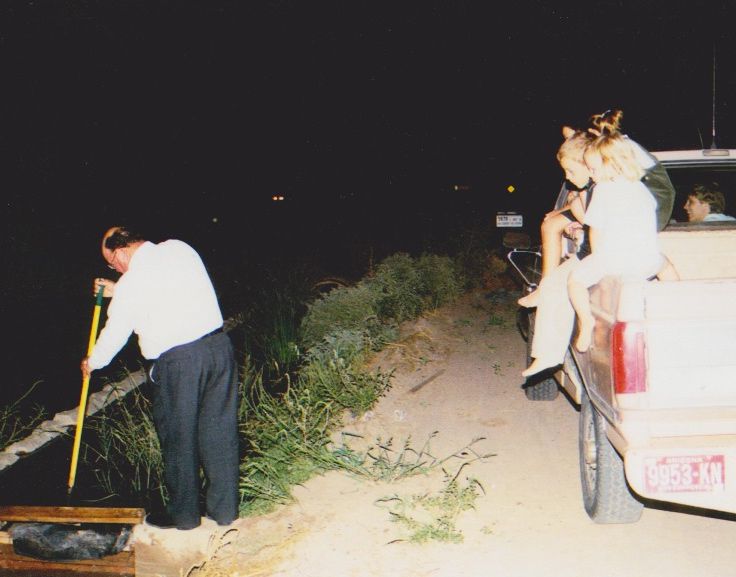 Mark irrigating on a Sunday night in his church clothes, kids hanging out the back of the truck.
Tell us about your farm, ranch, or agribusiness operation(s) you had prior to retiring from production agriculture : Our agriculture life began in 1977 when we joined the family farm is Safford, Arizona. The crop then was cotton, which remained our primary crop along with alfalfa, though we experimented with garlic, lettuce, pumpkins, melons, vegetables and a U-Pick operation. The farm was owned by Nona's father, Kenyon Udall. Nona's mother's family, the Carpenters, had farmed in the eastern end of Graham County since its beginning, and were some of its earliest inhabitants.
Any farming practices that highlight water conservation, soil health or and other special practice you instituted to save money, improve the farm and/or protect the environment? Our water conservation efforts included dead-leveling 95% of our ground and adding concrete ditches.
What is your educational background (i.e. Degree(s), certifications, honors)? Mark attended ASU, studying Agriculture Management, leaving just short of a Bachelor's degree to move to Safford and join the family farm. Nona received a degree in Elementary Education in 2002, and enjoyed teaching Kindergarten, Music and various substitute positions. Two meaningful honors received were the Arizona Farm Bureau's Heritage Award.
And, in a personal journal entry we wrote, "We are on our way to Phoenix to attend the Arizona Capital Times Award Program, where Mark will receive the Natural Resources Leader of the Year award. This is something I feel he very much deserves and is long overdue in receiving. For thirty years he has championed the cause of conservationism when it comes to our natural resources and the environment, being a voice of reason, mediation, and common sense when so many others turned to ugliness, selfishness, and ill-guided preservationism."
What are/were your community activities? Our activity in Graham County Farm Bureau is a longstanding priority. We were invited to join by county president Brooks Curtis when we first arrived. We enjoyed participating with our family in many community events, in behalf of Farm Bureau, such as Field Days at the U of A experiment farm, county fairs, Ag in the Classroom, and more. We served on the American Farm Bureau Federation's Young Farmer and Rancher Committee, which was truly a privilege. It opened our eyes to the agriculture experiences across the nation. Mark served as the YF&R state chairman, county president, state 2nd and 1st Vice president.
Along the way, we were blessed by faithful encouragement of many associates within Farm Bureau, such as Cecil Miller, Andy Kurtz, Jim Klinker, Monica Pastor, to name a few. We discovered very early the value of the Farm Bureau organization as a grassroots powerhouse, to further our values, and to protect our industry. That's why we love Farm Bureau, and why we will remain lifelong members.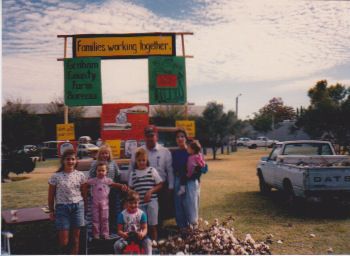 Our family booth at a county harvest festival 1990.
Mark has served on various boards, including the Eastern Arizona College Governing Board, and as an active and avid scouter in the Coronado and Grand Canyon Councils of the Boy Scouts of America.
In 2000, Mark was elected a Supervisor from District 3 in Graham County. He immediately felt the value of the many years of Farm Bureau preparation and experience. While a county supervisor, he served as the president of the Eastern Counties Organization, dealing with natural resource and environmental issues. As a member of the National Association of Counties, he served on the Western Counties Coalition, addressing those same issues dear to us as farmers, plus managing our forests, trying to bring reason to the endangered species debates regarding wolves, red squirrels, razorback suckers, etc.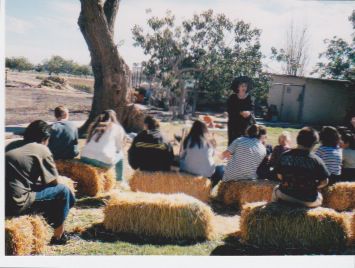 Nona (the witch) teaching 6th graders at the Cotton Field Day at U of A experiment farm.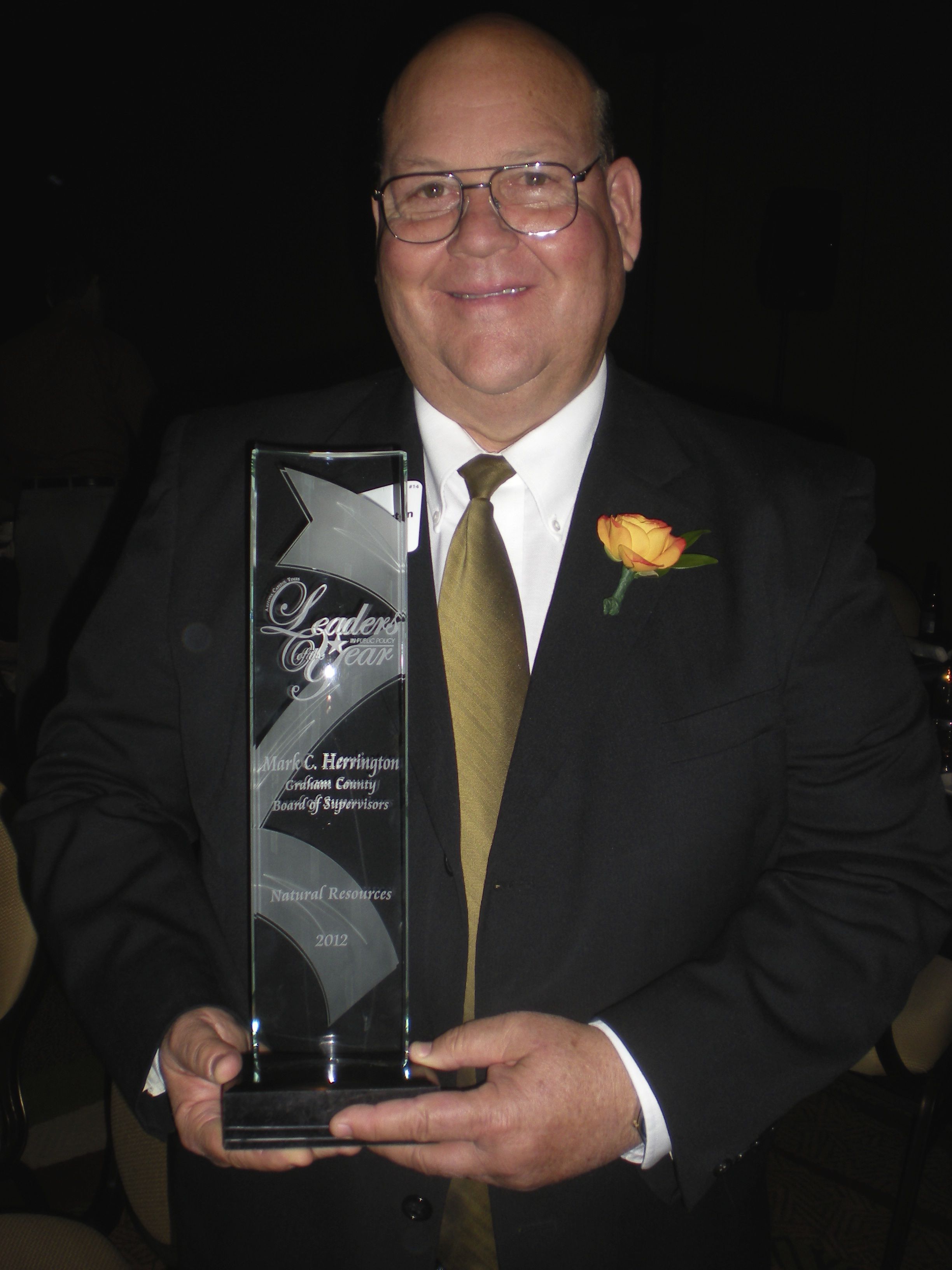 Mark receiving the Natural Resources Leader award.
What do you love the most about farming, ranching, or the agriculture industry in general? Our farm provided the best of all worlds in raising our family of seven daughters and one son. It now seems a rare, idyllic situation, having our family with us, working together, living values too many to name; truly a blessing. Our son, a Farm Bureau member since birth, has recently begun a small cattle operation on the family farm. We have always been active members of The Church of Jesus Christ of Latter Day Saints. After retiring from the Board of Supervisors in 2012, we served a mission for the church in South Africa, sharing our deep beliefs about Jesus Christ, teaching the same family values we live and love ourselves. We were there at the time of the passing of Nelson Mandela, read his autobiography 'Long Walk to Freedom,' and learned firsthand the folly of oppression. We came to love and cherish the Zulu people, retaining contact with many dear friends yet today.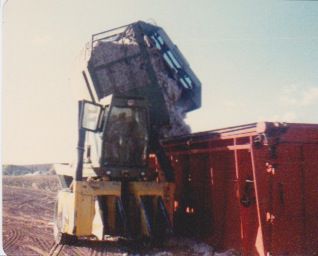 Cotton harvest differs greatly from a lettuce harvest. Like so many farm and ranch families in Arizona, diversity of crops was and is the name of the game.
Upon our return from our mission in 2015, we received a new call from the church to serve as president and matron of The Gila Valley Arizona Temple, positions we will hold until October 2018. The temple sits soundly in the middle of Gila valley agriculture, surrounded by cotton and hay fields, barns and animals, with Mt. Graham as a backdrop. It is a daily reminder of the blessings we have enjoyed throughout our lives to live and love in a beautiful, free land.
How will the next generation of agriculturalists must operate? The next generation of farmers and ranchers we know are current with technology, update themselves regularly on industry education, all the time clinging to traditional values. The best advice I received, and could give, is to avoid excessive debt, and to be active in the preservation of the industry. With dogged determination, maintain the privilege of our personal independence, liberty and freedom. Most important is who we are, not what we believe.