Meet Arizona Agriculture's Jean and Ferrell Anderson
By Julie Murphree, Arizona Farm Bureau's Communication Director: If you're an active farm bureau member in Maricopa County you've met Jean and Ferrell Anderson. They know you, even if you might not know them. They're retired from their business and their equine show hobby. They have been since 2007. So, why are they active agriculture members and so thoroughly engaged in the workings of the Farm Bureau? Because, "We absolutely love you people," Jean says.
For 40 years Jean showed or trailed horses while also running her own business. Since equine is designated as an agriculture commodity by the Arizona Department of Agriculture, it certainly made sense for the Andersons to be embedded in the Farm Bureau family during that time. In fact, the Andersons currently serve on the Equine Committee of the Farm Bureau.
But don't think this energetic force to be reckoned with will put themselves out to pasture like their horses. No, they know the value of volunteer work and the importance of staying engaged in a grassroots organization like the Arizona Farm Bureau. We need more people like them.
Last spring, Ferrell and Jean celebrated 50 years of marriage.
I often tell people that Arizona Farm Bureau represents all agriculture: small, medium and large in size; organic and conventional in method. I need to remember to say "and equine too." Thanks Jean and Ferrell for the reminder and your great story.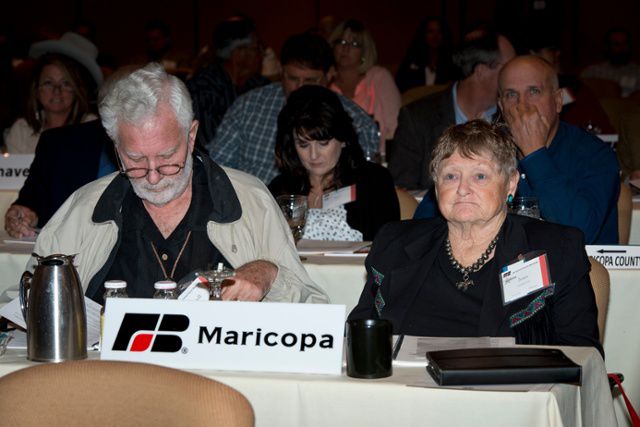 40 years showing horses has given the Andersons a real sense of agriculture life at least from the Equine perspective but what really keeps them engaged in Farm Bureau is their dedication to volunteering for the cause. Here, Ferrell and Jean Anderson await the beginning of a delegate session at one of Arizona Farm Bureau's Annual Meetings always held in November.
Interview with Jean Anderson of Rio Verde Foothills, Arizona
An ongoing series of Arizona's farmers and ranchers
Tell us about your equine operation(s): Ferrell and I (mostly me) own, at present, two geriatric mares; one Arabian, Bay Nova (MS Bay); she was originally imported from Russia, and have owned her since she was six. My second mare is Mariah's Skipper Babe (Mariah), an American Quarter Horse; her lineage comes directly from the King Ranch; I bought her when she was eight.
Both mares stand about 14 hands high. I have owned as many as four show and/or trail horses at one time. I have never bred for profit; only to replace. We built a beautiful 60 X 40 open barn, with four, 12 X 12 stalls, plus a hay storage and horse trailer bay and we live on 6 acres, out in the Rio Verde Foothills, in the county. I support the LOCAL hay farmer by buying Alfalfa/Grass hay directly from him.
Any business practices that highlight water conservation, soil health or and other special practice you instituted to save money and improve your equine business? With our horses, we use 17-gallon water buckets that I fill twice a day (when needed) from a 1,500-gallon water tank at the barn. I clean the buckets, twice a day with a strainer. I do not use an automatic waterer because I want to know exactly how much water each mare is drinking, and if they are drinking (I feel that this also saves water).
I also use about 2 tablespoons of apple cider vinegar to help keep the water clean, and the horses love drinking it. Most of the time, the mares are turned out in their respective turn out areas. You might wonder why they are separated. Mariah is a little pig, and MS Bay is not pushy enough.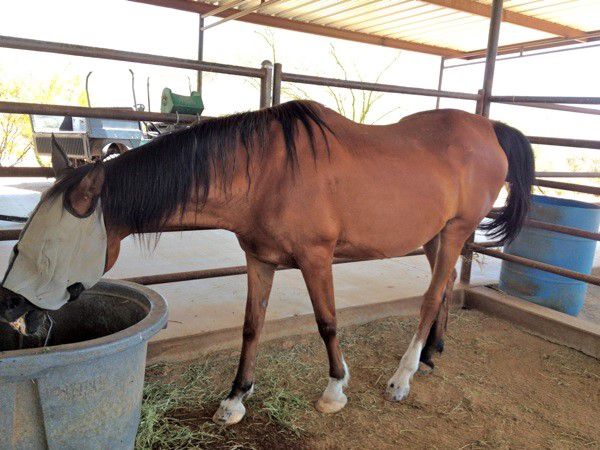 Jean's mare, MS Bay, at 33 years old this year.
During the summer months, when over 100 degrees, the mares are kept inside the barn, until after 8:00pm when the temperatures are going down. Both are unshod, and above 100 degrees, their feet would be very uncomfortably hot.
I also compost the manure (and several people come and gather the manure for their gardens) and use it around the trees and for use in our garden. We also compost food waste. We live on 6 acres. We also have a 3,500 gallon water tank at our motor home that we use. We have water hauled. I have a washer-dryer in the motor home that I do NOT use; I hang out my laundry between two Palo Verde Trees. We have Wi-Fi, and Dish TV. We are OFF GRID (will explain later).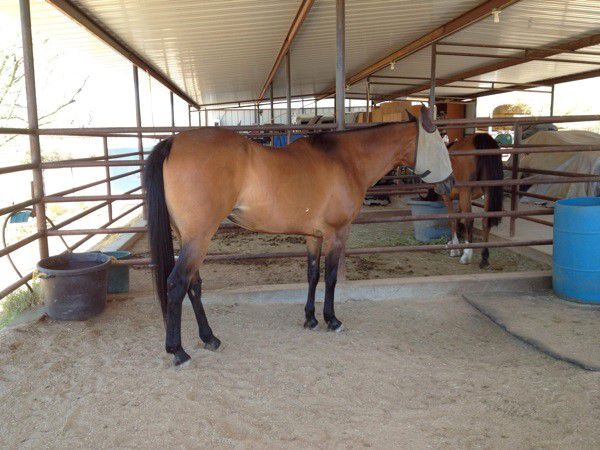 Her other mare, Mariah, at 31 years old this year.
What is your educational background (i.e. Degree(s), certifications, honors): Ferrell graduated from Mesa High School and had 3 years at ASU, in Electrical Engineering. Ferrell has worked as a Cable TV Engineer, worked in manufacturing Cable TV equipment, and design, Vancouver, B.C., Canada, and owned and operated his own Cable TV system in Dilley, Texas. He was honored as the National Cable TV Engineer of the year.
He is active in solar energy; we live OFF GRID and have since 2005. Ferrell built and designed his own Solar System. He also does computer design, web page design, and used to do repair on computers, up in Cave Creek, along with me at Imprints/Neotech. We retired in 2007.
I attended the Villa de Chantel Girl's School in Rock Island, Illinois, and graduated from St. Katherine's Girl's School, Davenport, Iowa (was a resident of Moline, Illinois). I attended the University of Colorado, at Boulder, Colorado. (I also took my horse to college with me) I attended for three years, and after moving to Scottsdale, took some classes at ASU.
What are your community activities? Ferrell is active in the solar energy development and is a Green Building Activist. Ferrell also sits on the RVHA Water Committee.
I am a past chair of the City of Phoenix Desert View Tri-Village Planning Committee; member for 3 years. I am also a past president of the Phoenix Mountain Preservation Committee (PMPC); I was Past President of the Arizona State Horsemen's Association (now the Horse Council), member since 1986. I served on the Trails' Committee for the City of Phoenix, Town of Cave Creek, City of Scottsdale; currently on the trails design committee for Brown's Ranch, Scottsdale, which is a new part of the Preserve. I also helped organize the National Trails Symposium which was held here at Fort McDowell, several years ago with over 700 participants. I am currently Secretary/Treasurer of the Cave Creek Saddle Club; member since 1988. Finally, I have served on the Board of Directors of the Rio Verde Horsemen's Association; we have been members since 2003.
What do you love the most about farming, ranching, or the agriculture industry in general? We both are very supportive of Agriculture, and especially the Farm Bureau. We have enjoyed meeting many, many good and interesting people through the Farm Bureau.
What do you enjoy doing, and what is one fact/achievement that nobody knows about you? I enjoy reading; I read everything I can get my hands on. My son, Chris, gave me an Amazon Fire Tablet for Christmas, and I love it. I get lots of books from the local libraries.
Since I am so very short, or vertical challenged, as Ferrell says, I was a hotshot basketball player when in High School. I could out shoot and out jump many of the taller girls in my school. I also played volleyball, and was a super server and set up player. I also played Field Hockey, and played Center. I did major in Physical Education at Colorado University. I also like doing Crossword Puzzles.
Ferrell also enjoys books and reading. His thing is going on to the computer and viewing YouTube videos of people who invent useful things; he's into aquaculture, big time. And, he loves doing Sudoku.
Why are you a Farm Bureau member? We absolutely love you people. YOU work hard at getting the latest news out with your newsletters. You people are the best. I "tout" the Farm Bureau wherever we go. Let's face it, if you don't, we all won't eat, right?
I have a sign on my car that states, "No Farm, No food!!" We also love the "grassroots" organization of the Farm Bureau. Water is a MOST important issue and you keep us appraised of just what's happening in Arizona and nationally. We appreciate all of the volunteers within the Farm Bureau serving on committees. We appreciate your governing body.
How will the next generation of agriculturalists have to operate? The farmers of tomorrow will have to use more and more technology in their day-to-day operations. I believe use of drones will enhance farming. Water will be the main issue, here in Arizona as in all the western states. The issue of Bioterrorism will be on everyone's mind.
What is the best business advice that you've received and/or have given? Love what you're doing. Be passionate, but down to earth.