Meet Arizona Agriculture's Jim O'Haco
By Arizona Farm Bureau Intern Lauren Scott and Julie Murphree, Arizona Farm Bureau Communication Director: Like so many of our generational farm and ranch families in Arizona, the O'Haco Ranch family tradition goes back three generations. Recognized as having one of the largest working cattle ranches in Arizona, O'Haco's operation stretches across more than 111,000 acres. The ranch is located south of Winslow, at about 6,000 feet elevation. This February (2018) Jim received the 2017 Environmental Stewardship Award from the National Cattlemen's Beef Association.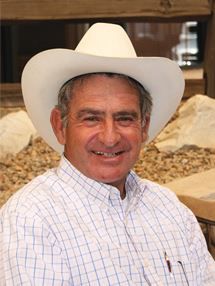 Jim O'Haco, third generation rancher.
With the help of conservation partners and projects, O'Haco has restored, enhanced and/or improved livestock management practices on more than 20,000 acres of private, state and federal lands. O'Haco restored approximately 14,000 acres of grassland habitat through mechanical eradication of invasive juniper and other brush.
The current President of Arizona Cattle Growers and a member of Arizona Farm Bureau, O'Haco has a tradition of partnering with others to share his knowledge and experiences with fellow ranchers and his community at large. In 2012, O'Haco was recipient of the National Private Lands Fish and Wildlife Stewardship Award. This national award is given by the Association of Fish and Wildlife Agencies.
Arizona Game and Fish highlighted the following O'Haco wildlife conservation efforts:
Partnering with Game and Fish on the Hi-Point Well Water Distribution Project to install 42 miles of buried water lines with 35 drinkers located strategically around the ranch. The water lines are kept open and the tanks filled even when the pastures are not being used to graze cattle for the benefit of wildlife.
Allowing free public access for recreation on the ranch and hunting on some very desirable hunting lands.
Participating in Game and Fish's Adopt-a-Ranch and Landowner Respect Programs.
Implementing wildlife-friendly standards for all new and rebuilt fences within the ranch to allow easier movement between areas, especially for pronghorn antelope.
Restoring grasslands by removing invasive trees to improve wildlife forage.
If you meet O'Haco, you'll quickly discover how passionate he is about agriculture and ranching in particular. He loves to visit about the industry and stay engaged with the issues. Additionally, he will tell you that we're all in this together and that to preserve and grow one of the most important industries in the nation means that we must collaborate on preserving our farming and ranching traditions for the next generation. It's one of the reasons he's always taken such an active role in preserving ranch lands.
In this profile, Jim O'Haco shares a few insights you might not have known before about his ranch life.
Tell us about your farm, ranch or agricultural operation. My family started ranching in Arizona in 1898. My grandfather came to Phoenix and worked for his uncle in Wickenburg as a sheep herder. He got enough money to buy his own sheep, and then he was everywhere from the White Mountains to the Salt River Valley. He acquired the ranch that I am on now before Arizona was a state in about 1910. I'm the third generation of my family to be here on this ranch. Also, years ago we had a small farm where we raised our own hay.
What changes have you seen in your operation over time? Well, there's been a lot of changes during my life as far as water systems go. We've improved the water systems. Before we had a lot of well and dirt tanks and now we've got water lines clear across the ranch. It's easier for the cows to water and for wildlife to water, so that's a big change. When my grandfather first started they didn't have a lot of the technology we do now. We also haul our horses differently and in trailers now. It makes everything a lot easier.
Will anyone in your family – the next generation – go into farming, ranching, or agriculture? I don't have any children, but I have some nieces and nephews. We'll figure out if they want to go into it in the next five years or so, but it's hard to say. We want to pass the ranch down to the next generation.
Why did you go into agriculture? It was a family thing. I grew up on a ranch and loved livestock and the open spaces.
What is your educational background? I went to school at the University of Arizona. I went and got an animal science degree and came back to the ranch.
Would you ever consider changing your farm or ranch model? No, I think over the years we've changed it as time went on. I think we've got a pretty good ranch the way it is; I'm pleased.
What are some community activities you participate in? Right now I'm president of Arizona Cattle Growers.
What do you enjoy doing in your free time? I don't have a lot of spare time! I don't ever sit down, but I enjoy talking to people. I like discussing issues and talking politics. Cattle Growers takes up most of my spare time right now.
Why are you a Farm Bureau member? Agriculture is shrinking in the state, so we all have to do our part, whether that be for the farming or the ranching industries. People don't realize how important farming and ranching are to the economy and the state, and to putting food on the table.
What do you love most about agriculture? I like being out where there are no people. Out in the open spaces. I just really like the outdoors. I like livestock.
How do you think the next generation of farmers and ranchers is going to have to operate? Well, we're all going to have to get better at our jobs because the land base is shrinking and there are more developments around. With technology, I think we can do it.
What is the best business advice you have ever given or been given? Once you start something, don't give up on it. If you stay after it, you can get it done.