Meet Arizona Agriculture's Karin Boyle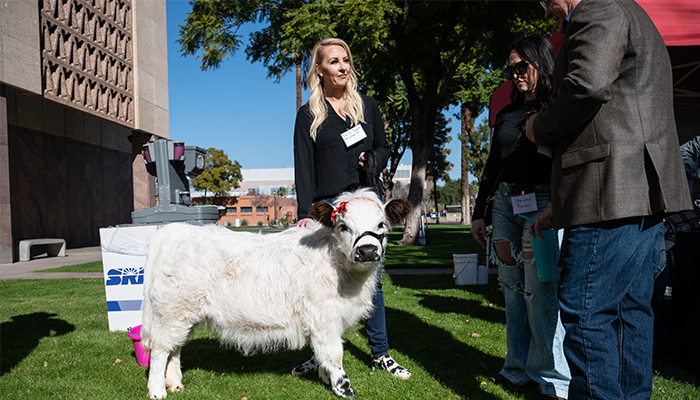 They are easy to spot. Quite the team actually and their specialty is therapy. I'm talking about a long-time Farm Bureau member and generational dairy farm family kid, Karin Boyle, and her therapy cow, Dolly Star. 
While I've known quite a few of the Boyle family in the dairy industry, Karin and I were not sure we'd ever met before until Arizona Farm Bureau's January AgFest event down at the Capitol. Her team was invited to be part of the experience. 
Dolly Star is a show-stealer. Everyone gravitates to this mini cow in a flash. But I'll let Karin tell the rest of the story in this ag profile.
An agriculture profile of Karin Boyle of Maricopa County.
Part of an ongoing series about Arizona's farmers and ranchers and agribusiness professionals. 
Tell us about your unique agribusiness outreach: My name is Karin Boyle and I'm the founder/president of The Dolly Star Foundation. I started a non-profit organization called the Dolly Star Foundation that provides therapy visits to individuals in memory care facilities, hospitals and schools.
I was inspired to start this foundation after spending time with my father in a memory care facility after health issues and witnessing how difficult it was for him to suddenly be removed from his lifelong roots on our family farm to an assisted living campus. His doctors encouraged him to engage in activities that had been part of his life before his illness and that's when I realized I needed to find a way to bring the farm to my dad. He, like so many others, struggled during this confusing time and I knew I could help him. This led to the creation of our unique and joyful experience that draws on our community's agricultural roots - bovine pet therapy! 
The mission of The Dolly Star Foundation is to bring healing, comfort, and joy to people in memory care facilities, hospitals, and schools to create beautiful moments for both patients and their families. 
The Dolly Star Foundation is named after our first therapy cow, Dolly Star. She is a Micro Mini White Park Heifer that, when full-grown, will only be 36 inches tall, making her the perfect size for facility visits! She has been trained and loves to interact with people of all ages at community events and facility visits. Dolly Star has already reached local stardom at multiple memory care facilities and has been making a huge impact on members of our community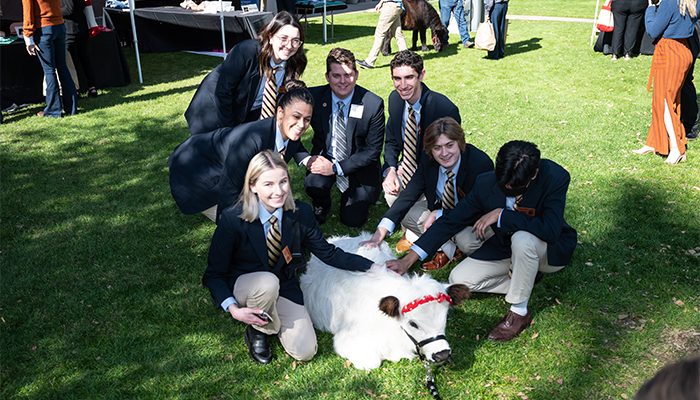 Legislative staffers hang out with Dolly Star during Arizona Farm Bureau's AgFest.
Tell us about your farm, ranch, or agribusiness operation(s): I grew up in Chandler, Arizona on my parent's dairy farm, we milked 1,000 cows till we expanded in 2007 and moved our dairy to Coolidge, Arizona. My brothers, Garrett and Robert Boyle, then joined my parents in building McClintock dairy where we milked 3,500 cows till 2019.
Tell us some of the positive outcomes already from this effort in memory care? Recently, a neighbor with Alzheimer's was able to spend time with Dolly. Her husband shared their experience, "My wife grew up on a dairy farm, and after visiting with Dolly Star she regained some lucidity and began retelling stories from her childhood. Dolly Star gave us all a joyful moment together again." 
It was my honor to bring Dolly to comfort this family. These are the stories, and these are the moments, the Dolly Star Foundation is devoted to creating
 
 Why are you a farm bureau member? We are so fortunate that the Farm Bureau will insure us. Since The Dolly Star Foundation is the first of its kind it was difficult to find insurance for our program. But thanks to Farm Bureau we are taken care of.
Editor's Note: This ongoing series continues to feature our farm and ranch members.